The Marine Corps continues to dial up jungle operations, with thousands of troops rotating through places like Australia, Guatemala and Japan each year. Marines have been quick to embrace the change of scenery from the deserts of Iraq and Afghanistan, but one big hurdle remains: Their existing uniforms are ill-suited for unrelenting humidity, heavy rains and perpetual sogginess. 

But change is coming soon.
The Marine Corps teamed up with the Army to find new uniforms and boots that can hold up in hot, tropical climates. About 400 members of the Hawaii-based 3rd Marine Regiment are testing four tropical combat boots and several tropical utility uniforms at the Corps' Jungle Warfare Training Center in Japan this summer. Soldiers in Hawaii are also testing the new gear. 


The uniforms feature lighter fabrics that dry quickly, vents in the sleeves and mesh tuck-ins on the trousers, among other changes. The Army is testing a cooling combat shirt and both services are trying out several variants of new lightweight boots.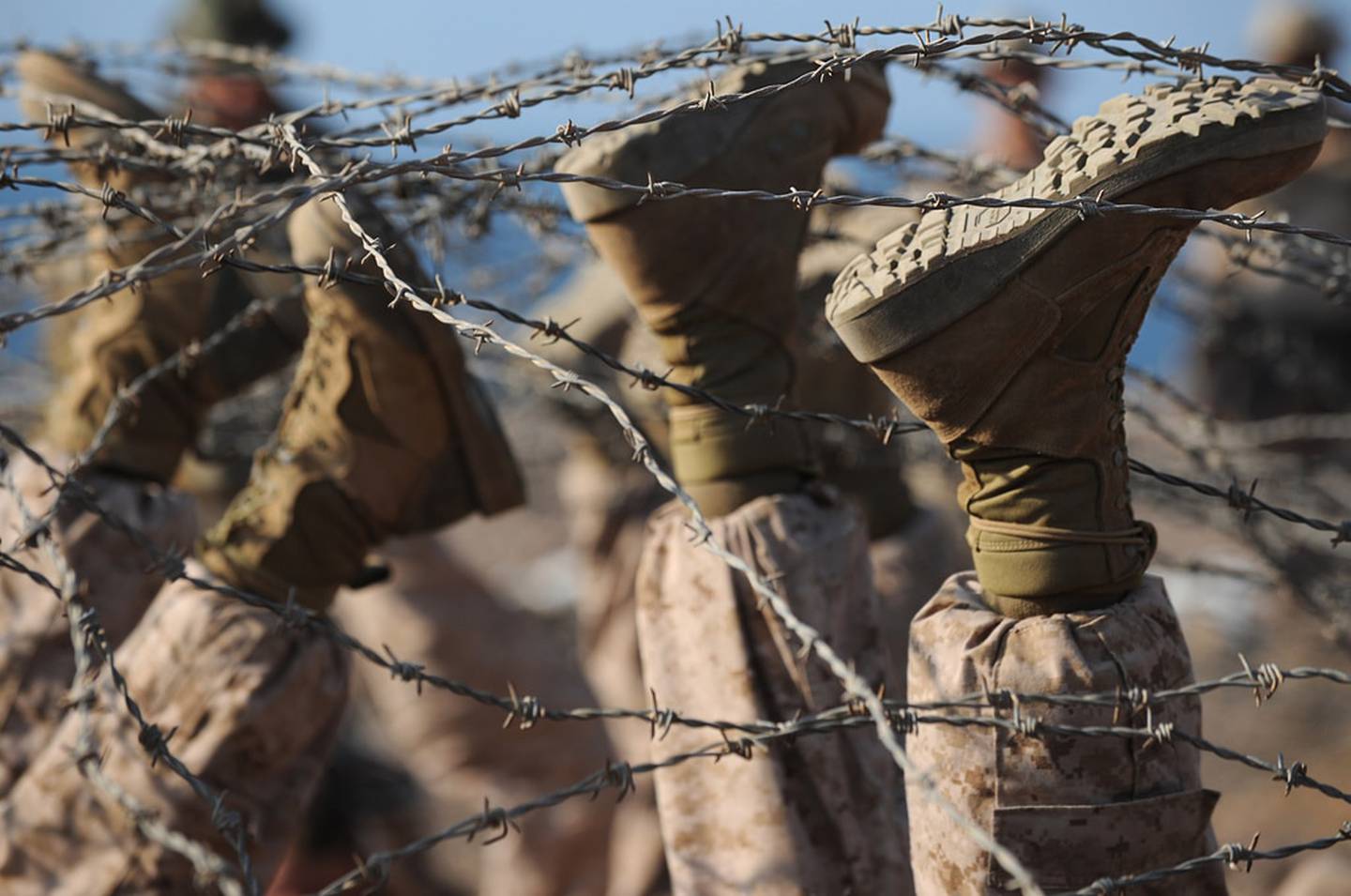 Photo Credit: Marine Corps
The hope is to finalize a new tropical wardrobe by 2018 that is lightweight, quick-drying, comfortable and durable.


Marines testing the gear have seen some immediate benefits, but say some serious improvements are needed if the items are expected to hold up in real-world operations.
Here's a look at how the uniform tests are going, and what could make it into your next tropical wardrobe.
Jungle-friendly uniforms
The Marine Corps is looking for a lighter tropical uniform fabric that improves moisture management and reduces dry time without sacrificing durability and protection. That's welcome news for Pacific-based Marines, who serve in regions where the heat index hovers in triple digits.
"It would definitely be nice to have a lighter uniform," said Sgt. Preston Davidson, an instructor at the Jungle Warfare Training Center who is testing out the new gear. A veteran of life under the canopy, the mortarman has completed jungle training on three previous deployments.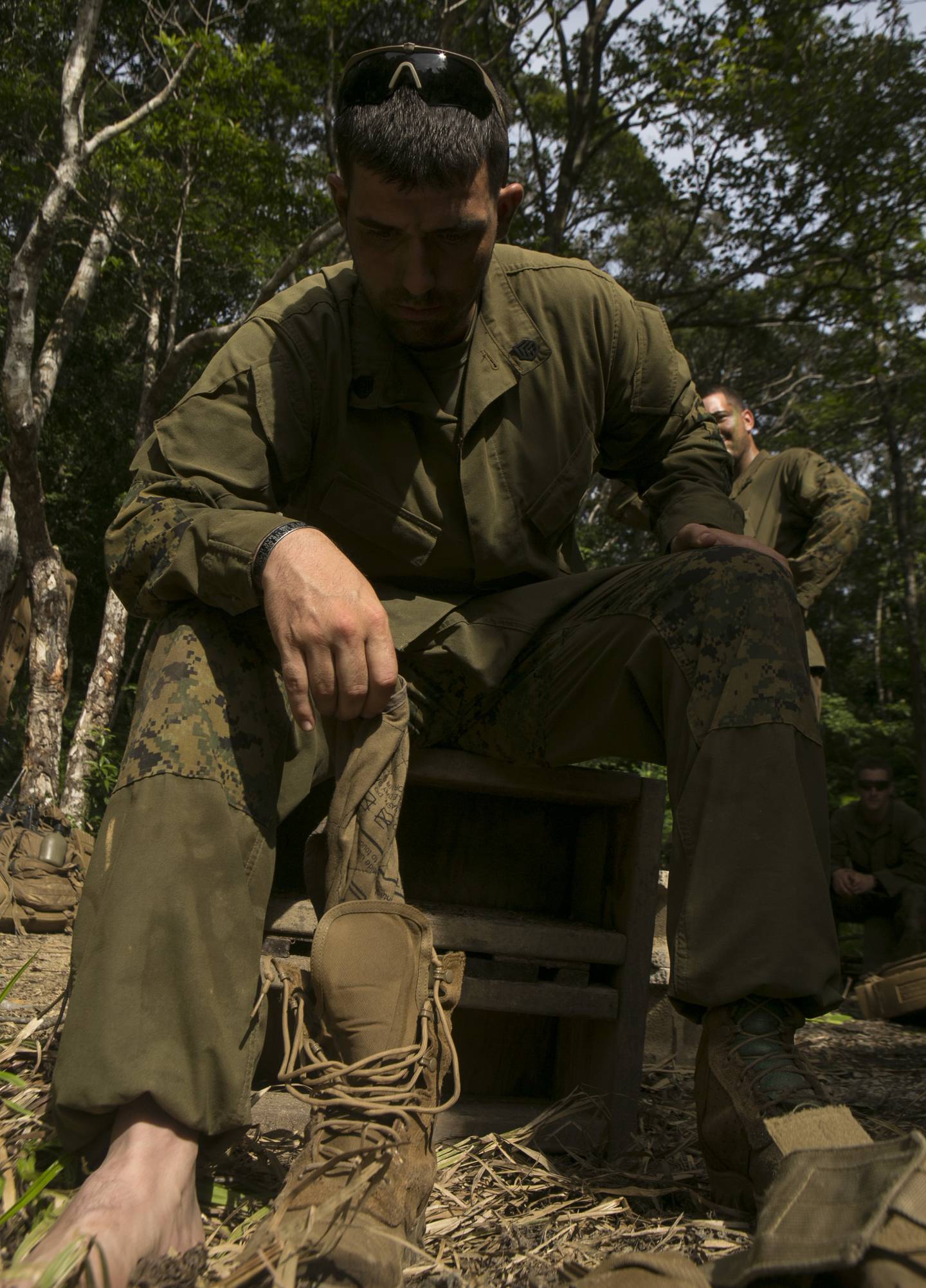 A member of 3rd Battalion, 3rd Marines dries his boots with a super-absorbent drying towel at the Jungle Warfare Training Center on Okinawa, Japan. Marines can put the towels in their boots or underneath their uniforms to help absorb moisture.
Photo Credit: Lance Cpl. Tyler Ngiraswei/Marine Corps
Davidson said the training center — which conducts a five-day basic jungle skills course for non-infantry units and a 12-day course for grunts — sees as many as four heat casualties a training cycle. Local commanders typically allow Marines to ditch the T-shirts worn under the utilities to help them stay cool. In the field, most Marines would prefer to wear flame-resistant organizational gear and ditch the utility jacket entirely.

The new threads are lighter, cooler and more breathable, according to the Marines testing them. A reinforced crotch is a big hit, as is a notably faster dry time. The lighter uniforms allow any breeze to be felt through the materials, Davidson said, and they don't feel as heavy when wet. 

But there is a catch: Since the material is so thin, Marines get wet a lot faster.
"The cammies we have now, it takes a little bit for them to soak through," Davidson said. "With these, your socks, skivvies, all that gets soaked within minutes."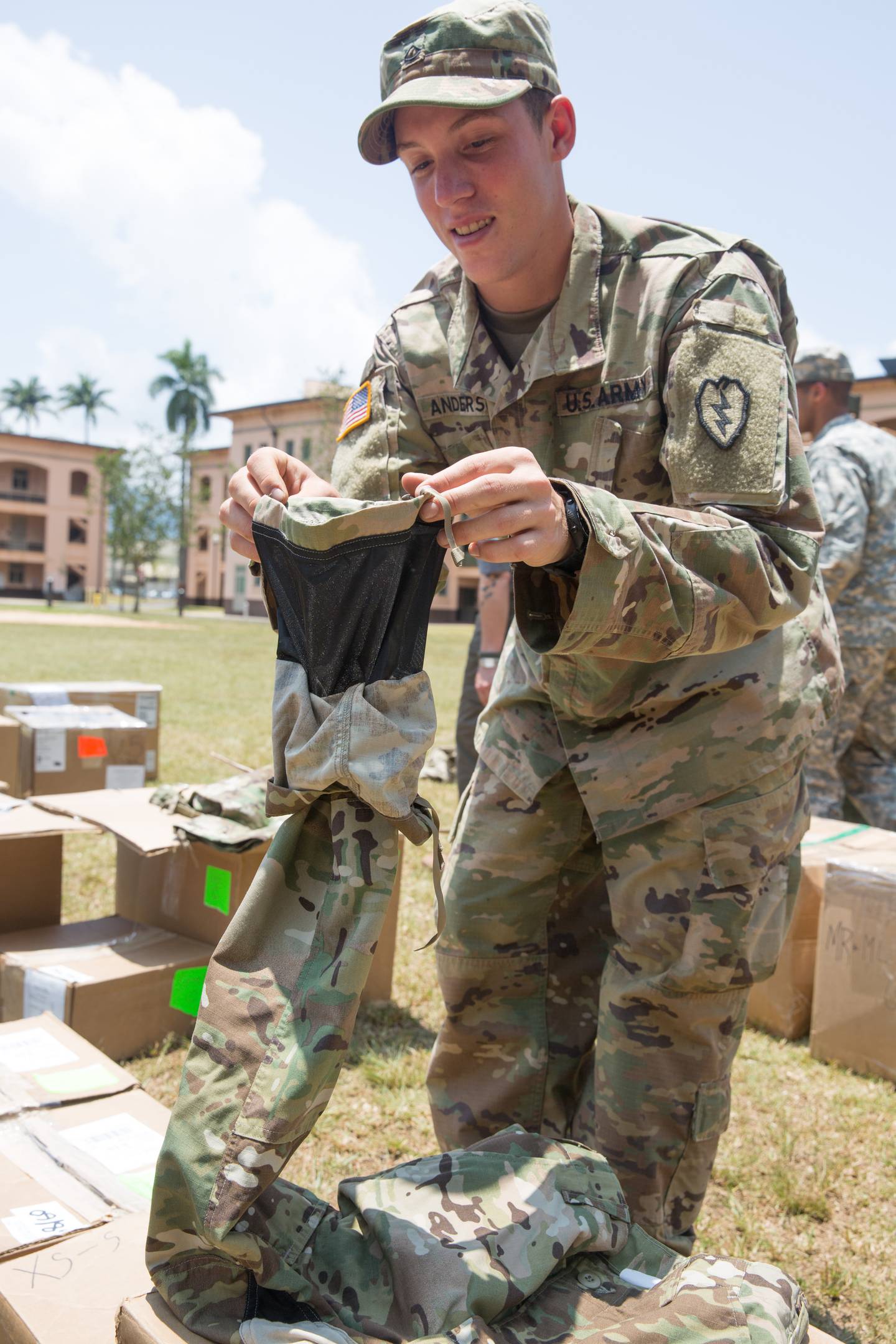 Soldiers' Army Combat Uniforms were modified to include mesh tuck-ins. These protect soldier's legs while keeping their trousers unbloused.
Photo Credit: Sgt. Ian D. Morales/Army
While there's some overlap in the types of fabrics being tested by Marines and soldiers, not all of the uniform components are the same. Here's a look at how the soldiers' uniforms have been altered:
- Chest, calf and back pockets were removed to reduce weight and dry-time.
- Blousing strings were eliminated from trousers to allow for airflow and drainage.
- The elbows, knees and seat were reinforced with a thicker nylon that increases durability and abrasion resistance.
- Crotch gussets – extra patches of fabric that reduces stress on the seams – were added.
- Buttons were used on some blouses in place of zippers, with the intent to increase air flow.
- Vents with mesh lining were added to the shoulder blades to improve air flow. Mesh is also incorporated into the crotch gusset.
- New combat shirts include cooling material in the torso and collar. Companies that make cooling materials claim the special fabric can absorb sweat and create a cooling effect as the shirt dries. Soldiers also tested a version designed to draw sweat away from the body so it can evaporate more quickly. 

The uniforms Marines are testing currently come in four patterns — woodland Marine pattern, olive-drab green with woodland patches, and two variations of desert MARPAT. When the final material is selected, expect it to come in the same colors and patterns as current uniforms.
Trying new fabrics
The Marine Corps and Army are testing a variety of textile combinations to find the perfect tropical uniforms. When the final materials are selected, expect it to come in the same colors and patterns as current uniforms.
The tropical utilities will have insect-repelling permethrin treatments before they are issued. Those treatments typically last 50 washings. Officials are also looking into flame resistance treatment.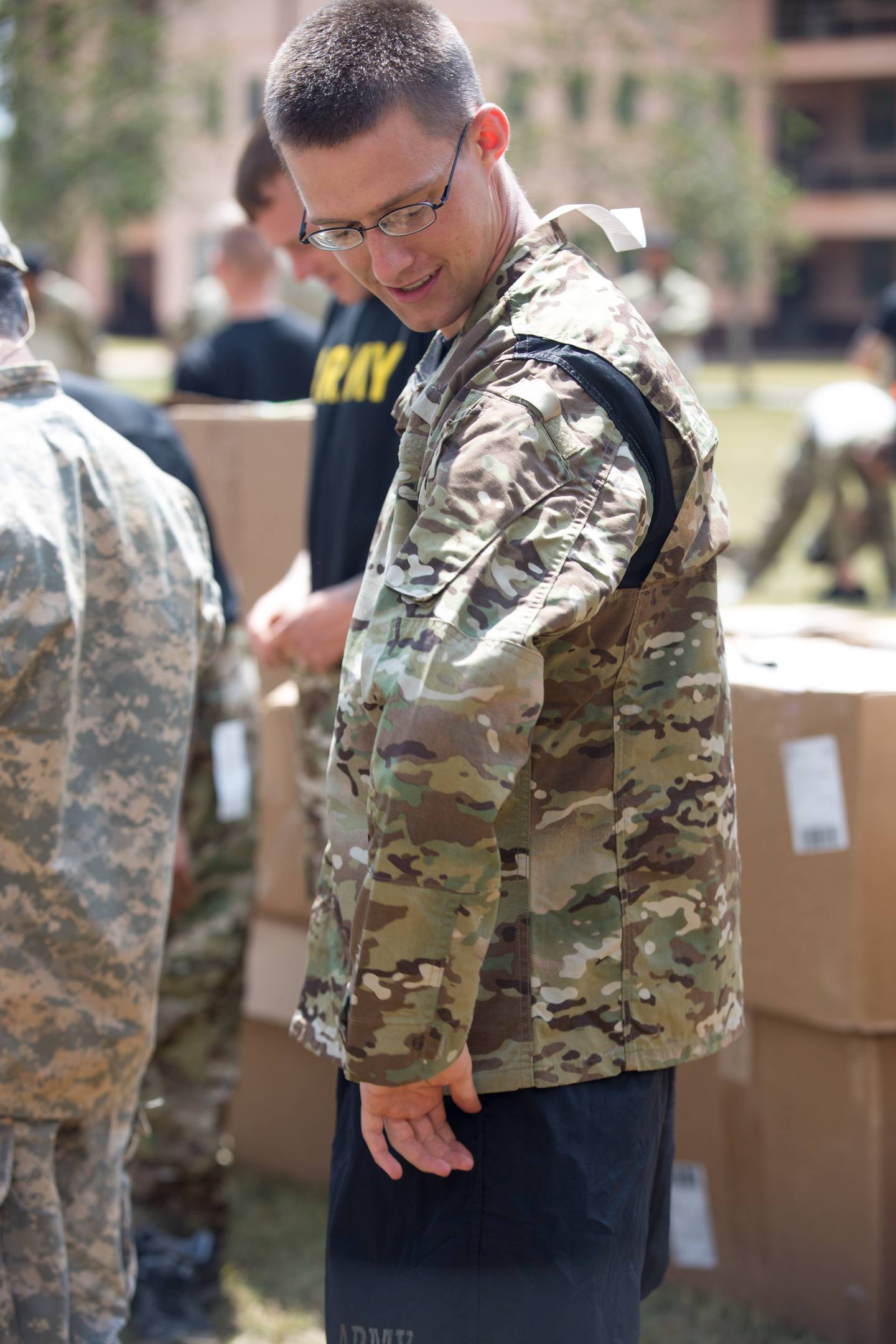 A soldier examines the mesh vents added to his blouse. The Army and Marine Corps are testing new lightweight uniforms and boots for jungle deployments.
Photo Credit: Sgt. Ian D. Morales/Army
Fabric durability is put to the test at the Jungle Warfare Training Center when Davidson and the other trainers there take Marines into the trees for a series of vigorous events.
Marines rappel from a steep 65-foot cliff, carry casualties through fields of mud, traverse rope bridges, conquer a challenging endurance course, and conduct day-long patrolling packages with plenty of ambushes thrown in. They also trek through water obstacles.
Here are some of the fabrics Marines are trying out, according to Pat O'Connor, spokesman for ReadyOne, the military garment manufacturer that provided uniforms for the wear test:
- Nylon.
- A fire-resistant cotton.
- Cotton/nylon ripstop fibers.
- A polytetrafluoroethylene blend.
- A polyester mix, said Marines will test them all to determine which is lightest, quickest to dry, and able to withstand the rigors of jungle operations.
- A 50/50 nylon/cotton weave with a ripstop reinforcement.
The team is also testing hyper-absorbent towels, which Davidson compared to the chamois drying towels people use when they wash their cars. Marines roll them up and stuff them inside their boots or cammies to help absorb moisture and improve dry time.
Better boots
As Pacific deployments were dialed up, Marine and Army officials began hearing complaints that standard-issue boots were not built for the jungle.
The two services put a call out for companies to produce lighter boots that dry faster than the current combat boot. Officials wanted strong ankle support in the boots that should weigh between 1.7 and 2.3 pounds per pair. It must be easy to remove mud and other debris.
Four companies produced prototypes for the Marines to test: Original Footwear, Bates Footwear, Belleville Boot Company and Rocky Boots. The Marine Corps purchased 100 pairs of boots from each of the four vendors.


So far, Marines are happy with the dry time on each of the boots. While the current combat or rugged all-terrain boots sometimes stay wet for days, the new prototypes are dry in a matter of hours.
But some say the boots aren't as stable as a result of the materials used to achieve that quick dry time. Davidson said while the boots he tested go from soaking wet to dry overnight, he was concerned that Marines laden with combat gear could roll and ankle too easily as they walk over clay slopes, branches or rocks in the jungle.
"The sole is about three fingers high and the ankle cuff is very, very small," Davidson said. "It doesn't really provide a lot of ankle support, and out here you need as much ankle support as you can get."
The Army concluded that the commercial market did not offer what soldiers needed: a supportive, comfortable, and – perhaps most importantly – quick-drying jungle boot.
A lot of the boots available on the private market hold onto too much water, said Kevin Hutcheson, Soldier Enhancement Program coordinator.
"You can have the lightest boots in the world, but if they soak up too much water, they become heavy," he said.
The Army's Natick Soldier Systems Center designed five different boots to test, said Al Adams, the footwear project engineer. They're designed to be puncture-resistant. Two had fairly thick soles while three of them had a thinner "Panama sole."
So far, officials said the bulkier soles offered less stability and caused some rolled ankles.
The boots both services are testing offer removable insoles for faster drying time.
Next steps
Marines participating in the wear tests are providing officials with written after-action surveys. Marine Corps Systems Command will conduct close inspections on the boots and uniforms to gauge the quality the different designs. It's not immediately clear when new tropical uniform items could be fielded across the Marine Corps.
The Army plans to hold final user uniform evaluations in the fall of 2017 or the winter of 2018. Findings from those evaluations will be presented to Army officials by the spring of 2018.
The boots could be arriving even sooner for soldiers as the evaluations for jungle footwear are already being analyzed.
Share: