The 101st Airborne Division's 3rd Brigade Combat Team is shooting down rumors that its soldiers were forced to remove their combat patches for a training exercise now underway at Fort Knox, Kentucky.
Elements of the brigade are at Fort Knox conducting gunnery and platoon and company exercises. They are 1st Squadron, 33rd Cavalry Regiment; 2nd Battalion, 506th Infantry Regiment; and 21st Brigade Engineer Battalion.
"According to brigade leadership, there was never a command or directive given to soldiers regarding the removal of their shoulder sleeve insignia-former wartime service (combat patch)," said Master Sgt. Kevin Doheny, a spokesman for the 101st Airborne, in a statement to Army Times.
On Monday, a post on U.S. Army W.T.F.! Moments said the brigade "ordered" soldiers to remove their combat patches during the training so that new soldiers who hadn't earned a combat patch "don't get hurt feelings."
"The unit just returned from [Afghanistan] and almost everyone has a patch, but the large influx of new soldiers we just got are E-1s and E-2s that have never deployed, and they are saying they are left out because they don't have a patch," according to the post on the popular Facebook page.
The post has since received thousands of comments, likes and shares, with soldiers upset about being told to remove a patch they've rightfully earned. Others were upset at leaders for giving in to political correctness or for acquiescing to the feelings of a unit's most junior soldiers.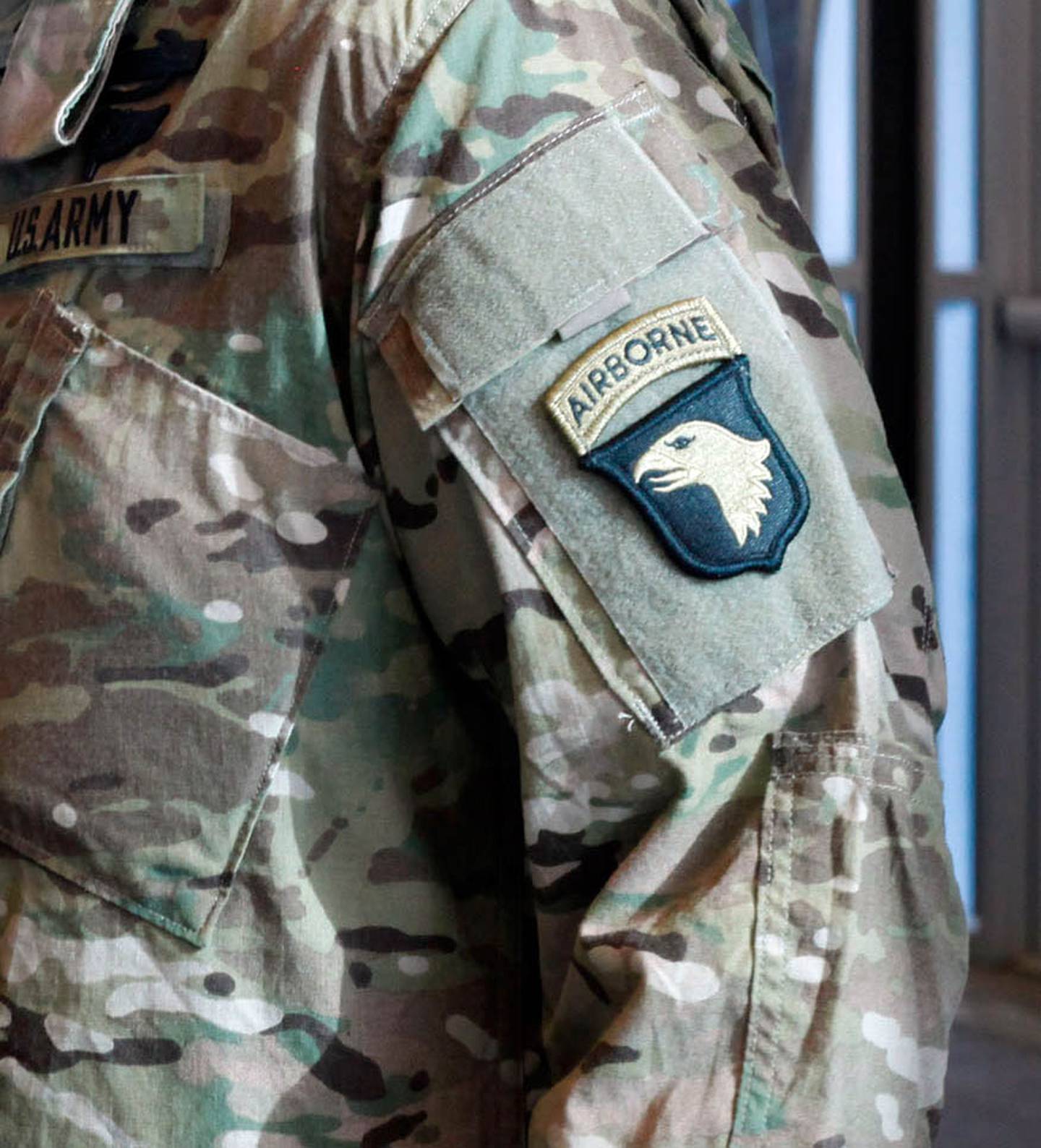 101st Airborne patch
Photo Credit: Sgt. 1st Class Nathan Hoskins/Army
Former Staff Sgt. John Burk, a fitness trainer and online personality who served in the 101st Airborne, posted an angry video on his Facebook page in response to U.S. Army W.T.F.! Moments' post. His video has more than 1.2 million views and more than 3,300 comments.
"The day the Rakkasans … are told to remove their combat patches, political correctness has poisoned the upper echelons to that level, even up to brigade," he said in the video. He also blamed leaders for succumbing to the "bitching and moaning" of privates.
Doheny said the unit, based at Fort Campbell, Kentucky, returned from its most recent deployment to Afghanistan in October.
He emphasized that the brigade leadership was "currently unaware of any comments being made with relation to 'commanding or directing' any soldiers to remove their combat patches."
When Army Times asked if leaders at the battalion level could have issued such a directive, Doheny said he was unable to get an answer quickly because the units are training and cannot be reached until they return from the field.
If there was such a directive, however, Army regulations allow commanders to alter soldiers' uniforms in a training environment as necessary, Doheny said.
According to Army Regulation 670-1, soldiers are authorized to wear their awards if not prohibited by the commander, officials said in June, when a similar incident, this one involving a brigade from the 4th Infantry Division, took place.
In that case, the commander of the 4th Infantry Division's 1st Stryker Brigade Combat Team wanted his soldiers' uniforms to only show name, rank, American flag, U.S. Army tape and the division's insignia while they were in the field.
The purpose was to promote a unified Army culture, the commander, Col. David Hodne, told the Colorado Springs Gazette at the time. He also wanted to boost morale by making newcomers feel welcome.
Soldiers from the Stryker brigade, based at Fort Carson, Colorado, were free to pin back on any patches they wanted back in garrison.
Michelle Tan is the editor of Army Times and Air Force Times. She has covered the military for Military Times since 2005, and has embedded with U.S. troops in Iraq, Afghanistan, Kuwait, Haiti, Gabon and the Horn of Africa.
Share: