Army veteran John Newcomb is carrying a skeleton on his back, but it has nothing to do with Halloween.
Newcomb is tired of losing his friends to suicide, and he wants fellow veterans to know their struggles are never too heavy and that he will help carry them.
That's why he marches through different cities in upstate New York with a 20-pound skeleton dressed in a uniform on his back — he wants people to know veteran suicide is still an issue and he wants to raise money to help.
"I am not naive enough to believe that I will ever be able to stop this sadness in its entirety," Newcomb said. "But I have to try."



He wanted the skeleton to stand out and be an image that people couldn't ignore. He bought the skull at a crafts store and stuffed the surplus uniform with pillows.

The former specialist said he was driven to do something when he found out a staff sergeant he had served with had committed suicide. 

"It was the same night my wife miscarried our second child," he said. 


Reeling with emotion, Newcomb said he felt helpless and tried to channel it into something he could control: raising awareness for veteran suicide.


The Department of Veterans Affairs for years estimated the veterans suicide toll nationwide at around 22 people a day, but new research shows a more accurate number is 20 per day.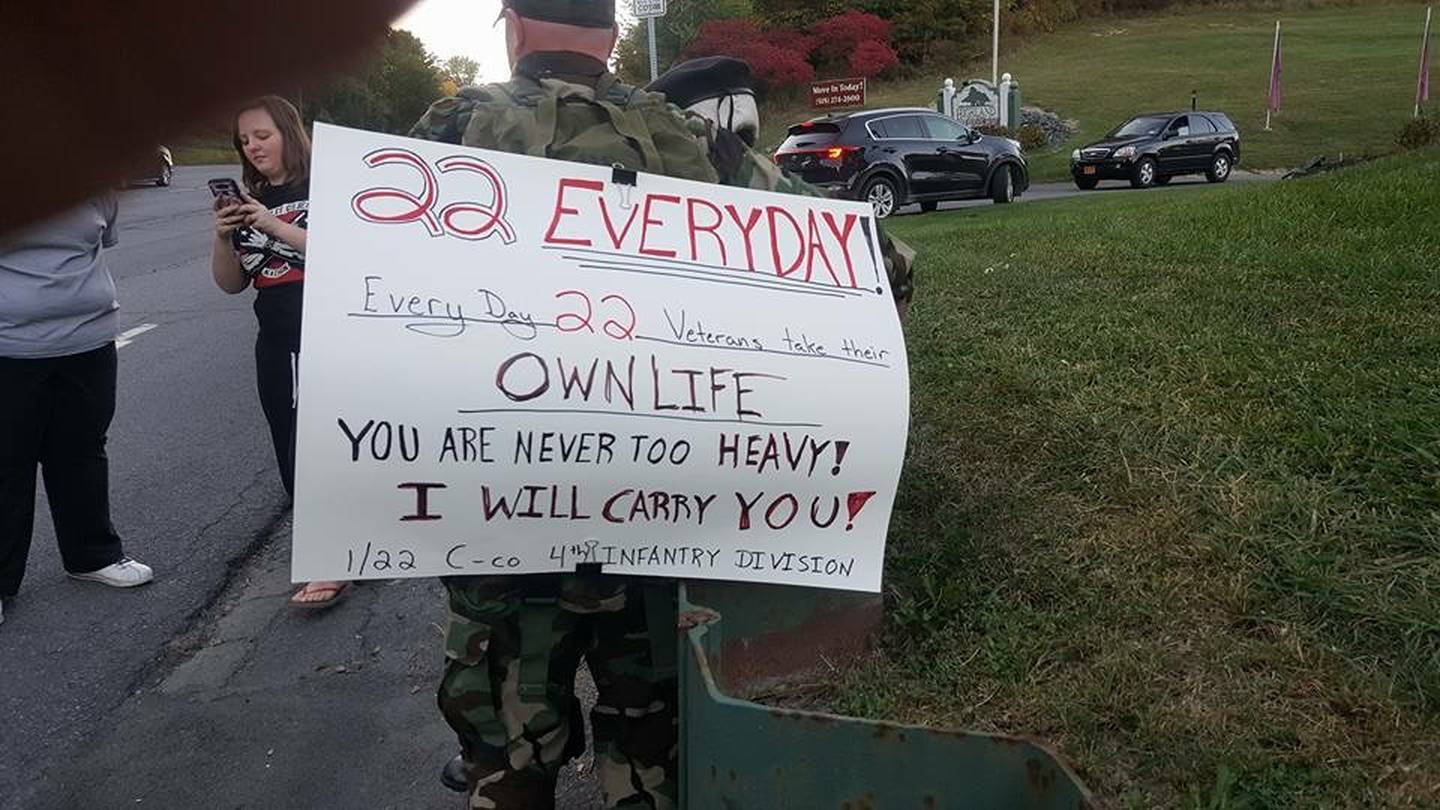 Army veteran John Newcomb says he wants to help "carry" veterans who are struggling.
Photo Credit: Courtesy of John Newcomb

Newcomb, who served as an infantryman for two years, said his goal is to spark interest and education for those who see him marching. He is also raising money through donations, either in person or through a Go Fund Me account that was originally set up to cover the funeral expenses of the staff sergeant who died. However, the staff sergeant's daughter discussed putting those donations toward a scholarship for children affected by veteran suicide.

Newcomb started marching on Oct. 5 and plans to go until Oct. 27 — 22 days total.

With a full-time day job, Newcomb has been marching as much as he can after work and on weekends. After he's done with his job as a legislative bill examiner, Newcomb puts on his rucksack and carries the skeleton through populated areas until it's too dark to be visible. 


"The reactions from people have been awe inspiring," he said. "I have been met on the road by people of all walks — some share their own stories with me … some people can't even bring themselves to find words and simply hand me a donation with tears in their eyes."

Newcomb wants to harness the attention he's receiving and turn it into something tangible.

"I have been working diligently to try and further educate myself to provide better information and resources to the people who inquire about what I'm doing," he said.
To follow Newcomb on his journey, visit Facebook.com/NeverTooHeavy. 

Follow @CharlsyPanzino

Charlsy Panzino covers the Guard and Reserve, training, technology, operations and features for Army Times and Air Force Times. Email her at cpanzino@militarytimes.com.

Charlsy is a Reporter and Engagement Manager for Military Times. Email her at cpanzino@militarytimes.com.
Share: