In a bittersweet ceremony, Gen. Ray Odierno on Friday completed his tenure as the Army's chief of staff and retired from the service after almost 40 years in uniform.
Odierno and his wife Linda were celebrated Friday morning by the Defense Department and Army's most senior leaders during the almost two-hour event on Summerall Field at Fort Myer, Virginia.
The Army also welcomed its new chief of staff, Gen. Mark Milley, who was sworn in during the same ceremony.
"As your chief of staff, I will ensure we will remain ready as the world's premiere combat force," Milley said. "Readiness to fight and win in ground combat is, and will remain, the United States Army's No. 1 priority, and there will be no other No. 1. We will always be ready to fight today. We will always prepare to fight tomorrow."
Odierno, a 1976 graduate of West Point, became the Army's 38th chief of staff in September 2011. He commanded at every level, from platoon to theater, with duty in Germany, Albania, Kuwait, Iraq and the United States.
He led the 4th Infantry Division and III Corps in Iraq, and ended up serving more than 50 months in country, culminating as the top U.S. commander there.
On Friday, dozens of current and retired general officers, senior noncommissioned officers, family members and friends – including members of Odierno's West Point class – gathered for the ceremony.
Soldiers from the 3rd Infantry Regiment (The Old Guard) and the U.S. Army Band, also known as Pershing's Own, led the ceremony under a clear blue sky.
After Odierno inspected the sharply dressed troops gathered on the field, the military's top leaders took to the podium.
Odierno's legacy mirrors the man himself, Defense Secretary Ash Carter said.
"It simply won't fit into the space behind the podium," Carter said about the general who at more than 6-foot-5-inches towers over most people. "He's a consummate leader, the very symbol of the United States Army. Big, strong, capable, always willing."
Carter lauded Odierno for leading during critical junctures of the Iraq war.
"As a leader with over 50 months in Iraq, Ray's tenacity helped us get through the most heated period of conflict," Carter said. "I and my predecessors and commanders in chief drew great confidence knowing Ray was on the ground in those trying times."
As chief of staff, Odierno also shepherded the Army during a critical time of transition. Carter said.
"In the post 9/11 era, Ray Odierno sustained and strengthened the United States Army's stature as the world's preeminent land power," he said. "The ground work he laid … will bear fruit for years to come."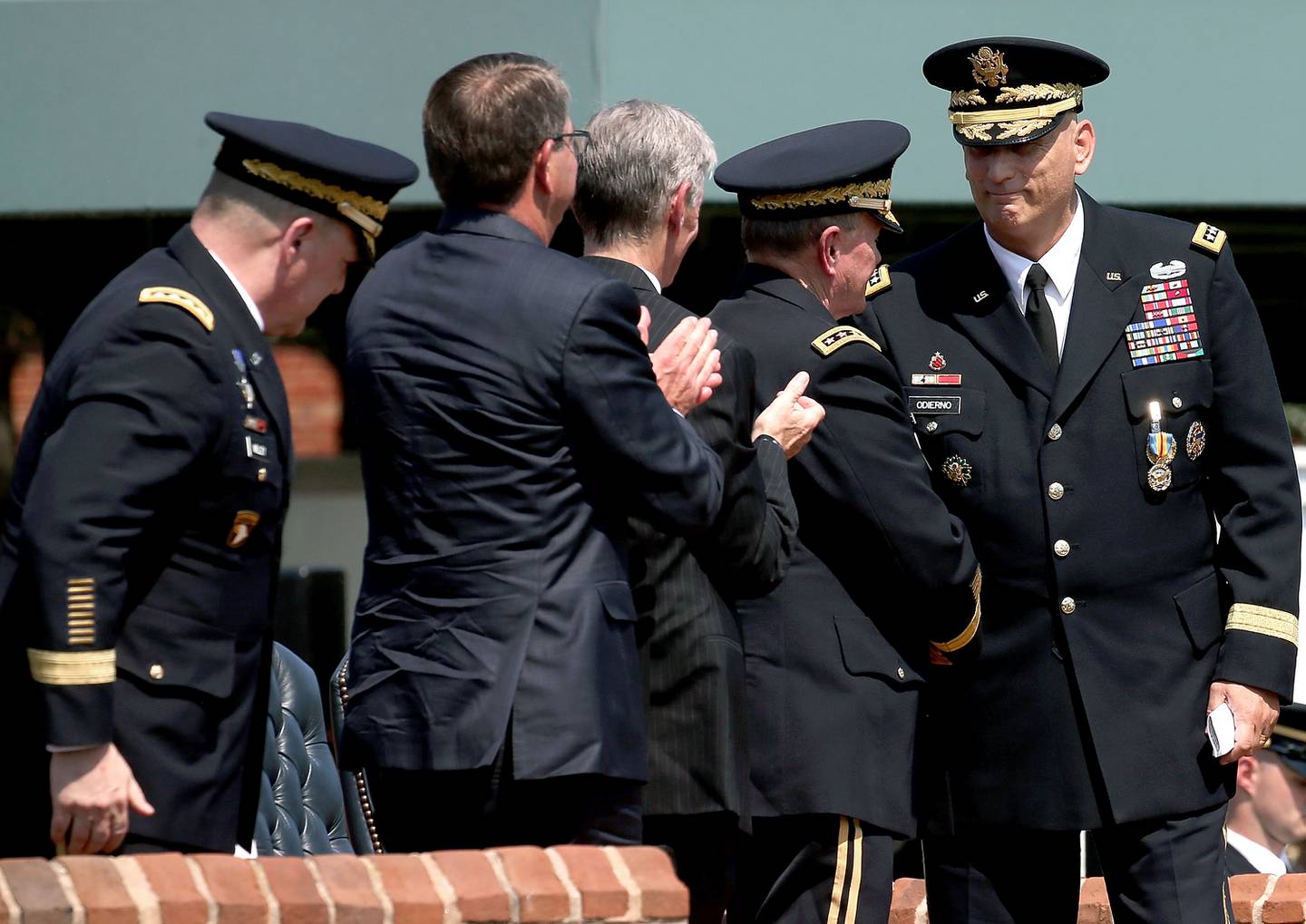 Army Chief of Staff Gen. Ray Odierno, right, is congratulated by Chairman of the Joint Chiefs of Staff Gen. Martin Dempsey, second from right, Army Secretary John McHugh, center, Defense Secretary Ashton Carter, second from left, and the new Chief of Staff, Gen. Mark Milley, during the change-of-responsibility ceremony at Joint Base Myer-Henderson Hall on Friday. Odierno is now retired.
Photo Credit: Mark Wilson, Getty Images
Army Secretary John McHugh, who also is preparing to leave his job, called Odierno his battle buddy, partner and good friend.
"Ray is as fine an officer as I've ever known, a leader wholly committed to the Army," McHugh said. "Ray firmly believes soldiers aren't in the Army, they are the Army. It's always been his No. 1 job to serve them well and serve them honorably. Whether it's fighting in Tikrit or visiting a hospital bed at Walter Reed, he's led with a quick mind, calloused hands and a servant's spirit."
From the football field to the battlefield, Odierno has "been a soldier of high character," said Gen. Martin Dempsey, the outgoing chairman of the Joint Chiefs.
"Ray, you stand among the giants of our Army's history," Dempsey said. "You leave behind an institution full of exceptional leaders capable of confronting some of the most complex challenges we face ahead."
When Odierno took the podium, he lauded the Army's soldiers and all that they do.
There are soldiers, "the best we have," deployed to Iraq, Afghanistan, Eastern Europe, South Korea, and several other places around the world, Odierno said.
"Their dedication and commitment to their nation" is why he stayed in uniform for so long, Odierno said.
The outgoing chief also thanked his family for their support and love, including his wife, Linda, who has "always been the strength of our family." She also was a strong advocate for military families, he said.
"Over the last 15 years, Linda has attended over 500 memorial services," Odierno said. "Most of the time I was not there because I was deployed, but she was there for our families."
Odierno also praised Milley and his wife Hollyanne.
"Mark Milley is an incredible soldier, Hollyanne has an incredible heart, and they love the Army more than anything," Odierno said. "That's all you need to know about the Milleys. This Army is in great hands."
Carter described Milley as "a warrior and a statesman." McHugh called him "one of the most highly regarded officers and strategic commanders" and "the absolutely right leader for this job."
Dempsey agreed.
The Army will continue to adapt and learn, Dempsey said, telling Milley "now it's your turn."
"[The Army will be] smaller than at any time in our lifetimes. Different? Certainly. The best in the world? You'd better believe it. Doing what the nation asks? Absolutely," he said. "Our nation has placed its trust in you, and so do we. You're an inspired choice to lead our Army into the future, and you're going to be terrific."
Milley, who praised Odierno as "a giant of a man" with "incredible moral courage," said he is committed "110 percent."
"As citizens of the United States, we were granted a gift, the most precious gift of all, the gift of freedom," he said. "That is a very, very, very expensive gift, for it is paid for in the sacrifice and the blood of those who came before us."
Those who are living are "responsible" to pass along that gift to the next generation, Milley said.
"It is our job to carry the torch into the future," he said. "We are, in fact, the best equipped, the best trained, and the best led Army in the world, and we must remain that way."
The Army must continue to adapt as it looks to the future, Milley said.
"But there is no cheap way to change," he said. "The only thing more expensive than fighting and winning a war is fighting and losing a war. Winning is what the United States Army is all about."
Wars are also fought up close, he said.
"Wars are ultimately decided on the ground, where people live, and it is on the ground where the U.S. Army and U.S. Marine Corps and U.S. special operations forces must never, ever fail," Milley said. "If we do not maintain our commitment to remain strong in the air, on the sea and, yes, on the ground, then we will pay the butcher's bill in blood, and we will forever lose the precious gift of freedom."
A 1980 graduate of Princeton University, Milley has served in the 82nd Airborne Division and 5th Special Forces Group. He also served with the 7th Infantry Division, the 10th Mountain Division, the 25th Infantry Division and the 101st Airborne Division.
Milley, an infantryman and native of the Boston area, also previously served on the operations staff of the Joint Staff and as a military assistant to the defense secretary.
As the 39th chief of staff, Milley will lead an Army in transition as it undergoes a steep draw down and sweeping reorganization amid increasingly tight budgets. He also will take the reins of a combat-hardened Army that continues to respond to contingencies around the world even as it recovers from more than a decade of war and back-to-back deployments to Iraq and Afghanistan.
Michelle Tan is the editor of Army Times and Air Force Times. She has covered the military for Military Times since 2005, and has embedded with U.S. troops in Iraq, Afghanistan, Kuwait, Haiti, Gabon and the Horn of Africa.
Share: