In just a few months, Iraqi soldiers trained by the 82nd Airborne Division went from members of brand-new units to part of the fight to take back Ramadi.
Take the 16th Iraqi Division, for example.
The unit stood up from scratch and was a new unit when paratroopers from 3rd Brigade Combat Team, 82nd Airborne Division arrived in Iraq, said Maj. Mike Hamilton, the operations officer for 2nd Battalion, 505th Parachute Infantry Regiment, one of 3rd BCT's subordinate units.
"We took them from a very new staff that really wasn't even completely manned … and then, ultimately, for employment in Ramadi," he said. "They were probably the most successful Iraqi army unit participating in the operation, so that was very rewarding."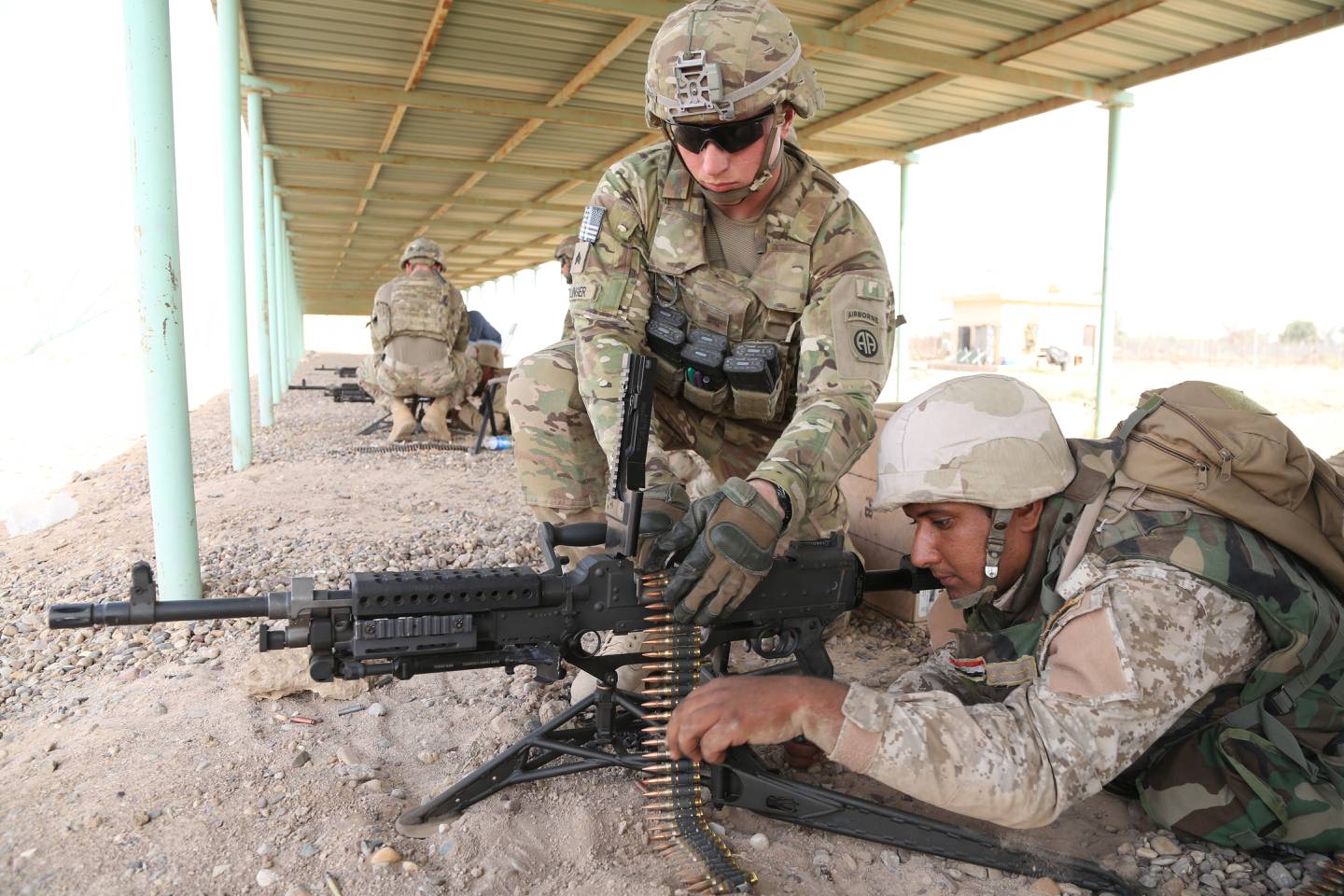 U.S. Army Sgt. Kevin Dellinger, a paratrooper assigned to Troop A, 5th Squadron, 73rd Cavalry Regiment, 3rd Brigade Combat Team, 82nd Airborne Division, assists an Iraqi soldier assigned to the 73rd Brigade, 16th Division, with the M240B machine gun at a range on Camp Taji, Iraq earlier this year. Training at the building partner capacity sites is an integral part of Combined Joint Task Force – Operation Inherent Resolve's multinational effort to train Iraqi security force personnel to defeat ISIS.
Photo Credit: Spc. Paris Maxey/Army
Over the course of its nine-month deployment, about 1,300 paratroopers from Task Force Panther trained and advised more than 12,400 Iraqi troops.
The soldiers returned to Fort Bragg, North Carolina, in September.
On Thursday, Col. Curtis Buzzard, commander of 3rd BCT, and Hamilton spoke with reporters at the Pentagon about the brigade's deployment.
The initial focus of 3rd BCT was to train five newly formed Iraqi brigades and two new divisions, Buzzard said.
His soldiers were able to, in some cases, train and build these brand-new units from inception all the way up until they joined the fight to take back Ramadi.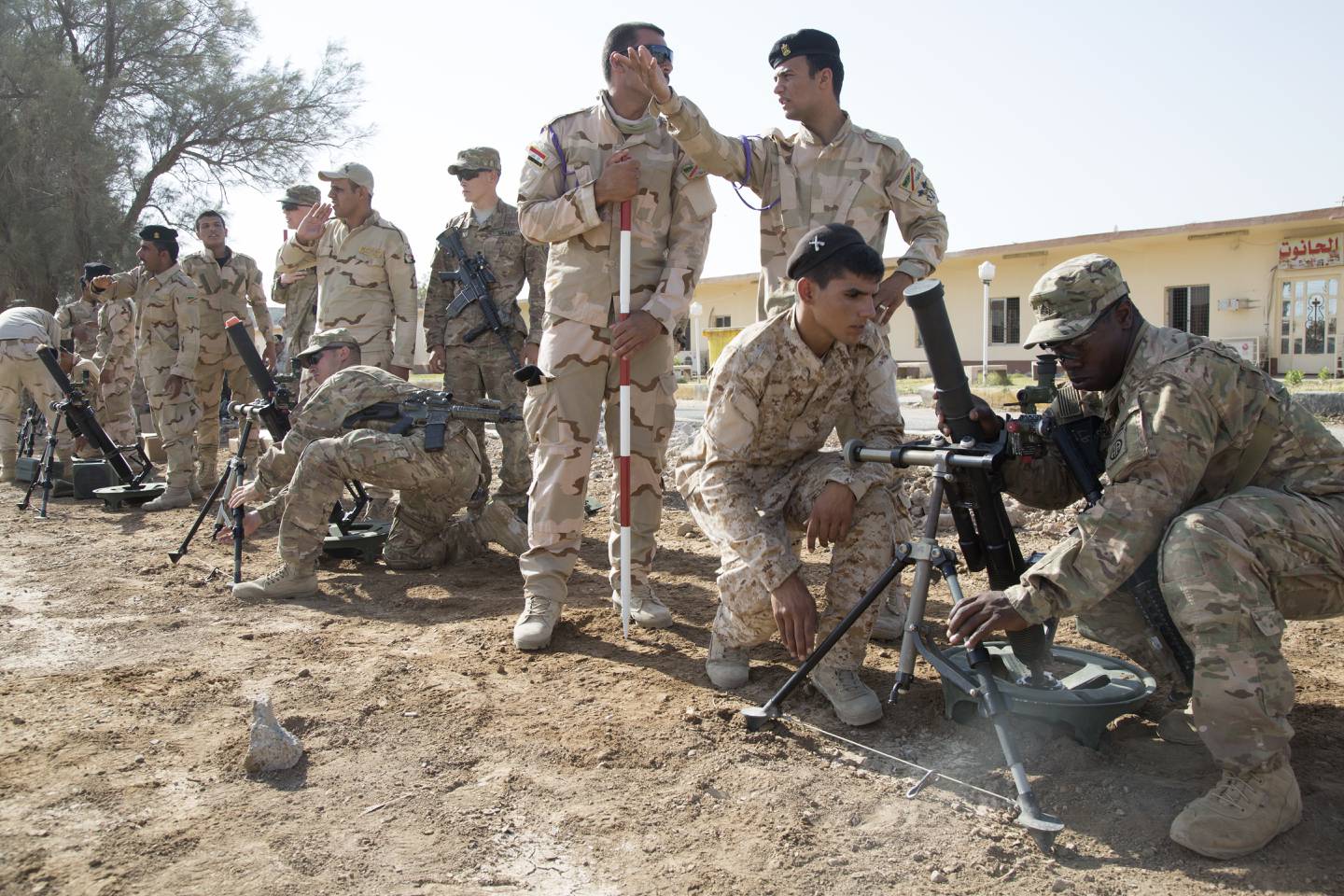 U.S. Soldiers assigned to Alpha Troop, 5th Squadron, 73rd Cavalry Regiment, 3rd Brigade Combat Team, 82nd Airborne Division, assist Iraqi soldiers assigned to the 73rd Brigade, 16th Division, with M224 60 mm mortar systems at Camp Taji, Iraq this summer.
Photo Credit: Spc. Paris Maxey/Army
The paratroopers worked with Iraqi troops on a broad range of training, from basic soldier skills such as marksmanship and medical skills, all the way up to battalion-level collective training, Hamilton said.
The training was tailored to meet the needs of each unit, which came into the training with varying levels of capability and ability, he said.
The American soldiers also provided the Iraqis with special skills training, such as how to counter improvised explosive devices, Hamilton said.
Most of the IEDs being used by the enemy today are "very rudimentary," Buzzard said. However, the use of vehicle-borne IEDs has become "more significant," he said.
"I would say Daesh uses that similarly to how we use strikes," Buzzard said, using an alternate name for the Islamic State terror group. "That's kind of their version of a strike. When the Iraqi army is attacking, and they recognize a weakness, they'll roll this out. It's very disheartening, because most of the people driving these are young kids that have been brainwashed."
The easy availability of homemade explosives coupled with Daesh's freedom of movement in many parts of the country allows them to plant many IEDs, Hamilton said. Often times, the IEDs aren't even concealed or buried, he said. Instead, they're just a tactic to slow down the movement of Iraqi forces.
Iraqi forces are eager to train, Buzzard said.
"They had largely stopped training when we left [Iraq in 2011], and had been focused on internal security," he said. "I can tell you, there was a huge appetite to get back and do this type of training."
In addition to the day-to-day training on the ground, U.S. troops also helped the Iraqis plan operations, shared intelligence, and conducted command post exercises for the various staffs.
"Clearly there were some changes to the Iraqi army after we left [in 2011]," Buzzard said. "But I would tell you, the Iraqi army forces that we partnered with are extremely dedicated to what needs to get done over there. There's a sense of urgency, there's a sense of commitment."
The American soldiers also focused on building leadership, which is just as important as tactical training, Buzzard said.
"As important as the training is our ability to help them assess leadership and see themselves," he said. "The best units had the best leaders."
The Iraqi units partnered with 3rd BCT had "tremendous leadership," Buzzard said, adding that they were "fortunate."
"At least with the forces we were with, there was a sense of confidence and will," he said.
There are "certainly" units that don't have the will, Buzzard said.
"There are units that fled from both Ramadi and Mosul, and some of that is reflective of the type of leaders that were put into position while we weren't there," he said. "To some degree, I can't entirely fault soldiers who left when their leaders ran. If you're in the American Army and your battalion commander has fled, and your brigade commander has fled, and your company commander has fled, and you're sitting there, you're going to probably leave also."
Because soldiers from 3rd BCT did not patrol or fight alongside the Iraqis, there were some challenges to advising from afar, Hamilton said.
"We can't accompany them on the battlefield, and that presents a challenge both to our own situational awareness of how they execute the operations, and our ability to assist them in executing the operations," he said. "It's very intellectually challenging to try to influence their operations while not ourselves participating, and they have more of a responsibility for leading those operations than in previous deployments in the past."
Hamilton, who had deployed twice to Iraq before this mission, said the work there today takes "a lot of patience."
"It's ultimately their fight to win or lose, and we offer the best advice and assistance we can," he said.
Buzzard, whose last Iraq deployment was in 2006 and 2007 during the surge of troops into Baghdad, said it is important for Iraq's Sunni population to be part of the fight against the Islamic State group.
Iraqi Prime Minister Haider al-Abadi has made that his focus, Buzzard said, and "it's moving forward. Maybe not necessarily at the pace we think it should, but there is progress."
"I think it's important probably to get more Sunnis into the Iraqi army," he said. "That's something we obviously continue to emphasize."
The challenge facing Iraq must be solved by Iraqis, Buzzard said.
"It is their fight to win," he said. "We can't do it for them. It won't be sustainable if we were to do it on our own."
Buzzard said he's proud of what his soldiers accomplished in Iraq.
Because of his soldiers, their Iraqi partners are "better trained, they're better equipped, and they're better led," he said. "It may not be moving as quickly as we would like it, but there's progress. This is the Iraqis' fight to win, enabled by us, but they must own it, and they know it."
Michelle Tan is the editor of Army Times and Air Force Times. She has covered the military for Military Times since 2005, and has embedded with U.S. troops in Iraq, Afghanistan, Kuwait, Haiti, Gabon and the Horn of Africa.
Share: