About 30 officers from the South Korean army will become part of the 2nd Infantry Division headquarters Thursday as part of a sweeping and unprecedented restructuring of the American headquarters.
The 30 officers, to include a brigadier general, will become part of what officials are calling a combined division stationed in the Republic of Korea. As the division builds its combined structure over the coming months, even more South Korean officers, as well as noncommissioned officers, could be added to the headquarters.
"To the best of our knowledge, historically, we don't know where it's been done where you have brigades and staff headquarters fully integrated," said Maj. Gen. Thomas Vandal, commanding general of the 2nd Infantry Division. "It's a unique opportunity for us to enhance our readiness and work through our interoperability challenges. It really takes the strength of the U.S. Army and our forces, and the strengths of the ROK military, and together you have a much more powerful organization."
The 2nd Infantry Division has worked alongside its Republic of Korea counterparts for more than 60 years on the volatile Korean peninsula. The historic alliance will enter a new phase this month with the integration of the South Korean officers, officials said.
"U.S. and Korean soldiers will literally operate as one unit, with one unified effort," Vandal said.
The combined division will give both armies "the ability to plan together, to train together on a regular basis, and, ultimately, to fight together should conflict erupt on the Korean peninsula," he said. "We've always trained together to a degree, but we have not had, to this extent, this integration."
The transformation of the 2nd Infantry Division headquarters comes at a time of major change for U.S. Army forces in Korea.
This summer, the Army will begin rotating whole brigade combat teams into South Korea for nine-month tours, while it inactivates the 2nd Infantry Division's 1st Brigade Combat Team, which has been stationed in Korea for almost 50 years.
In addition, as the division headquarters transitions into a combined division, it also will be preparing to move into new facilities in Pyeongtak, south of the capital of Seoul.
"This is probably, for the 2nd Infantry Division, the largest transformation we've ever had," Vandal said Wednesday during a phone interview with Army Times. "All of those [changes] by themselves, overlaid by our regular 'fight tonight' mission to be ready to deter aggression from North Korea and to integrate and conduct combined training with our ROK partners, make for a challenging mission, but I have no doubt our division is ready for that."
To become a combined division, about 30 ROK army officers, most of them majors, lieutenant colonels and colonels, will be integrated into the 2nd Infantry Division's headquarters and staff, Vandal said.
The Korean officers will be added to each of the division's core staffs, from the G-1 (personnel) through G-9 (civil affairs), Vandal said.
"They'll either have the staff lead or they'll be the deputy in every one of their positions," he said.
They will begin training next week, with seminars to exchange information on decision-making processes, staff processes and operations plans.
The division headquarters, which currently has about 750 soldiers, will be led by an American two-star general. It will welcome a South Korean one-star as its deputy commander, starting with Brig. Gen. Sung Hwan Yin, and the division also will have a Korean deputy chief of staff.
Each of the 30 officers who will be integrated first were handpicked by the ROK army, Vandal said.
"They all speak English well, they've all been schooled in the U.S. professional military education system," he said, adding that one of the Korean colonels just last summer graduated from the U.S. Army War College.
The officers being added to the 2nd Infantry Division are in addition to the approximately 1,200 soldiers assigned to American units as part of the Korean Augmentation to the United States Army, or KATUSA, program.
That program, which has been in place since the 1950s, puts Korean troops at all levels of the Army's units, from tank crews to infantry squads to companies and unit staffs, Vandal said. The program is competitive, with about 12,000 Korean soldiers competing for the 1,200 slots, he said. KATUSAs serve 20-month rotations, he said.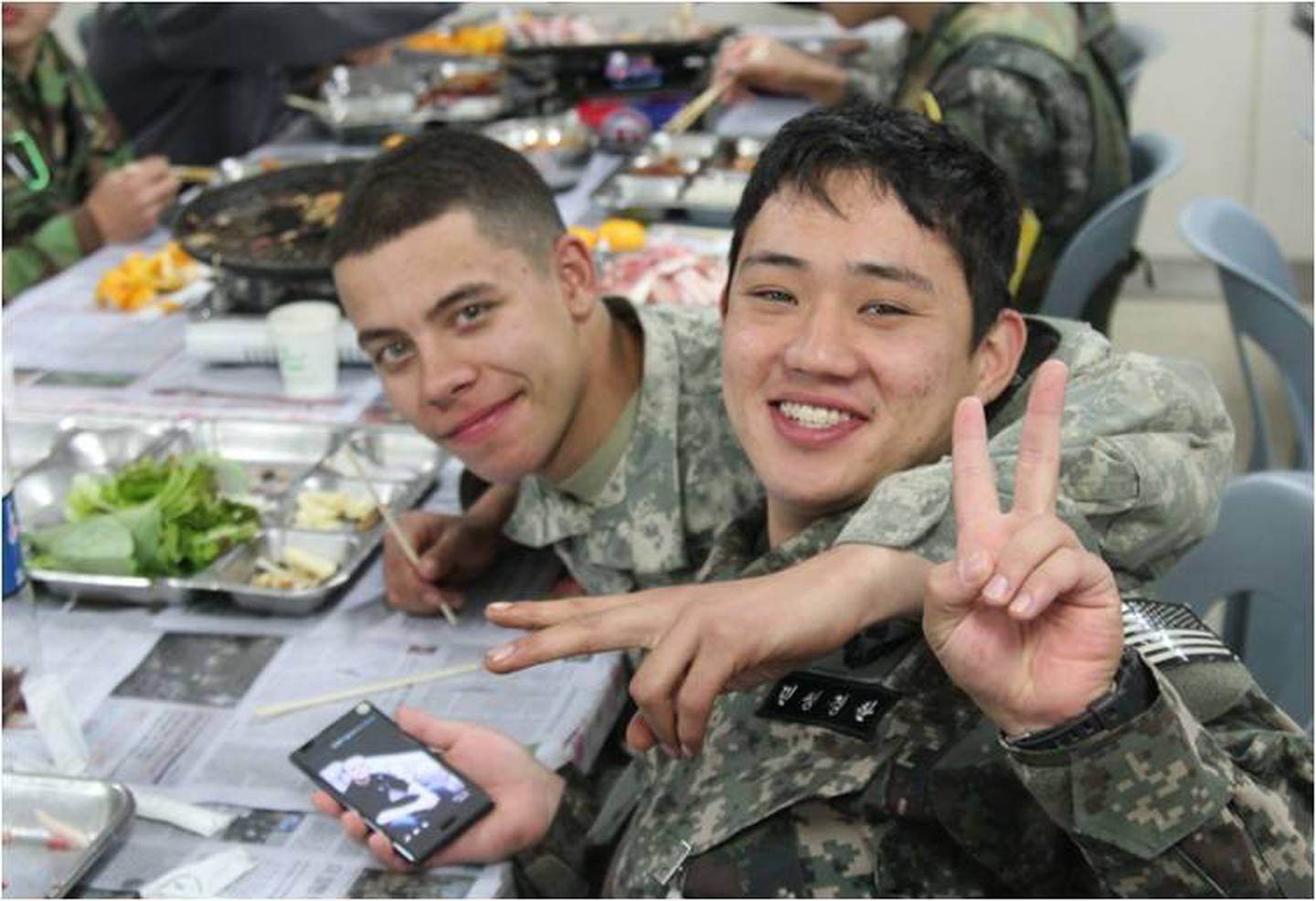 U.S. and South Korean soldiers sit down for a meal in South Korea.
Photo Credit: Army
As the division integrates its staffs, it will participate in several exercises throughout the year to validate its capabilities, Vandal said. This includes Exercise Key Resolve this spring, Ulchi Freedom Guardian in late summer, and a warfighter exercise in the fall, he said.
Based on lessons learned from these exercises, recommendations could be made to increase the number of Korean soldiers in the combined division, Vandal said.
"We haven't worked out the final determination of what our full mission capability will look like," he said. "2015 is our opportunity to work through some exercises and develop the concept in more detail, and ultimately make a decision about how many ROK officers and NCOs will be assigned."
Vandal said he expects the combined division to reach what officials are calling full mission capability in October.
The combined division and its headquarters will initially be at Camp Red Cloud in Uijeonbu. In 2016, it is slated to move to Camp Humphreys in Pyeongtak. The move, which is part of the Land Partnership Plan between the two countries, will take place once the division's new facilities are completed. The expansion and construction project costs about $10 billion, with about 90 percent of it being paid for by the Republic of Korea. There will be new motor pools, barracks, headquarters, housing, medical and educational facilities for about 24,000 troops.
The move is expected to take place at the end of 2016, Vandal said.
The Army has been working on this integration since 2013, Vandal said. U.S. and ROK military leaders in July 2014 signed an agreement allowing the two armies to pursue a formal memorandum of agreement, he said.
When the integration is completed, the division will include the existing 2nd Infantry Division structure and the 16th Brigade from the ROK army.
The ROK brigade will not be directly attached to the division, but its soldiers will participate in all of the division's exercises and training, from the platoon through division levels, Vandal said.
Soldiers from 1st BCT, 2nd Infantry Division have already begun partnering with soldiers from the 16th Brigade, and they will hand over the relationship to 2nd BCT, 1st Cavalry Division, the first rotational brigade to serve in Korea, this summer.
The rotational brigade will bring with it more readiness, Vandal said, adding that 8 percent to 12 percent of the division turns over every month because most soldiers serve in Korea on one-year, individual tours.
"What you get is a unit that doesn't have the turnover that we experience across the division with the individual rotations," Vandal said. "They come here collectively for nine months, they've already trained for the mission, and it really does enhance the readiness of the mission."
Michelle Tan is the editor of Army Times and Air Force Times. She has covered the military for Military Times since 2005, and has embedded with U.S. troops in Iraq, Afghanistan, Kuwait, Haiti, Gabon and the Horn of Africa.
Share: