As Spc. Matthew Tattersall prepares to leave the Army, he wanted to make his last jump as a paratrooper a memorable one.
So last weekend, he jumped with Willy MakeIt, his pet Siamese fighting fish.
The photo, a selfie Tattersall took in the air, went viral on U.S. Army W.T.F.! Moments, a Facebook community popular among troops.
Social media loved it (the photo got more than 15,500 likes), but his chain of command at Fort Bragg, North Carolina, wasn't so sure.
"The picture got way more popular than I thought it would," Tattersall said. "I figured it'd get some likes, but I didn't think it would be as big as it did."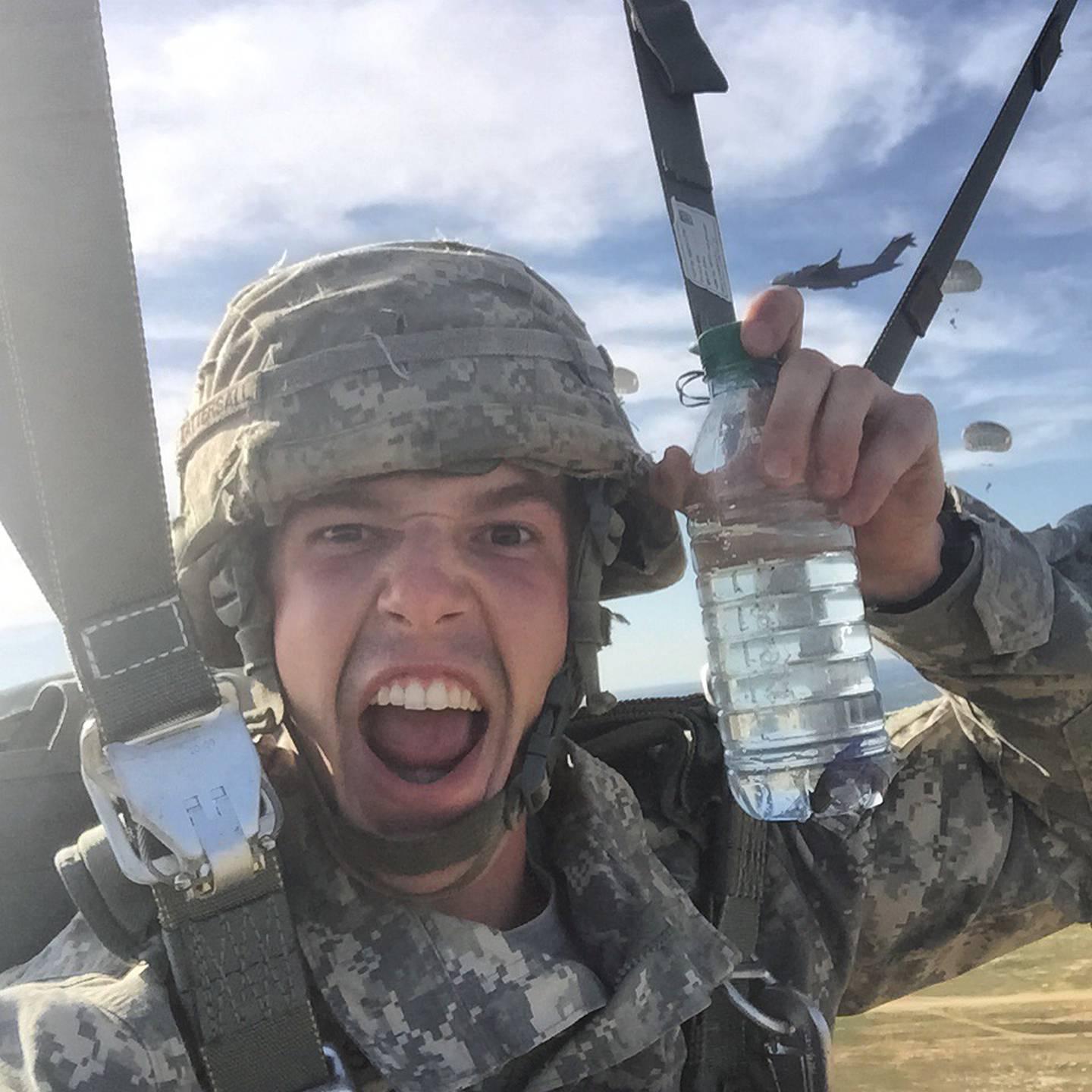 Spc. Matthew Tattersall with his fish Willy MakeIt. The soldier poked holes in a water bottle for a make-shift fish tank.
Photo Credit: Courtesy
Tattersall, who's assigned to 2nd Battalion, 505th Parachute Infantry Regiment, 3rd Brigade Combat Team, 82nd Airborne Division, said he's still waiting for the final outcome of his actions. Meanwhile, he has written a 1,000-word essay on the importance of airborne safety and professionalism in the Army.
"When it's all said and done, it wasn't all that safe or professional for me to have done that," Tattersall said.
But the 23-year-old, who said he's "23 years stupid," said he has no regrets.
"It was worth it," he said. "I'm fully willing to embrace any consequences that come of it, and I hope they're lenient. I hope they can look past the negative aspects to taking the picture in terms of safety and professionalism."
Tattersall, an infantryman with a deployment to Afghanistan, joined the Army in 2011, shipping to basic training in January 2012.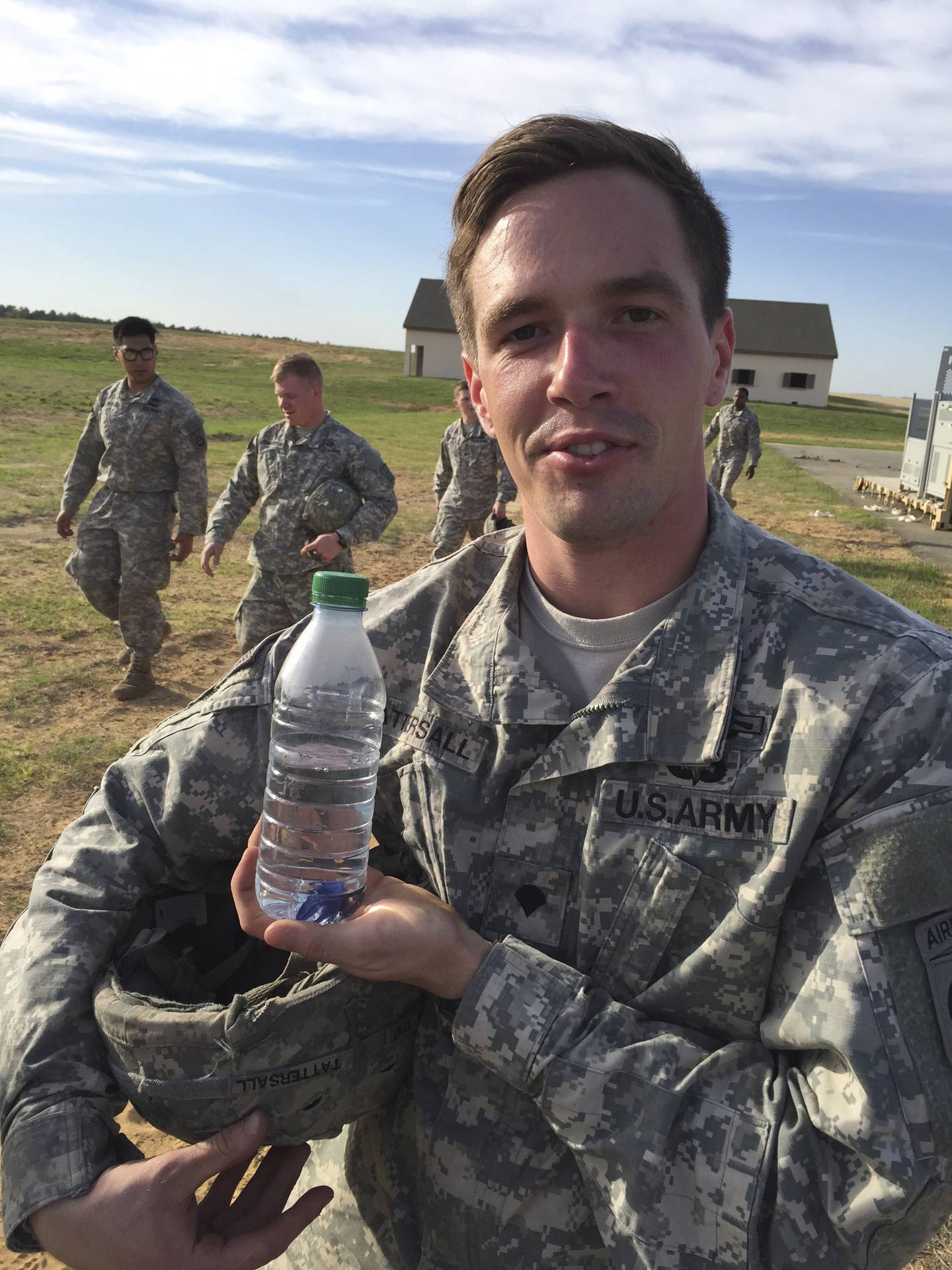 After successfully completing the jump, Willy MakeIt was renamed WIlly Did MakeIt.
Photo Credit: Courtesy Tattersall
He will complete his enlistment on May 20.
His last jump was April 11.
"It was a daytime combat jump, but with me being so close to getting out, I didn't have any gear, so it was a Hollywood jump for me," Tattersall said.
He and his friends have long talked about doing something special or unique for their last jump, but "no one actually went through with it," he said.
So when his turn came, "I wanted to make it awesome, and I did just that," he said.
The night before the jump, Tattersall went to Walmart and bought a fish he named Willy MakeIt.
"It's so random to have it be a fish," he said, crediting a friend for the idea.
Tattersall poked holes in the top of the water bottle "so he could breathe."
"I had his little pod ready," he said.
On the day of the jump, no one knew what Tattersall was planning, he said.
"I kept it in my pocket, and I was as nonchalant as I possibly could be," he said. "I knew the jumpmasters wouldn't have let that fly. I knew none of the NCOs or other leaders would have let me jump. It was completely on me."
As he jumped from the C-17 and fell to the ground under the canopy of his parachute, Tattersall took a quick selfie.
"I had to be quick, but paratroopers get the job done," he said.
He was careful to make sure no other jumpers were nearby.
"It was a daytime Hollywood jump, conditions were perfect, I made sure I wasn't around anyone where it would have been a hazard," he said. "But I guess that's famous last words for anyone."
Tattersall and Willy MakeIt made it safely to the ground, and the hardy fish earned a middle name.
He's now Willy Did MakeIt, and he has big dreams.
"Willy and I are trying to go to space," Tattersall said.
While Tattersall said he doesn't regret his actions, he is sorry for upsetting his chain of command.
"The main thing I'm worried about is disrespecting the unit and disrespecting airborne in general and leadership," he said, "If I could apologize, I would. Absolutely, I owe them an apology, but I have no regrets at all."
As he prepared for the jump, Tattersall said he didn't consider the safety or professionalism issues, and he hopes to be able to move on from the Army after serving honorably.
"I have big hopes and big plans for the future," said Tattersall, who plans to start college in the fall. "I'm proud to be a paratrooper. I wouldn't change a thing about it."
Michelle Tan is the editor of Army Times and Air Force Times. She has covered the military for Military Times since 2005, and has embedded with U.S. troops in Iraq, Afghanistan, Kuwait, Haiti, Gabon and the Horn of Africa.
Share: