About 500 Maryland National Guard soldiers and airmen are in Baltimore on Tuesday — with another 1,500 expected to arrive by the end of the day — one day after rioters plunged parts of the city into chaos.
Rioters torched a pharmacy, set police cars on fire and threw bricks at police officers hours after thousands mourned Freddie Gray, who died from a severe spinal injury he suffered while in police custody.
Maryland Gov. Larry Hogan declared a state of emergency and called in the National Guard to help restore order. Authorities also have put in place a weeklong, daily curfew beginning Tuesday from 10 p.m. to 5 a.m.
The Guard will be in place for "as long as it takes," said Rick Breitenfeldt, a spokesman for the National Guard Bureau.
The troops, who are mostly military police soldiers plus a handful of airmen, will provide security, conduct presence patrols and support infrastructure security, Breitenfeldt said.
On Monday night, the first Maryland Guard troops arrived in Baltimore. The soldiers were from 1st Battalion, 175th Infantry Regiment; they were serving as the state's quick-reaction force, ready to respond within hours if needed.
They will be augmented by the troops arriving Tuesday, Breitenfeldt said.
By Tuesday morning, Guard soldiers were already stationed outside Baltimore City Hall.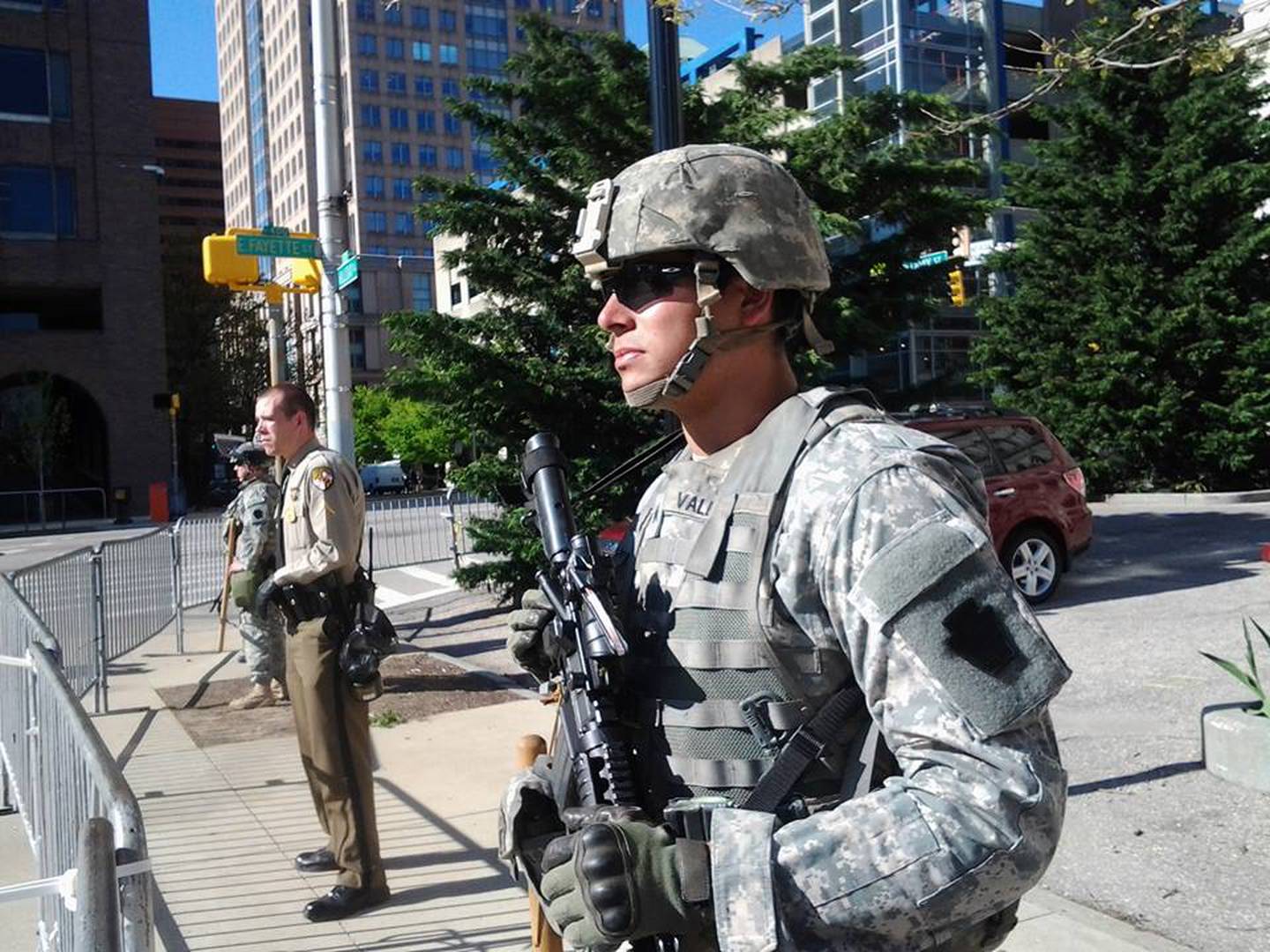 There are about 500 members of the Maryland National Guard on the scene in Baltimore, but the number is expected to grow to 2,000 by the end of the day Tuesday.
Photo Credit: Maryland National Guard via Facebook
Plans currently call for about 2,000 Guard troops to support authorities in Baltimore, but the Maryland Guard has up to 5,000 troops available to respond if needed, he said.
Monday's riot was the latest flare-up over the mysterious death of Freddie Gray, whose fatal encounter with officers came amid the national debate over police use of force, especially when black suspects are involved. Gray was African-American. Police have declined to specify the races of the six officers involved in his arrest, all of whom have been suspended with pay while they are under investigation.
Emergency officials were constantly thwarted as they tried to restore calm. Firefighters trying to put out a blaze at a CVS store were hindered by someone who sliced holes in a hose connected to a fire hydrant, spraying water all over the street and nearby buildings.
Gray's family was shocked by the violence and was lying low; instead, they hoped to organize a peace march later in the week, said family attorney Billy Murphy. He said they did not know the riot was going to happen and urged calm.
"They don't want this movement nationally to be marred by violence," he said. "It makes no sense."
Gray was arrested after making eye contact with officers and then running away, police said. He was held down, handcuffed and loaded into a van without a seat belt. Leg cuffs were put on him when he became irate inside.
He asked for medical help several times even before being put in the van, but paramedics were not called until after a 30-minute ride. Police have acknowledged he should have received medical attention on the spot where he was arrested, but they have not said how his spine was injured.
Share: