Two soldiers will be recognized with the Medal of Honor almost 100 years after their heroic actions during World War I, the White House announced Thursday.
Shemin joined the Army on Oct. 2, 1917, and was a member of G Company, 2nd Battalion, 47th Infantry Regiment, 4th Division, American Expeditionary Forces. He will be recognized for his actions Aug. 7-9, 1918, during combat operations near Vesle River, Bazoches, France.
On those days, Shemin left the cover of his platoon's trench and crossed open space, repeatedly exposing himself to heavy machine gun and rifle fire to rescue wounded soldiers, according to information from the White House. After officers and senior noncommissioned officers were among the casualties, Shemin took command of the platoon and displayed great initiative under fire until he was wounded Aug. 9.
For his injuries, Shemin received the Purple Heart. He also would later be awarded the Distinguished Service Cross, the nation's second-highest award for valor, according to an Army website dedicated to Shemin.
Shemin was honorably discharged in August 1919 and went on to get a degree from the New York State College of Forestry at Syracuse University.
He started a greenhouse and landscaping business in Bronx, New York, where he raised three children. Shemin died in 1973.
His daughter, Elsie Shemin-Roth, of Webster Grove, Missouri, will accept the Medal of Honor on his behalf.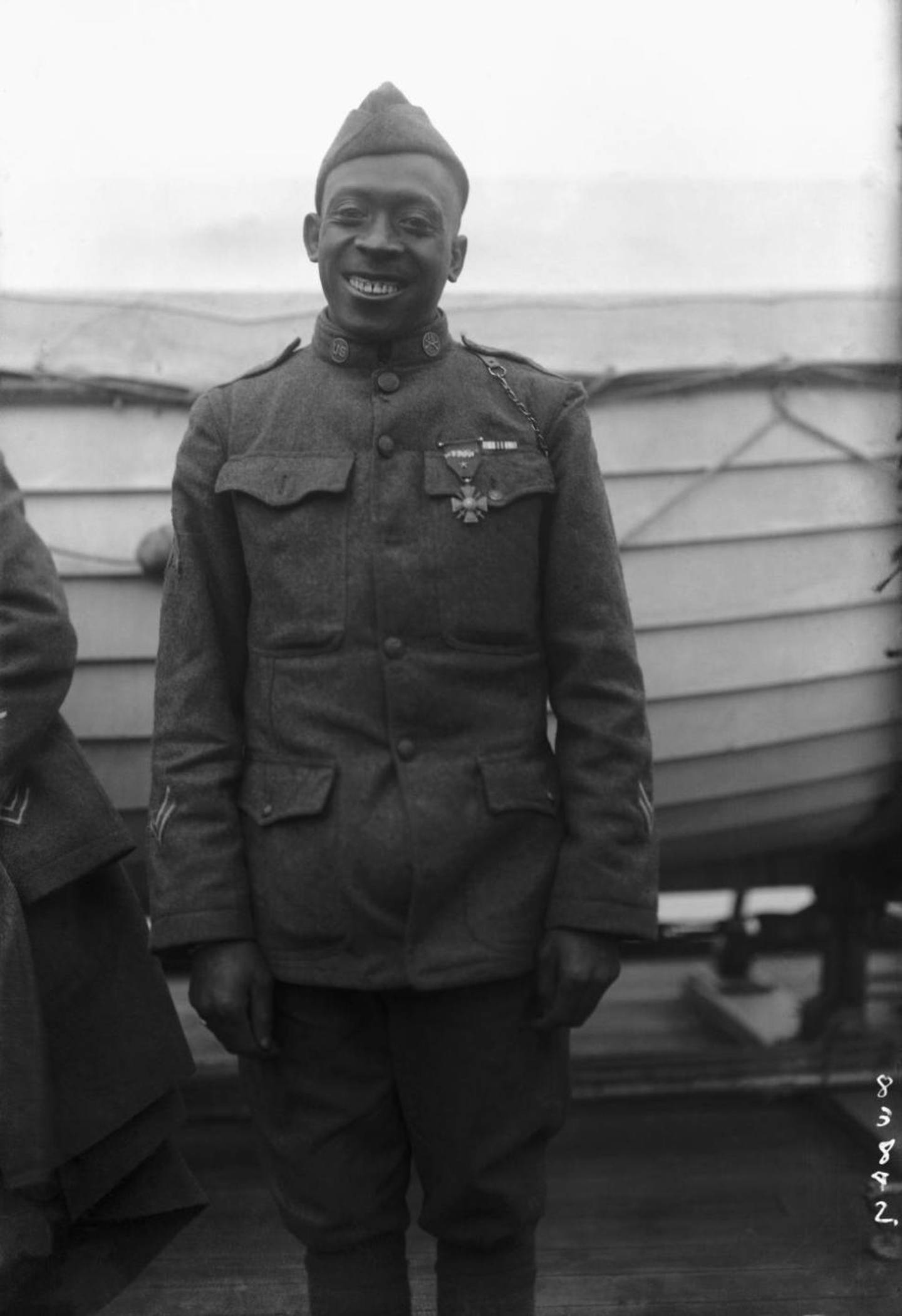 Sgt. Henry Johnson of the 369th Infantry Regiment was awarded France's highest award for valor. Now he will posthumously received the Medal of Honor.
Photo Credit: Army
Johnson joined the Army on June 5, 1917. He was assigned to C Company, 15th New York (Colored) Infantry Regiment, an all-black National Guard unit that would later become the 369th Infantry Regiment.
The unit was ordered into battle in 1918, and Johnson and his unit were brigaded with a French Army colonial unit in front-line combat.
Johnson will be honored with the Medal of Honor for his actions on May 15, 1918, near the Tourbe and Aisne Rivers, northwest of Saint Menehoul, France.
According to information from the White House, Johnson and a fellow soldier were on night sentry duty when they were attacked by a German raiding party of at least 12 soldiers.
While under intense enemy fire and despite receiving significant wounds, Johnson mounted a brave retaliation resulting in several enemy casualties. When his fellow soldier was badly wounded, Johnson prevented him from being taken prisoner by German forces.
Johnson exposed himself to grave danger by advancing from his position to engage an enemy soldier in hand-to-hand combat. He held back the enemy force until they retreated.
For his valor, Johnson became one of the first Americans to be awarded the French Croix de Guerre avec Palme, France's highest award for valor.
When Johnson returned home to his adopted state of New York after his tour of duty, he was unable to return to his pre-war job as a redcap porter at Albany's Union Station because of the severity of his combat injuries.
He died in July 1929 and is buried at Arlington National Cemetery.
Johnson was posthumously awarded the Purple Heart in 1996 and the Distinguished Service Cross in 2002.
Command Sgt. Maj. Louis Wilson, of the New York National Guard, will accept the Medal of Honor on Johnson's behalf.
Michelle Tan is the editor of Army Times and Air Force Times. She has covered the military for Military Times since 2005, and has embedded with U.S. troops in Iraq, Afghanistan, Kuwait, Haiti, Gabon and the Horn of Africa.
Share: