After four physically punishing days, the three women in the Army's gender-integrated assessment of Ranger School are moving on to the Darby Phase, officials said Friday.
A total of 365 students started RAP week on Monday at Fort Benning, Georgia.
The women have attempted the Darby Phase twice before. They were offered Day One Recycles after their second failed attempt.
On average, about 45 percent of Ranger School students will graduate from the grueling two-month course. As many as 60 percent of all Ranger School failures will occur during RAP week, which makes up the first four days of the course.
The women in the course are part of a one-time, integrated assessment of the storied school. The assessment is part of a wider effort to determine whether and how to open combat arms jobs to women, and it is a first for Ranger School, which until now has been open only to men.
Nineteen female and 381 male soldiers started Ranger School on April 20. Eight of the women of them made it through RAP week.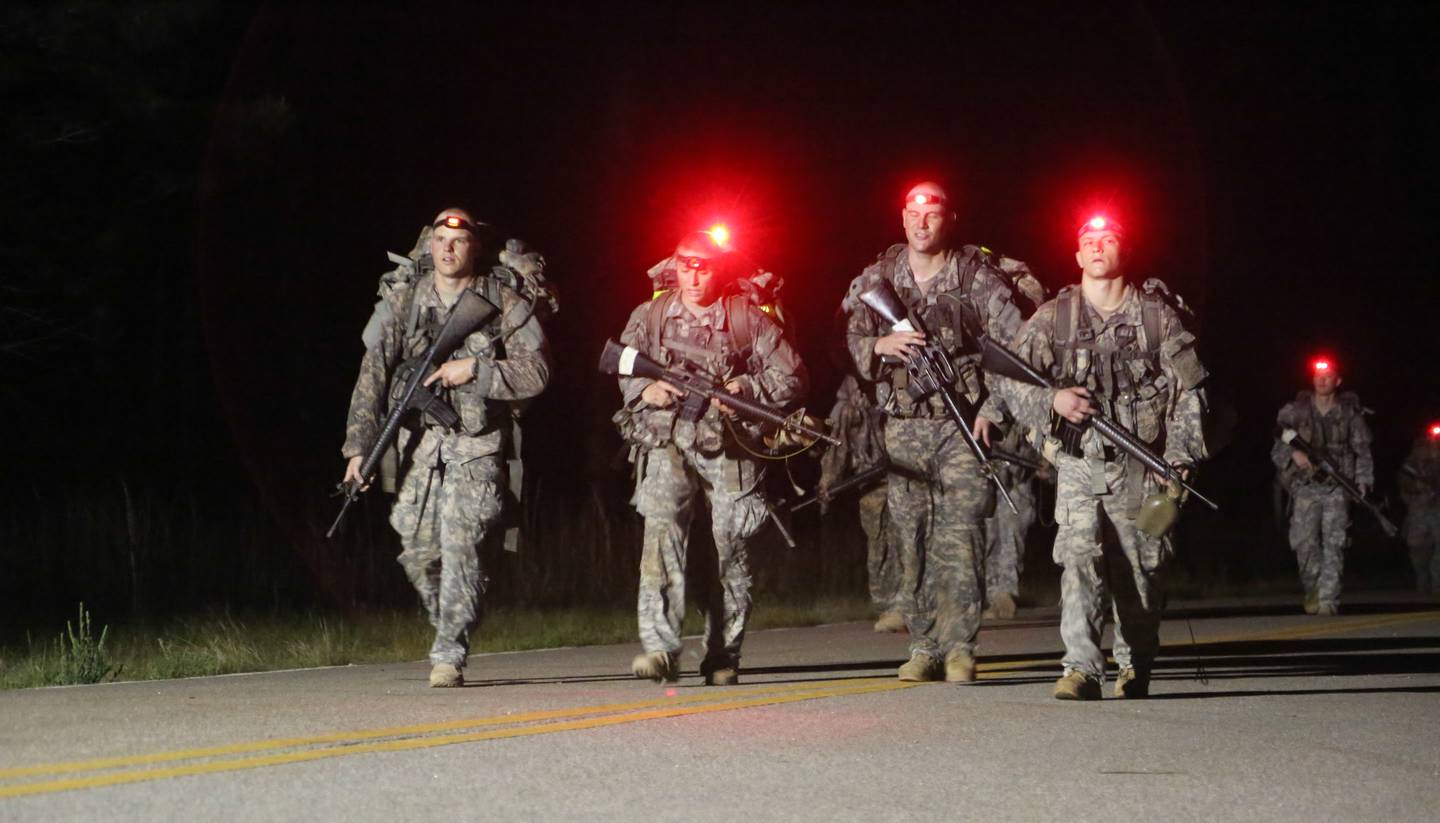 U.S. Army Soldiers conduct a 12 mile ruck march during the Ranger Course on Fort Benning, Ga., on April 21.
Photo Credit: Spc. Nikayla Shodeen/Army
After the second attempt at the Darby Phase, three female and two male students on May 29 were given the option of a Day One Recycle, which is a normal course procedure that's used when students struggle with one aspect of the course and excel at others, said officials at Fort Benning, Georgia.
The two male students declined to recycle, officials said.
The remaining five women returned to their units and were not recycled again. A total of 29 students were dropped from the course for failing to meet the standards of the Darby Phase.
These students did not meet the standard for a number of reasons, including leading patrols, poor peer evaluations, too many negative spot reports, or a combination of all three.
Ranger School students who make it through RAP week move on to the Darby Phase, which is 15 days of intensive squad training and operations in a field environment at Fort Benning.
The phase consists of a day for basic airborne refresher and sustained airborne training, as well as a day for an airborne operation for those Ranger students who are airborne qualified (usually about 50 percent% of the class); a day for the Darby Queen, an advanced obstacle course; a day of techniques training; two days of cadre assisted patrols; three days of student led patrols; one day of retraining; three days of student led patrols; and two administrative days where the students are counseled on their performance during the phase.
On average, more than 37 percent of Ranger School graduates recycle at least one phase of the school. About two-thirds of those who complete RAP week will eventually pass the Darby phase and move on to the mountain phase, according to data on the Airborne and Ranger Training Brigade website.
Michelle Tan is the editor of Army Times and Air Force Times. She has covered the military for Military Times since 2005, and has embedded with U.S. troops in Iraq, Afghanistan, Kuwait, Haiti, Gabon and the Horn of Africa.
Share: