The remains of Sgt. Charles Schroeter will receive a burial with full military honors at San Diego's Miramar National Cemetery on Thursday, nearly 95 years after his death and 146 years after the soldier earned the nation's highest military award for valor.
Schroeter's 30-year military career included four stints with the Army and one with the Marine Corps, according to biographical information provided by the cemetery. He fought against Confederate troops while with the 1st Missouri Volunteer Cavalry Regiment, then earned the Medal of Honor for his actions during an Oct. 20, 1869, battle with Apach e forces under Chief Cochise in what's now Arizona.
Aside from lauding then-Pvt. Schroeter's gallantry as a member of G Company, 8th Cavalry Division, the medal citation, issued the following February, offers no details on the engagement. He's one of 424 Medal of Honor recipients honored during what the Congressional Medal of Honor Society terms "Indian War Campaigns" — and until recently, he was one of about 200 honorees whose final resting places were unknown, said Don Morfe, with the Medal of Honor Historical Society of the United States.
Morfe has helped track down and/or provide grave markers for 485 Medal of Honor recipients in the past 10 years, he said, working primarily with Laura Jowdy, an archivist with the Congressional Medal of Honor Society.
It can be a long process: Morfe said he filed an application with the Veterans Affairs Department in 2011 for a niche marker to honor Schroeter, whose unclaimed remains had been in an unmarked crypt at San Diego's Greenwood Memorial Park since his death in 1921.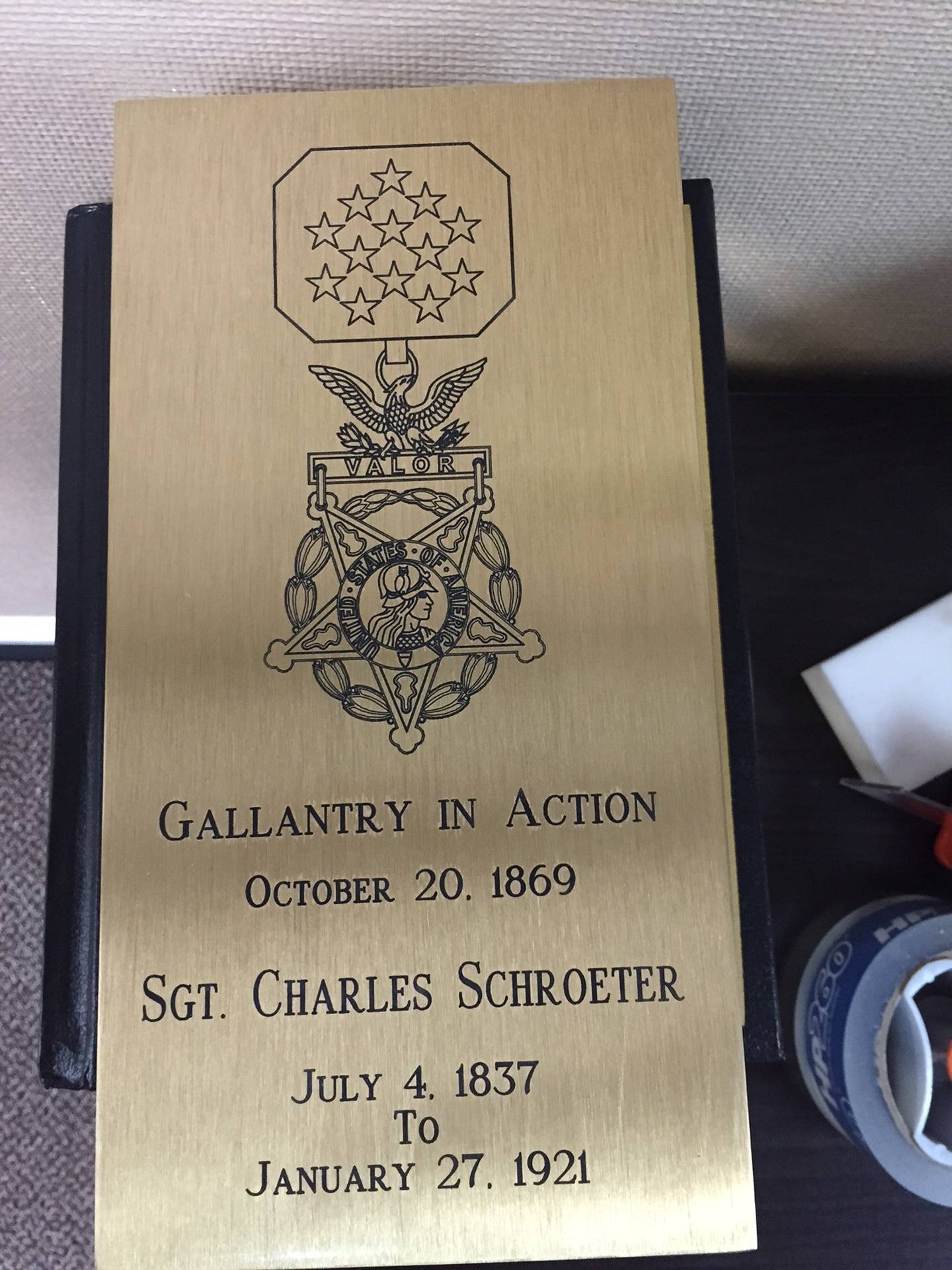 A new urn will contain Sgt. Charles Schroeter's remains. The original one was in an unmarked crypt.
Photo Credit: Miramar National Cemetery Support Foundation
That application fizzled, he said, due to a VA rule change that limited such requests to next of kin. Four years later, after a change of management at Greenwood and the involvement of the Miramar National Cemetery Support Foundation, VA approved Schroeter's re-interment. He'll be the first Medal of Honor recipient to rest at the cemetery, which opened in 2010.
"It's finally coming to fruition," Morfe said, crediting Bill Heard, a retired Navy Reserve captain and public information officer with the cemetery's support center, with clearing the final hurdles.
Difficult detective work
Schroeter, a German immigrant who was born July 4, 1837, never married and had no children, leaving no family tree for researchers to trace. Jowry found Schroeter's name in turn-of-the-1900s records from Erie County, New York, she told the Los Angeles Times, and traced him to San Diego.
Local historians helped with the rest of the puzzle — one that came together easier than other Medal of Honor recipients' trails that've long since gone cold.
"The ones that are missing are mostly from the Civil War and the Indian campaigns," Morfe said. "What we've found out is in many cases, when they were in the service, and they were awarded the Medal of Honor, they were under an alias. When they came home, they went back under their old name."
Kevin Lilley is the features editor of Military Times.
Share: