The Army has entered the world of higher education with the launch of "Army University,"  a new program designed to improve soldier learning — and hopefully net soldiers' more college credit in the process.
One of the major goals of Army University is to eventually universal transcripts that outline every soldier's training, education and experience in a language that can be easily translated by civilian colleges, universities and employers.
Administered by the Combined Arms Center at Fort Leavenworth, Kansas, Army University is not a brick and mortar institution. Instead, it organizes the Army's professional military education programs into a university system, according to the Army.
Included under the Army University umbrella are all of the Army's centers of excellence, the Sergeants Major Academy, the Defense Language Institute, the Command and General Staff College, and the Warrant Officer Career College.
"We've heard people say, 'You get your choice. You can get an education or go into the Army and get your adventure,'" said Col. Michael Harlan, director of the Army University task force. "With Army University, we think you can get both."
Army University eventually will result in increased academic rigor in all Army education courses, Harlan said.
"A lot of people think that means making the tests harder, but that's not what we envision for Army University," he said. "When we talk academic rigor, we're talking about the rigor needed in order to get after what we need to address an uncertain future. Are we teaching the right things to the right people at the right level at the right time?"
The creation of Army University is "long overdue," Sergeant Major of the Army Dan Dailey said.
"We're one of the largest academic institutions in America," he said. "We train and educate more people than any other organization in the United States. We have the capacity to be a university. The question is, why aren't we doing it?"
Army University will help the Army modernize the way it trains and educates all soldiers, and there are a lot of lessons the Army can learn from civilian education institutions, he said.
"I want soldiers to connect with the fact that when you join the Army, you'll be joining a university," Dailey said.
Army University also will benefit soldiers when they transition, he said.
"We spend taxpayer dollars on training and educating our young men and women, of which a majority can be used in the civilian world for finding jobs or the equivalent academic credits." Dailey said.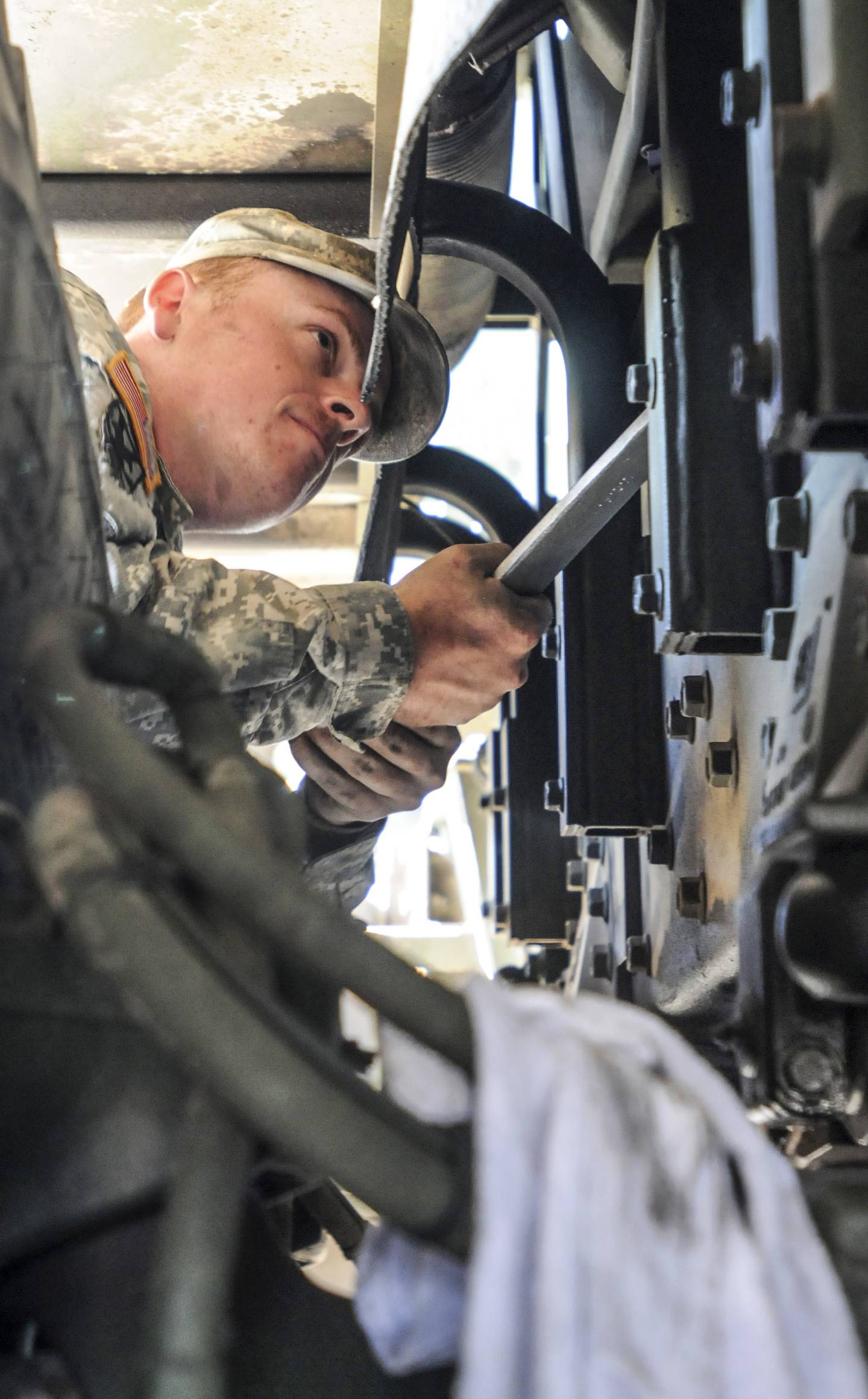 The Army wants to increase credentialing in the service to help soldiers transition from active duty to the civilian workforce.
Photo Credit: Staff Sgt. Gary A. Witte/Army
Army University allows the Army to consolidate and standardize all of its schools, said Gen. David Perkins, commanding general of TRADOC.
"There's a lot of great stuff going on, but we're not leveraging the strengths of all the other organizations, and we're not moving everyone necessarily in the same direction, nor is there always a logical transition from one part of PME to another part … so either you're teaching the same thing multiple times, or there's something that nobody's teaching," he said.
It also will help the service find ways to streamline resources and maybe save some money.
For example, the Army has several research libraries across the force, and they each have their own databases. Each library files for its own contract, but under Army University, the libraries can more easily work together, resulting in one contract and standardized research resources, said Sgt. Maj. Joe Parson, Dailey's executive officer.
The benefits of creating Army University are already starting to emerge, Dailey said.
For example, the Army is working to secure accreditation for the Sergeants Major Academy, which means changes to the way students are tested and evaluated to better match the methods used in civilian colleges and universities.
Credits from accredited courses will give soldiers an even bigger advantage because those can directly translate into a civilian equivalent, Harlan said.
"What we are hoping to do is set up a situation where we can make education attainable and realistic for more soldiers, and we might see an increase in soldiers going to university," Harlan said.
There also is an increased emphasis on credentialing as many MOSs as possible.
"It really is about getting soldiers to realize that everything they do possibly could have academic credit," Dailey said.
It will take years to fully develop Army University, Dailey added.
"I want the American public to perceive that a degree from Army University has the equivalent value as any other university out there in America," he said.
Army University will reach its initial operating capability next summer, said Command Sgt. Maj. Michael Clowser, the senior enlisted advisor to the Army University provost.
But several priorities have already emerged:
• The Degree Engine
This is about two years from becoming reality, but it is going to be a key part of Army University, Clowser said.
This database will allow soldiers to log in, enter the degree or areas of study they would like to pursue, and the Degree Engine will provide each soldier with all the options available to him or her, Clowser said.
"I imagine it being a counselor," he said. "Most soldiers interested in college kind of know what they want to do, so they can go in there and put in their request. What's the quickest [program]? What's the most prestigious? What's the farthest program from me?"
• Credentialing
In recent years, the Army has stepped up its efforts to give soldiers credit where credit is due by boosting the Army Credentialing Program. This program gives soldiers opportunities to earn civilian-equivalent certifications and licenses.
The Army initially looked for credentialing opportunities for 12 military occupational specialties. That number has since increased to 88 MOSs, with plans to continue to expand, Clowser said.
The Army also is looking at more non-traditional, generic credentialing opportunities for MOSs that don't have a natural civilian equivalent — such as infantry or armor, Clowser said.
Some MOSs have natural civilian equivalents, such as truck drivers or welders, while others are more complicated, Clowser said.
"That's the hard part," he said, adding that some areas the Army is exploring for these MOSs include management and physical fitness.
"If we can get soldiers to credential in their field, particularly if [their field] has a credential associated with it, it'll make them a better soldier, and that'll mean a lot in the future," Clowser said.
"If they choose to transition out of the military, when they're looking for their next employment, they have a credential that will give them, ideally, a leg up when they're trying to get hired."
• Universal transcripts
This transcript would be different from and in addition to the existing Joint Services Transcript, Clowser said.
"The deliverables for the transcript is what's going to be on it," he said.
While the Joint Services Transcript lists the courses a service member has taken throughout their career, the new transcript will include notable statistics and highlights from a soldier's education and job experience.
This could include how many hours a soldier may have driven a specific vehicle, or how many hours they spent working on maintaining helicopters, Clowser said.
"Specifics like that mean a lot," he said. "So when you leave the Army, you don't just have your DD 214, but you have this universal transcript that shows everything you've done. Hopefully it'll make it easier for soldiers to get more credit when they go to college or prove they have real-time experience to an employer."
It likely will be a couple of years before an Army University transcript becomes a reality, Clowser said, but plans call for initial versions to start being produced next summer through the Army Career Tracker.
"I think, at the end of the day, I would hope to be able to offer credit for every MOS out there in one fashion or another, either through credentialing or academics," Clowser said.
Who is running the university? 
Army University will be modeled after a civilian university, Harlan said, and the goal is to achieve national accreditation.
It will be guided by a board of directors, made up of senior Army leaders, who will shape the direction of the institution, he said. The commanding general of TRADOC will be the Army University chancellor, while the commander of the Combined Arms Center will serve as the executive vice chancellor for training and education.
Brig. Gen. John Kem will serve as the university's first provost, with day-to-day responsibilities at the university, Harlan said.
There also will be a vice provost for academic affairs, a civilian academic, "PhD, honest-to-goodness college-level educator" who's been recruited from a prominent university, Harlan said.
Harlan would not identify the person until the selection is final.
Staff writer Kevin Lilley contributed to this report.
Michelle Tan is the editor of Army Times and Air Force Times. She has covered the military for Military Times since 2005, and has embedded with U.S. troops in Iraq, Afghanistan, Kuwait, Haiti, Gabon and the Horn of Africa.
Share: