Eric Fanning, formerly one of Defense Secretary Ashton Carter's closest advisers, has been nominated to be the next Army secretary, the White House announced Friday.
Fanning has been serving as the acting under secretary of the Army since June. Before that, he served as Carter's chief of staff. If confirmed by the Senate, Fanning will succeed Army Secretary John McHugh, who has said he will leave the post by Nov. 1 after six years on the job.
"Eric brings many years of proven experience and exceptional leadership to this new role," President Barack Obama said in a statement. "I am grateful for his commitment to our men and women in uniform, and I am confident he will help lead America's Soldiers with distinction. I look forward to working with Eric to keep our Army the very best in the world."
McHugh praised Fanning's "sound judgment and insight."
"Our soldiers, civilians and their families will benefit greatly from his leadership," McHugh said in a statement. "I commend President Obama on an outstanding nomination."
Widely viewed as one of the most capable leaders in the Pentagon, Fanning became Air Force undersecretary in April 2013. He served several months as acting secretary while the confirmation of now-Secretary Deborah Lee James was stuck in Congress.
Before that, he was deputy undersecretary of the Navy and its deputy chief management officer from 2009-2013.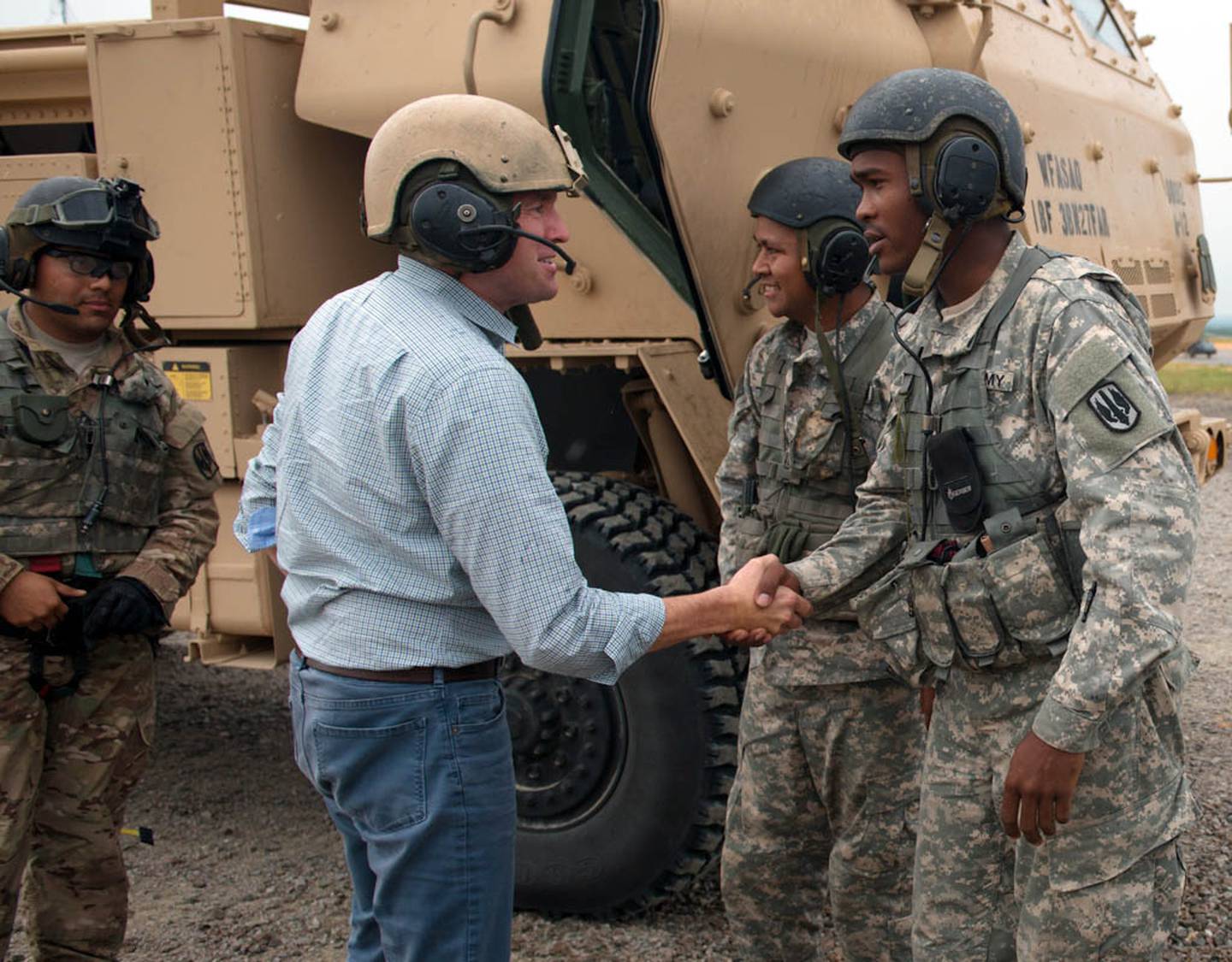 Eric K. Fanning, acting under secretary of the Army, thanks the crew of an 18th Field Artillery Brigade high mobility artillery rocket system after participating in a live-fire exercise at Fort Bragg, N.C., Aug. 11.
Photo Credit: Staff Sgt. Charles Crail/Army
In addition to his long resume, Fanning would also mark a milestone if he does become the Army secretary, as the first openly gay secretary of a military branch.
Carter, in a statement, congratulated Fanning, calling him "an excellent choice."
"Eric served as my first chief of staff at the Pentagon, and it has been a privilege over the course of my career to work alongside him and watch him develop into one of our country's most knowledgeable, dedicated and experienced public servants," Carter said. "I know he will strengthen our Army, build on its best traditions, and prepare our ground forces to confront a new generation of challenges."
Fanning's nomination comes during a critical transition period for the Army, which has not only seen key leadership changes at the top but also continues to struggle with increasingly tight budgets and growing demands for troops all around the world.
The service just last month welcomed Gen. Mark Milley as its new chief of staff. Patrick Murphy, the first Iraq war veteran elected to Congress, is pending Senate confirmation to be the service's next under secretary.
With the looming threat of even deeper cuts beginning Oct. 1 as a backdrop, the Army has already cut 80,000 soldiers from its active-duty force. Another 40,000 must go by the end of fiscal year 2018 for an eventual end-strength of 450,000.
If sequestration returns in fiscal 2016, which starts Oct. 1, the Army could be forced to cut an additional 30,000 soldiers.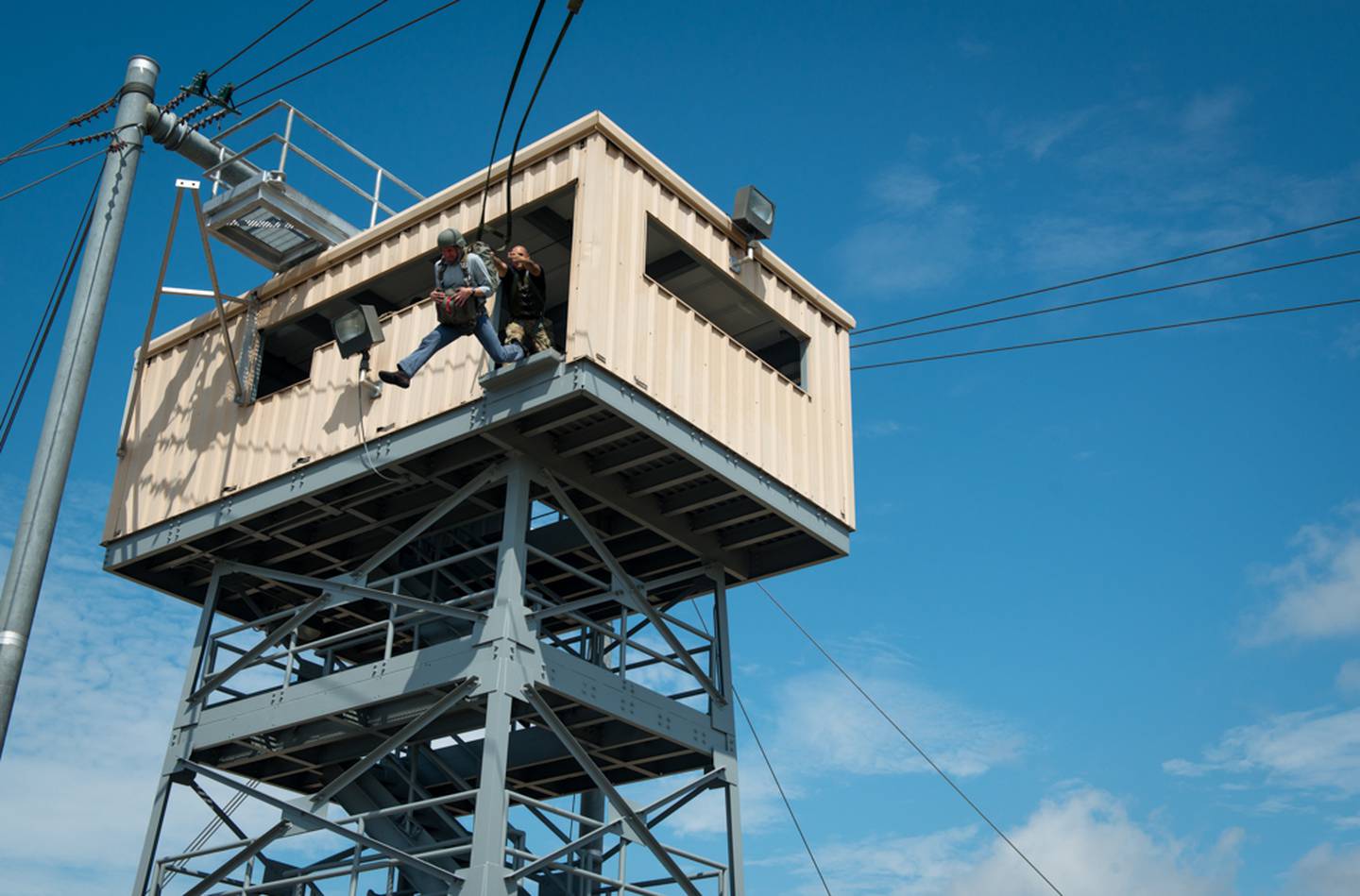 Eric K. Fanning, acting under secretary of the Army, experiences firsthand the exhilaration and terror of exiting the 34-foot tower at Advanced Airborne School on Fort Bragg, N.C., Aug. 11.
Photo Credit: Staff Sgt. Charles Crail/Army
If confirmed, Fanning will be in charge of a combat-hardened Army that continues to respond to contingencies around the world even as it recovers from more than a decade of war and back-to-back deployments to Iraq and Afghanistan.
In recent months, Russian aggression has pushed the Army to send more troops to Europe to train with and reassure America's allies. The rise of the Islamic State terror group has forced the return of American soldiers to Iraq. At the same time, the Army is still deployed in Afghanistan, and there are soldiers scattered across the Asia-Pacific region, Africa, South America and the Middle East.
If Fanning is confirmed as Army secretary, he will work alongside Milley, who has already hit the ground running since being sworn in Aug. 14 as the Army's top general. Milley, who has said his top priority is readiness, has already visited commanders and soldiers in Iraq, Afghanistan, Europe and Asia.
"I want to congratulate [Fanning] on his nomination as the 22nd Secretary of the Army," Milley said in a statement. "Upon confirmation, I look forward to working with him on addressing the challenges our great Army faces now and in the future."
Fanning also could find himself working closely with Murphy again if both men are confirmed. Fanning and Murphy were two key political drivers for the repeal of the military's "don't ask, don't tell" law, and both are now poised for the top two civilian jobs in the Army.
Michelle Tan is the editor of Army Times and Air Force Times. She has covered the military for Military Times since 2005, and has embedded with U.S. troops in Iraq, Afghanistan, Kuwait, Haiti, Gabon and the Horn of Africa.
Share: