The Army is cracking down on a backlog of nearly 14,000 soldiers who have not completed the schools they need to be considered for promotion.
The backlog is not because of increased demand. In fact, officials say there are classroom seats not getting filled. The problem is at the unit level, where some soldiers have avoided school for several years, and their commands supported it by continually granting waivers. Under new rules, soldiers will probably get kicked out as a result.
Soldiers must be "PME-compliant to be eligible for promotion," said Command Sgt. Maj. David Davenport, the senior enlisted soldier for Training and Doctrine Command. "That's why that backlog is so important to me, to make sure we work at it to get those numbers down."
Under a new strategy called STEP — "select, train, educate and promote" — soldiers must have the right level of professional military education before they can be promoted to the next rank.
STEP goes into effect Jan. 1 for soldiers seeking promotion to sergeant and staff sergeant. It becomes mandatory for promotion to sergeant first class later in 2016 and for promotion to master sergeant in 2017.
The new promotion requirements expand on the STEP procedures already used for advancements to sergeant major.
"The promotion backlog freezes on Jan. 1, because everyone who is selected after that date must complete the appropriate level of professional military education to be promoted," Davenport said.
The soldiers in the backlog that Davenport is "really, really concerned about" are those who have three or more years of time in grade.
"Those noncommissioned officers that have been in grade three or more years and they don't have their PME complete, that can be something that is looked at for QSP," he said.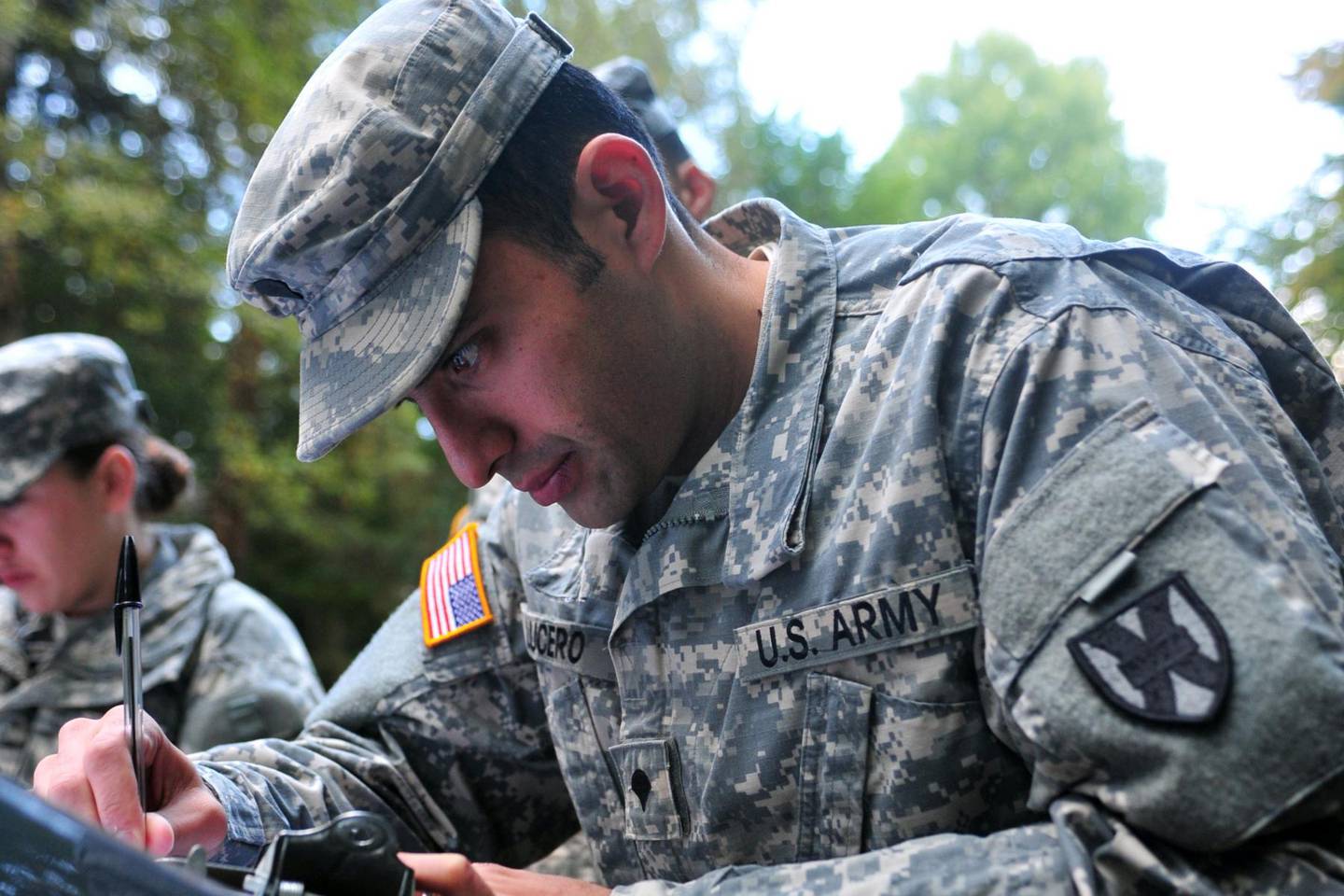 A soldier conducts land nav in preparation for PME. The backlog of 14,000 soldiers who have not attended school has been reduced to about 12,000.
Photo Credit: Staff Sgt. Alexander Burnett/Army
The Qualitative Service Program was implemented in April 2012 as a force-shaping tool as the Army prepared to shrink the size of the force. Retention screenings focus on NCOs who are in specialties that are overstrength, or that have stagnant promotion opportunities, or both.
This could be a soldier who's been a sergeant for three years but hasn't attended the Basic Leader Course (previously called the Warrior Leader Course) or a sergeant first class who has not attended the Senior Leader Course, Davenport said.
On Oct. 14, Davenport said 1,600 soldiers have been in the PME backlog for up to four years, and another 1,200 for six or more years, having been issued repetitive schooling waivers by their commands or units.
Deferments and waivers for PME course attendance "are causing a great disruption to the NCO [school] system," Davenport said.
"We understand that soldiers have to be deferred from attending school for many reasons, but we want to add some discipline to the [waiver] process," he said.
Under STEP, the Basic Leader Course is required for promotion to sergeant, the Advanced Leader Course for staff sergeant, and the Senior Leader Course for sergeant first class.
Erasing the backlog 
Before STEP, "our process was promote and then school," Davenport said. "That's how we have an education backlog."
Many soldiers also were promoted while deployed to Iraq or Afghanistan and simply did not have time between back to back deployments to go to school. Still others, according to sources, are not high-speed performers who have worked to keep their career and professional development on track.
The Army has "communicated to the chain of command" the importance of getting soldiers to school, Davenport said.
To fill those seats, Human Resources Command is scheduling everyone in the backlog who needs the Advanced Leader Course and Senior Leader Course against a school date, Davenport said. The Basic Leader Course is a local school.
"So if they're in the backlog, [HRC} will put them against an upcoming school date, and they've got to get to that school to be PME-compliant," Davenport said.
There will be times when a soldier can't go to school because of a deployment or compassionate reasons, Davenport said.
"We hear the chain of command, we're working with them," he said. "You tell us when he or she can go to school, and that's when we'll have a slot for them."
Reduced deferments
The Army has a deferment policy for soldiers who can't attend school right away. But to reinforce the importance of education, the Army has tightened that policy as well.
"The deferment policy was kind of all over the place, so we put some rigor behind that, some standards, [while] acknowledging there are going to be times where we have to defer someone," Davenport said.
The old policy allowed commanders to submit a memo to defer their soldier's school attendance to accommodate a deployment or personal emergency. If that memo wasn't submitted early enough, that could mean leaving a valuable training seat unfilled, Davenport said. In addition, over time, the authority to sign that memo has worked its way down the chain of command, he said.
Army regulation calls for the first general officer in a soldier's chain of command to seek an operational deferment. The first lieutenant colonel in the chain of command can request a deferment for compassionate reasons, Davenport said.
Recent changes now require general officer approval in both cases – operational or compassionate deferments. All requests are then forwarded to HRC for approval.
A second operational deferment request for the same soldier in the same level of PME must be signed by the next higher level general officer in that soldier's chain of command.
HRC will then produce a quarterly report on NCO education deferments that will be provided to the TRADOC command sergeant major.
"The problem is the backlog of soldiers who need to go to school, and the reason that is, is because a lot of soldiers aren't going to school," Davenport has said. "We've got to put some bite in getting soldiers to go to school, because with STEP, we'll go from an education backlog to a promotion backlog."
As word gets out about STEP and its requirements, soldiers and commanders are picking up on the importance of going to school, Davenport said.
"We've actually seen increases in the fill at schools, so the message is getting out," he said. "The force is understanding STEP, and they understand if you want to be competitive, you want to be promoted, you have to go to school."
Michelle Tan is the editor of Army Times and Air Force Times. She has covered the military for Military Times since 2005, and has embedded with U.S. troops in Iraq, Afghanistan, Kuwait, Haiti, Gabon and the Horn of Africa.
Share: