The 101st Airborne Division headquarters will deploy to Iraq and Kuwait early next year to support Operation Inherent Resolve, the Army announced Friday.
The headquarters, from Fort Campbell, Kentucky, will serve a nine-month deployment. The soldiers, led by Maj. Gen. Gary Volesky, will replace those from the 82nd Airborne Division headquarters as part of the regular rotation of forces. The 82nd Airborne Division soldiers, from Fort Bragg, North Carolina, have been deployed since June.
Once in theater, the 101st Airborne headquarters will take command of Combined Joint Forces Land Component Command — Iraq. They will be responsible for command and control of coalition troops training, advising and assisting Iraqi Security Forces.
There are about 3,000 U.S. troops currently deployed to Iraq, including about 1,300 soldiers from the 10th Mountain Division's 1st Brigade Combat Team. The Fort Drum, New York-based soldiers arrived in September, and they are training and advising Iraqi troops.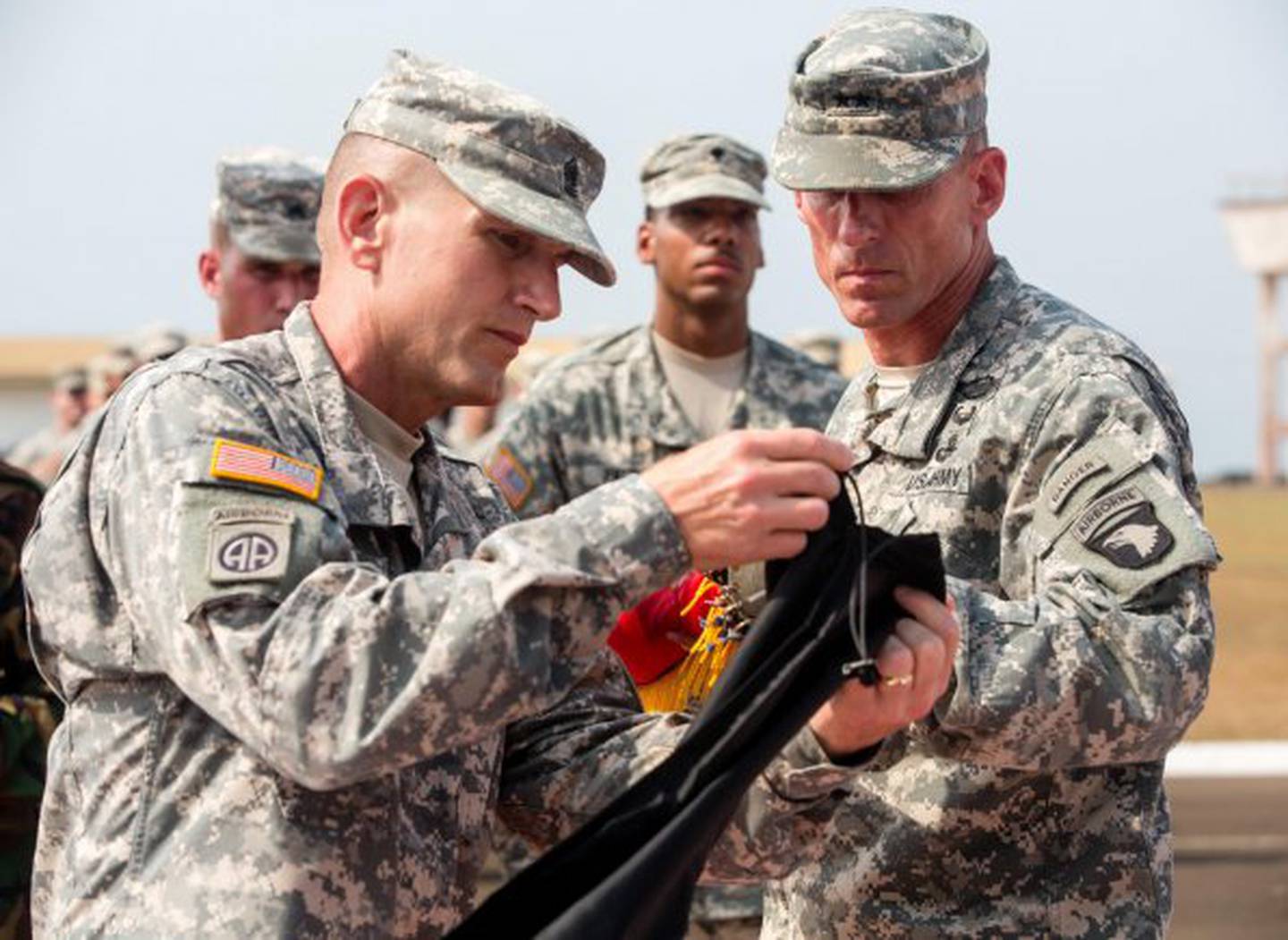 Command Sgt. Maj. Gregory Nowak, left, and Maj. Gen. Gary Volesky case their unit colors at Barclay Training Center, Monrovia, Liberia, on Feb. 26. The 101st Airborne headquarters will deploy to Iraq and Kuwait next, leaving early next year.
Photo Credit: Spc. Rashene Mincy/Army
"Operation Inherent Resolve has been the focus of the 101st Airborne Division headquarters for the last three months," Volesky said in a statement. "Going back to 1942, Screaming Eagle soldiers have always answered our nation's call to duty with pride and tenacity. This tough mission is our next 'Rendezvous with Destiny,' and we are ready for it."
The last time the 101st Airborne headquarters deployed was to Liberia, where it was in charge of Joint Forces Command-United Assistance. For five months, the division headquarters led the military's contribution to the effort to fight the spread of the Ebola virus in western Africa.
In Africa, the command built Ebola treatment units, trained health care workers and built a logistics infrastructure to support ongoing activities by U.S. and international agencies.
The soldiers returned to Fort Campbell in late February.
Michelle Tan is the editor of Army Times and Air Force Times. She has covered the military for Military Times since 2005, and has embedded with U.S. troops in Iraq, Afghanistan, Kuwait, Haiti, Gabon and the Horn of Africa.
Share: