After 18 months on the ground, Gen. John Campbell is preparing to complete his tour as the top commander in Afghanistan.
He spoke Wednesday to Army Times about his tenure, the challenges that remain, his successor, and his plans after Afghanistan.
Q. Can you describe the conditions on the ground in Afghanistan today?
A. We went through a very, very tough 2015, where the Taliban and the rest of the insurgents were fighting because they wanted to be in a position of strength. They knew, as we downsized, there would be reconciliation or peace talks, and they wanted to be operating from a position of strength. That's one reason why they've been fighting so hard this year. They knew, again, as we downsized, resources, close-air support, that kind of stuff, wouldn't be the same, so I think they tried to take advantage of that.
Q. What is the state of the Afghan National Security Forces?
A. The ANSF had a lot of challenges, but they're challenges we knew about ahead of time, and we kind of predicted. We knew we had to work on train, advise and assist in areas like close-air support, intelligence, logistics, things that are tough for any army.
There are short-term reforms that they've been working on for a while, but they've really got a sense of urgency during this winter campaign. That's getting off the checkpoints, getting more maneuverable, getting more offensive in nature. It's about having a force generation cycle to take care of their soldiers, where they can train, fight and take some leave. That will build upon the attrition issues they've had, and they'll be able to retain more people and recruit more people.
Q. How are the Afghans tackling these issues?
A. I'm encouraged that the leadership of the Ministry of Defense and the army have made some good changes over the last couple months in their general officers. They've changed out 102 or 103 in the last couple months. Everywhere they've made those changes, I've seen a difference. Leadership makes a difference. Where they're putting the right leadership in place, it's making a difference in attrition, taking care of soldiers, readiness of equipment, readiness of vehicles, [and] readiness of their people. They're really about being professionalized, and that's going to take time. I see improvement every day. Sometimes it is two steps forward, one step back, but the Afghans have been resilient, they want to get after this, they want to build a better life for the people of Afghanistan, and they've sacrificed a great deal.
First Lt. Graham Hennig, Dragon Troop, 2nd Squadron, 3rd U.S. Cavalry Regiment, instructs an Afghan National Army Soldier on how to fire an M320 during joint range training.
Photo Credit: Maj. Vance Trenkel/Army
Q. Can you discuss in more detail the challenges the Afghans face? Could you start with close-air support?
A. Close-air support is one that everybody talks about. We knew starting in 2015, they had five Mi-35 [attack helicopters] that had very few hours left, so they weren't getting a whole bunch out of that, and that was it. That was their close-air support platform.
When we went to Resolute Support, our mission changed … so they had to pick up a lot of this on their own, and we're building that capability, but it takes two or three years to build a pilot, a couple years to build maintainers.
We introduced MD-530s, which is basically a Little Bird, and it has .50-cal machine guns. Though we've only got about 14 in-country today, we'll continue to grow that number. We took their Mi-17 [helicopters], which were not designed to be close-air support platforms, but they put forward-firing machine-guns on some, they armed some with rockets, so that helped close the gap a little bit. But we're nowhere close to meeting their requirements.
Q. How long will it take for them to get up to speed?
A. I've made some recommendations for some changes as we go forward, because they've been dealing with Soviet aircraft like the Mi-35 and the Mi-17, and it's just too hard to continue to replace those or put spare parts on those. So we have come up with a different way, and we've got a pretty good plan going forward. I'm moving it through my senior leadership to take a look at different platforms. We've got to be able to provide them with equipment and the training that goes along with is, and then they have to be able to sustain them.
Soldiers load ammunition into rifles during an Aug. 14 military exercise inside coalition force Forward Operating Base (FOB) Connelly in the Khogyani district in the eastern province of Nangarhar, Afghanistan.
Photo Credit: Wakil Kohsar/AFP via Getty Images
Q. What are some other areas or challenges the Afghans are working on?
A. In the logistics arena, we've got plenty of ammunition, plenty of logistics and equipment, but it's a matter of getting that distribution down to the lowest levels where they actually need it.
In intel, they now have a national-level fusion cell that the Ministry of Defense, Ministry of Interior and the [National Directorate of Security], which is their intel agency, all working together to provide national level target packages. That's something they didn't have that they've built on.
They do their own budget now. They do their own procurement. We've worked on transparency, accountability. We've work on rule of law with them, we've worked on strategic communications, we've worked on command and control. All these things are hard, but they continue to make progress every day in many of them.
Q. What's next for Afghanistan and the U.S. commitment there?
A. We've got to quit talking about Afghanistan year to year to year. That's what we've been doing for 15 years.
It breeds instability, quite frankly. It gives the Taliban an advantage because they know we're going to leave. It provides instability and unpredictability for the people. All they see is we're going to leave. It erodes the confidence of the Afghan Security Forces. I just think we've got to look longer-term and get that commitment out and be vocal about it.
When I got here, we were going toward 1,000 people at the end of this year and only being around Kabul. With that, we had no capability to have a counter-terrorism platform here, we had no capability of building the Afghan CT capability, we'd be doing zero train, advise and assist. [Drawing down to 1,000] wasn't based on what was really happening on the ground.
What we've been able to do [since] is build a narrative that Afghanistan is worth this investment, and we have to continue to stay involved because this is a very dangerous part of the world. We continue to have people who continue to come out of the ungoverned areas of Afghanistan and Pakistan who want to do harm to Europe and to our homeland.
Q. Does the U.S. need more troops in Afghanistan?
A. We're now at 9,800 through all of 2016 … and I thank President Obama for that, Every time I've provided a recommendation, he's granted what I've needed here, so I'm very appreciative of that.
The current glide path is I have to be about 5,500 [troops] by 1 January 2017. I think we have to look at conditions on the ground. I think when the decision was made for 5,500, there were some assumptions that were made and some of those may not have come true. I think there are some adjustments we have to make on that number, and I've provided those to my senior leadership, and hopefully we'll make some changes there. I'm also going to make sure [his successor Lt. Gen. John Nicholson] has that, and he'll come in and make his own assessment.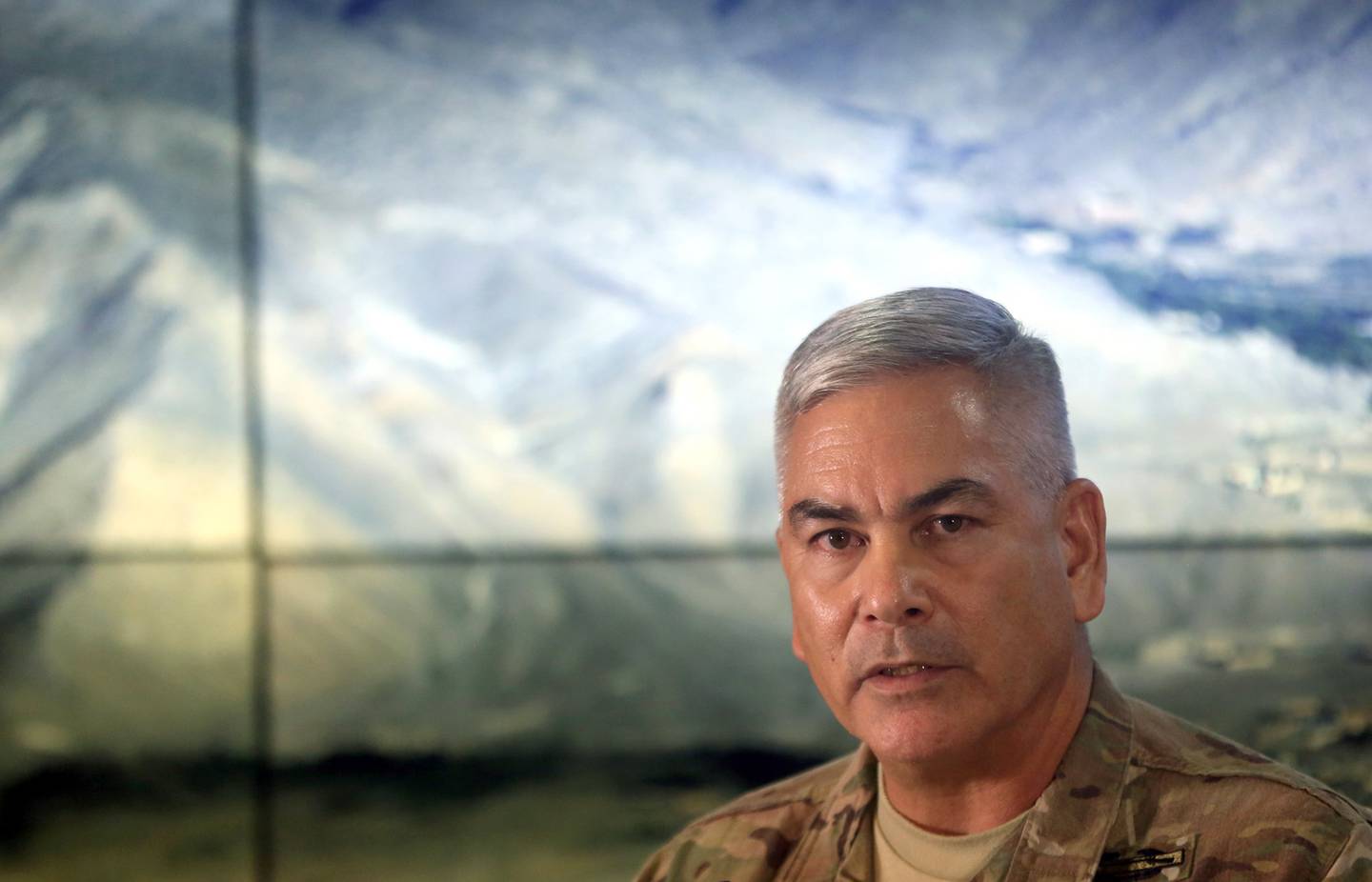 Gen. John Campbell will relinquish command after 18 months in Afghanistan. He plans to retire from the Army.
Photo Credit: Massoud Hossaini/AFP via Getty Images
Q. What advice do you have for Lt. Gen. Nicholson?
A. What I've kind of grown up with is your legacy is how well you set up your successor. I've been in contact with General Nicholson for a while, I've known him for many, many years. If I could pick somebody to replace me, I'd pick him. He knows Afghanistan, he knows how tough it is, and how you have to understand relationships.
I will leave him with a continuity file, and I will leave him my assessment of where we are and where I think we need to go in the future, and he, like any other commander, will come in and put his own touch on it.
Q. Do you think he might be the last Resolute Support commander in Afghanistan?
A. CBS' 60 Minutes did a piece on me way back in November 2014 that said I was the last four-star [here], so I don't know how you can predict that.
Q. What's next for you after you relinquish command?
A. I'm going to retire … and I'll look at other ways and opportunities to serve. I'll leave Afghanistan, but Afghanistan will always be in my heart. My son is coming back for his third tour, so there'll be a Campbell in Afghanistan still.
I think we've made a significant difference here in the last 18 months, so I go out being very proud of that, but, also, I'm not going to sugarcoat it. There are a lot of challenges that remain. It'll still be a tough way for them.
Michelle Tan is the editor of Army Times and Air Force Times. She has covered the military for Military Times since 2005, and has embedded with U.S. troops in Iraq, Afghanistan, Kuwait, Haiti, Gabon and the Horn of Africa.
Share: