"I just knew I had a ringing in my ear and a slight headache," said Lewis, then serving with the 41st Engineer Company, 1st Engineer Battalion, 1st Infantry Division. "Originally, it was like a flash-bang or something, where it just hits you without you even knowing it was there, and it knocked me over,"
After the brief firefight, a hole was discovered in his helmet, but Lewis was intact, aside from a small cut on his head. On Tuesday, during a ceremony at Fort Belvoir, Virginia, that helmet was returned to Lewis.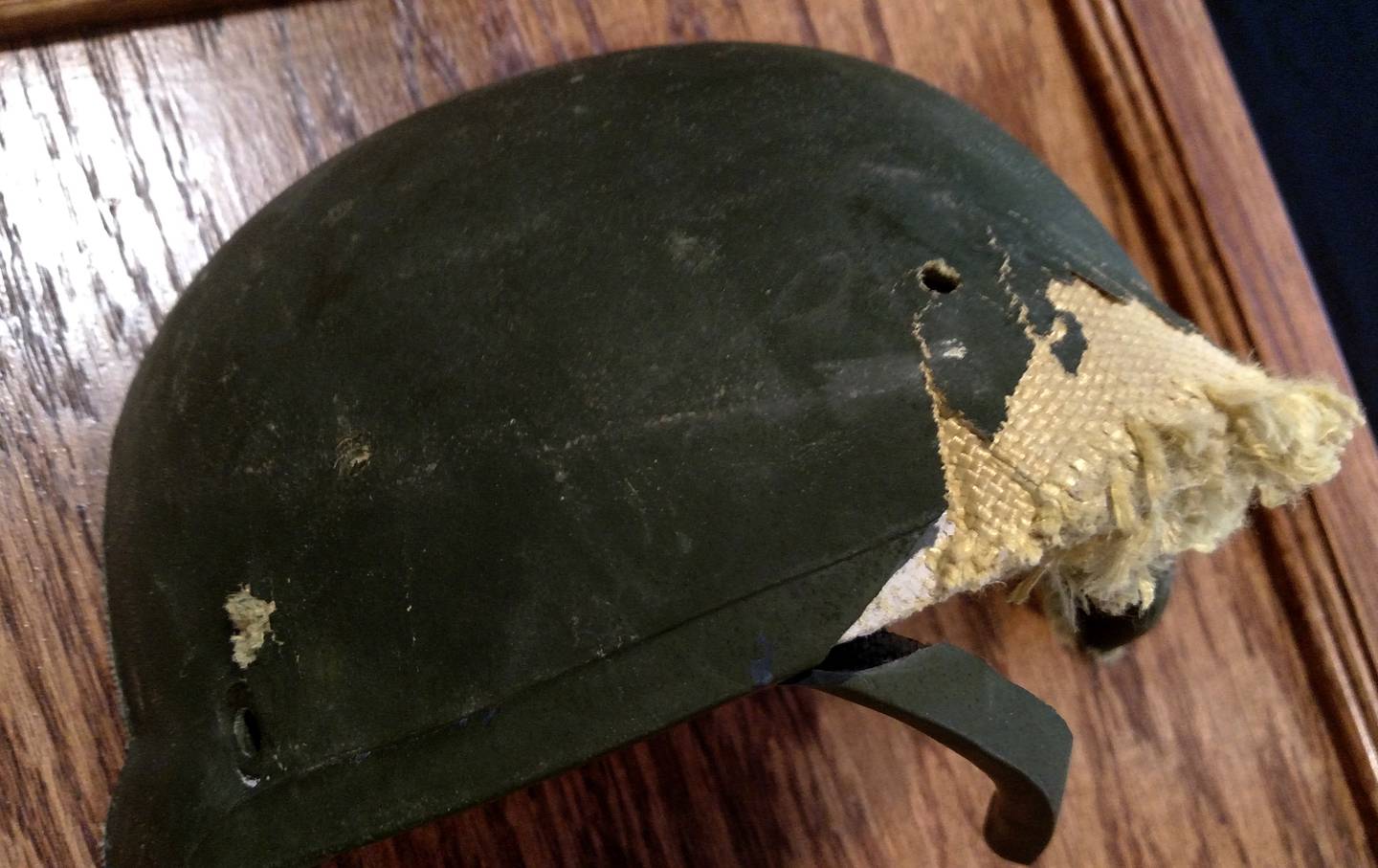 A view of the bullet-pierced helmet worn by Staff Sgt. Thalamus Lewis. At left, see where the bullet entered. The more noticeable damage is where the bullet exited (right side of photo).
Photo Credit: Kyle Jahner/Staff
In 2012, Dillon was a second lieutenant. He was standing near Lewis when bullets started flying. "I'm still surprised that he's still standing, based on everything that went down that day." Were people killed?  
Tuesday's ceremony was a service of Program Executive Office Soldier. The command, which develops personal protection for the troops, regularly organizes equipment-returns for soldiers who survive close-calls in combat. The damaged gear serves as a memento, and also provides some closure to these troops. The ceremonies are also proof that the gear is saving soldiers' lives.
Lewis' family members attended the event, as did dozens of other soldiers and defense employees, many of them representative of various organizations involved in the process that designs and puts equipment like Lewis' Army Combat Helmet into soldier's hands.
'The Kevlar did it's job'
Dillon said during the ceremony that typically, route clearances started at dusk, but the one on Oct. 4, 2012, was ordered to start at 1630. He said he raised concerns as they would be in hostile territory at a vulnerable time Why is it a vulnerable time?, but the low-ranking officer's objections were in vain.
At 4:30 p.m. on Oct. 4, 2012, Lewis and his fellow soldiers set off to to verify a 12-kilometer path of highway and entire village was clear of explosives.
Inside the village, they were checking around buildings and in nearby vegetation when bursts of enemy gunfire rang out. Before anyone knew what had happened, Lewis had been hit.
"I didn't know how bad it was, I just knew it was a soldier laying down," said Dillon, now with the 92nd Engineering Battalion out of Fort Stewart, Georgia.
Dillon said the gunfight was about 10 minutes long with most of the action happening in the first five, though he said it felt like an eternity. During that time, help couldn't get to Lewis.
The soldier said he stayed on the ground and "played possum." When the threat dissipated, Dillon said he was thrilled to see Lewis sitting and looking back at him, acting as if nothing was wrong.
"I was being tough," Lewis said at the ceremony, generating a few laughs.
The bullet had entered the right side of his ACH, just above the bottom ridge, and left a tiny hole that continued through to the inside of the helmet. A few inches away from the entry hole, the bullet exploded out of the front of the ACH, blowing off square inches of the green-painted surface, exposing the frayed Kevlar below. While it's difficult to say exactly how much the helmet deviated the bullet's path, Dillon believes it saved Lewis' life.
"That would be the assumption that I would make, as I look at the helmet, the way it sits, where they were firing at us from. The Kevlar did its job and deflected it from going through just enough to keep him alive," Dillon said.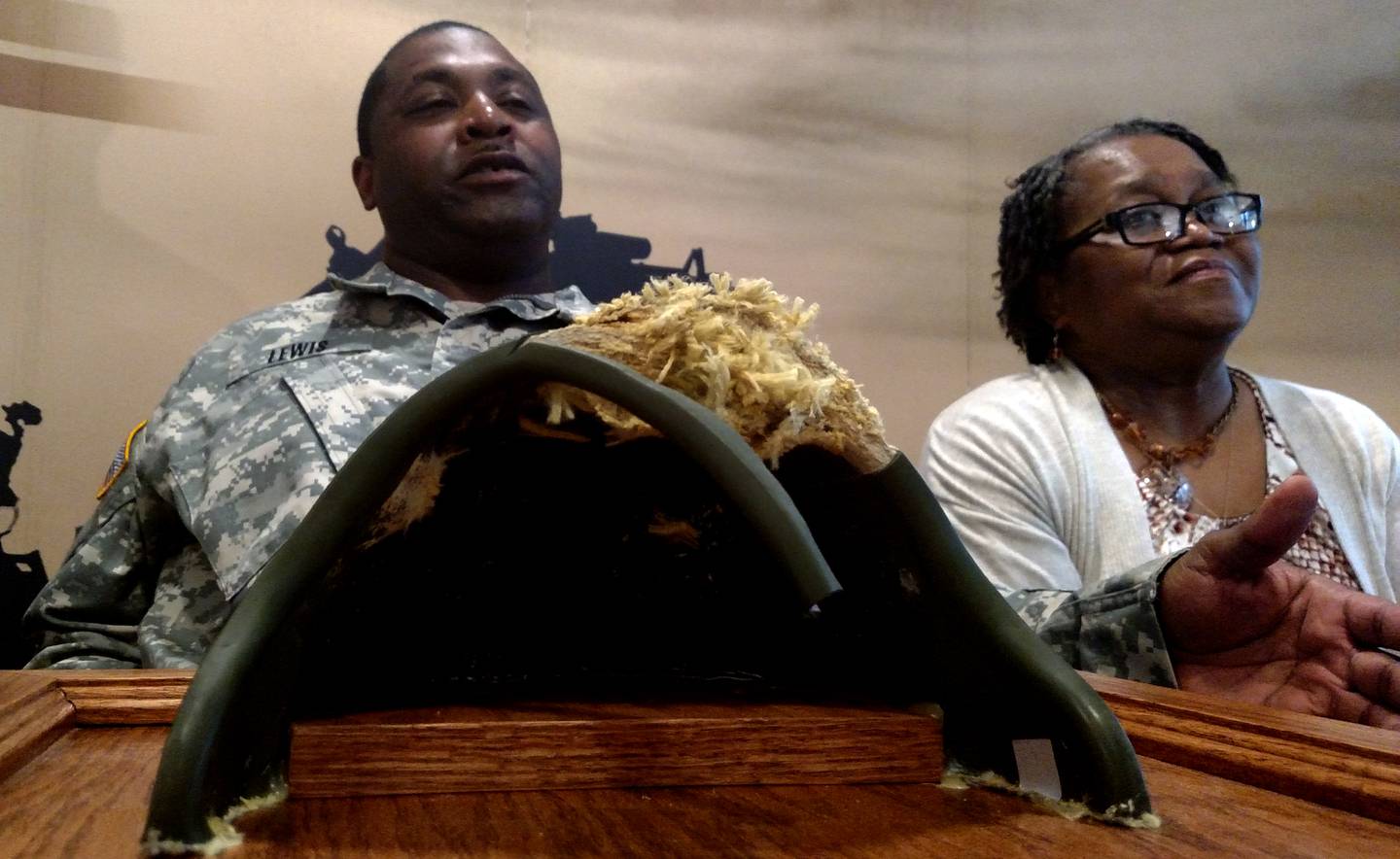 Staff Sgt. Thalamus Lewis sits next to his mother Cynthia Boggan and talks to reporters about having his damaged combat helmet returned to him.
Photo Credit: Kyle Jahner
Lewis said he was thankful to get the helmet back and for all the work done by the organizations of the Army that produce protective equipment. He said, like, many soldiers, he'd long complained about the weight of gear, but his tune changed that October day during his fourth deployment.
"I always tried to short-cut it. But after the fourth of October, my main (message) to young soldiers is to use the gear the way it's supposed to be used. I'm a walking testament," Lewis said.
Lewis, who now serves in the 3rd Combined Arms Battalion, 69th Armor Regiment, said he doesn't suffer any lingering effects from the injury. He's seven months shy of 20 years in the Army, and he plans to retire. He's not sure what he wants to do next.
"That belongs to me. I don't know what he thinks he's going to do with it," she said to laughs, including a sheepish chuckle from her son. She'd later add: "He's still not grown enough not to get a whooping."
Share: