When Master Sgt. Jeffrey Gassaway was told he'd earned the Soldier's Medal for his efforts to save a young woman trapped in a flaming car, he said he'd rather give the medal back — in exchange for her life.
"We did everything we could to give her a fighting chance," Gassaway said. "I didn't expect anything."
On Oct. 19, 2014, driver Brittney Stokes was reportedly speeding on North Carolina Highway 27. Stokes' Volvo station wagon collided with a tree adjacent to the road's curve.
"That road has had multiple fatalities. The tree was [recently] removed," Gassaway told Army Times.
Spc. Benjamin Rogers, driving home with his family, was the first person to come across the accident. Flames were visible from the vehicle's front end as smoke billowed.
Rogers could tell Stokes was stuck inside the burning vehicle and was unaware if there were any other passengers.
Making proper use of his training, Rogers, a Black Hawk helicopter repairer with D Company, 2nd Aviation Assault Battalion, 82nd Combat Aviation Brigade, quickly and calmly assessed the situation and chose to act.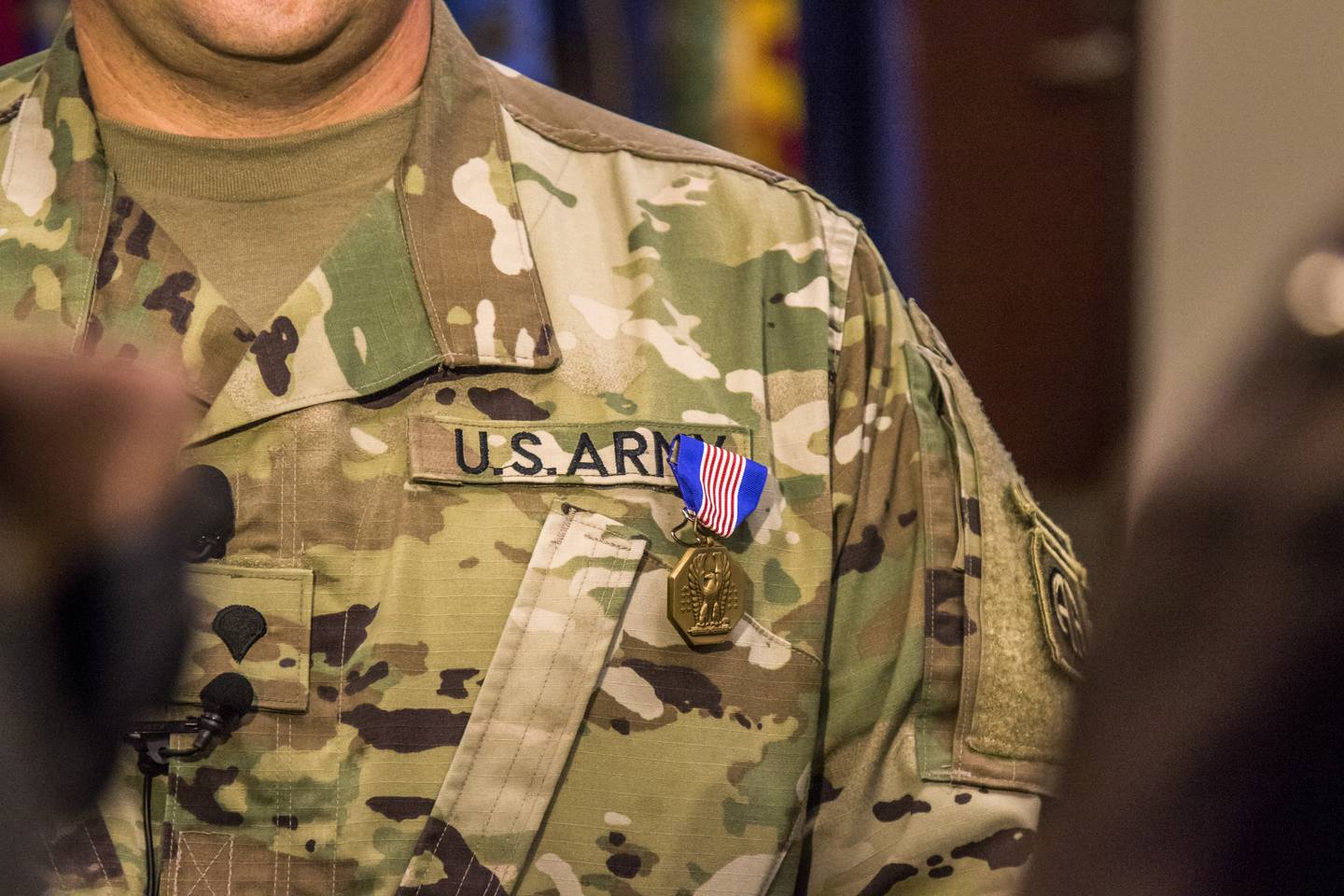 Master Sgt. Jeffrey Gassaway said he would gladly trade his medal to bring back Brittney Stokes, the young woman killed in a car accident on Oct. 19, 2014.
Photo Credit: Staff Sgt. Christopher Freeman/Army
"I knew we needed to subdue the fire," Rogers said. "I [started] yelling out for buckets or containers."
Rogers' 11-year-old son Isaac immediately emptied out their plastic laundry bin.
"Dad, how can I help?" Isaac asked. Isaac began filling the tub with water from a nearby pond in an attempt to put out the fire.
Minutes after Rogers came across the vehicle, Gassaway,  a military police officer with Headquarters and Headquarters Detachment, 503rd Military Police Battalion, 16th Military Police Brigade, pulled up to the scene with his family.
Gassaway saw Rogers trying to open the driver-side door to tend to the victim. Gassaway ran to the car to assist Rogers while his wife Sara joined Isaac in putting out the flames.
"My wife is an ER nurse and I have 22 years of [military experience]," Gassaway said.
Though Rogers had been able to break open the passenger side window, the doors weren't budging. Inside the car, Stokes was pinned between the dashboard and the front seats. Fumes and smoke began to fill the car's interior.
Retrieving his firearm, Gassaway shot through the glass of the driver side window, ventilating the car. Gassaway found Stokes to be unconscious but still breathing.
Gassaway and Rogers worked together to pull hot metal off of Stokes, but they were still unable to pull her from the wreckage. Sara Gassaway provided medical attention to Stokes the best she could given the situation.
"[We tried our] best to shield her face, shielding her with the expanded airbag," Rogers said.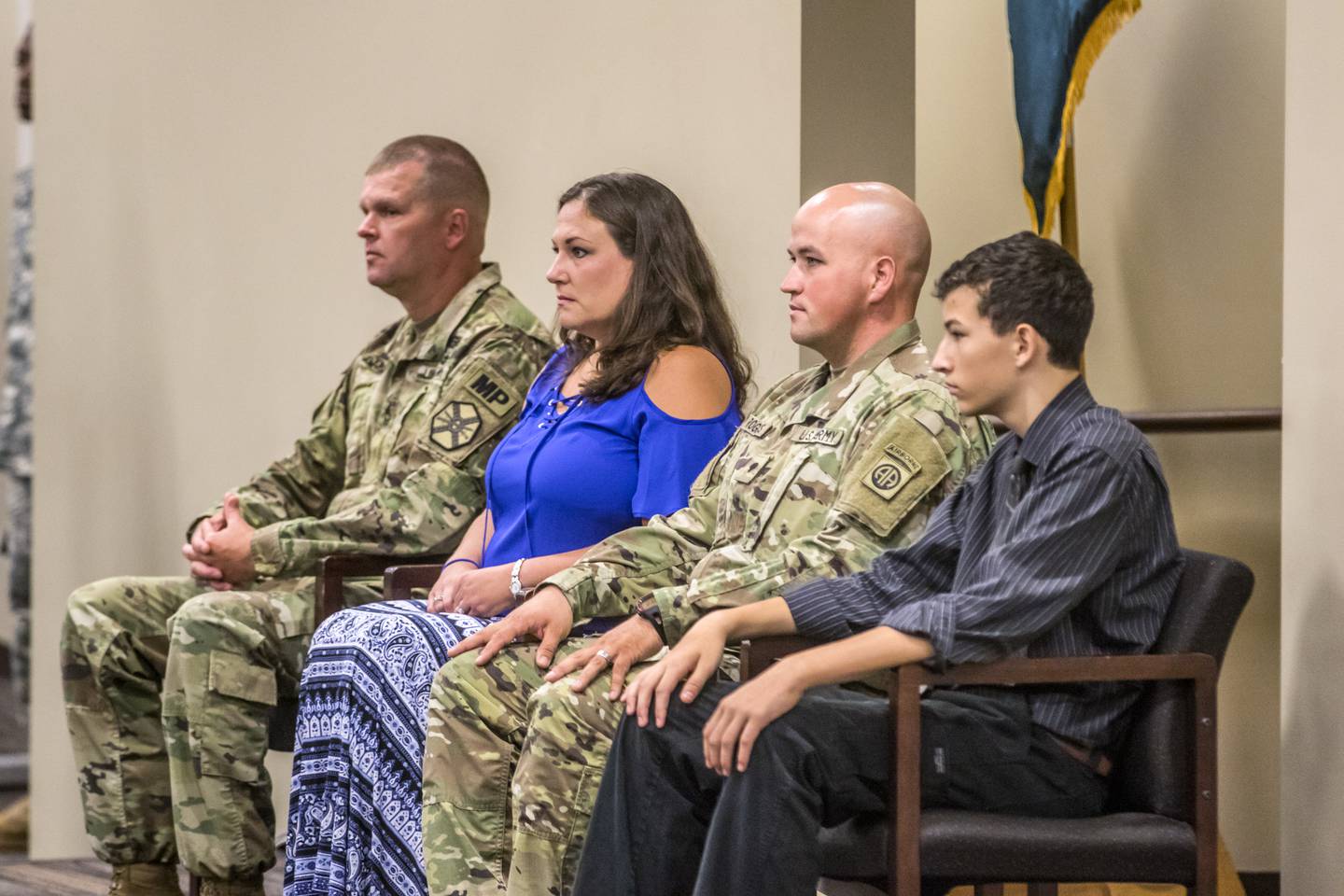 From left to right: Master Sgt. Jeffrey Gassaway, Sara Gassaway, Spc. Benjamin Rogers, and Isaac Rogers were all honored for their actions to try and save the life of Brittney Stokes.
Photo Credit: Staff Sgt. Christopher Freeman/Army
An estimated crowd of six gathered to aid in putting out the car fire. Neighbors and passersby joined in Isaac and Sara's efforts, forming a chain to efficiently pass buckets of pond water back and forth the car to the pond.
"A neighbor [even] tried stretching a hose out to the pond," Rogers said.
At one point the fuel tank began leaking, igniting the surface of the pond water when met with flames. Responders were quick to put it out, throwing dirt on the small blaze.
"[We worked on the car] for 25 minutes before a [stranger] in a tractor-trailer drove up with a fire extinguisher," Gassaway said.
"We got faces full of fire extinguisher 'smoke'," Rogers recalled.
Emergency services arrived after the truck driver was able to finally subdue the fire. The Jaws of Life were needed to free Stokes from the car. After being put into an ambulance, Stokes was rushed to a hospital for emergency care.
Gassaway, Rogers, and their family members who participated in the rescue checked in with the paramedics. There were mild burns, cuts, singed hair, and smoke inhalation. Fortunately there were no long-term injuries.
Despite the valiant attempt to save Stokes' life, she passed away later that night from her injuries. She was 28.
"My focus was to give her family the chance to see her again," said Rogers. "I cannot in good conscience leave someone to their doom."
On Friday, Gassaway and Rogers received the Soldier's Medal in a ceremony on Fort Bragg hosted by Canadian Brig. Gen. Simon Hetherington, Deputy Commanding General, Operations, XVIII Airborne Corps. The Soldier's Medal is the highest honor a soldier can receive for an act of valor in a non-combat event.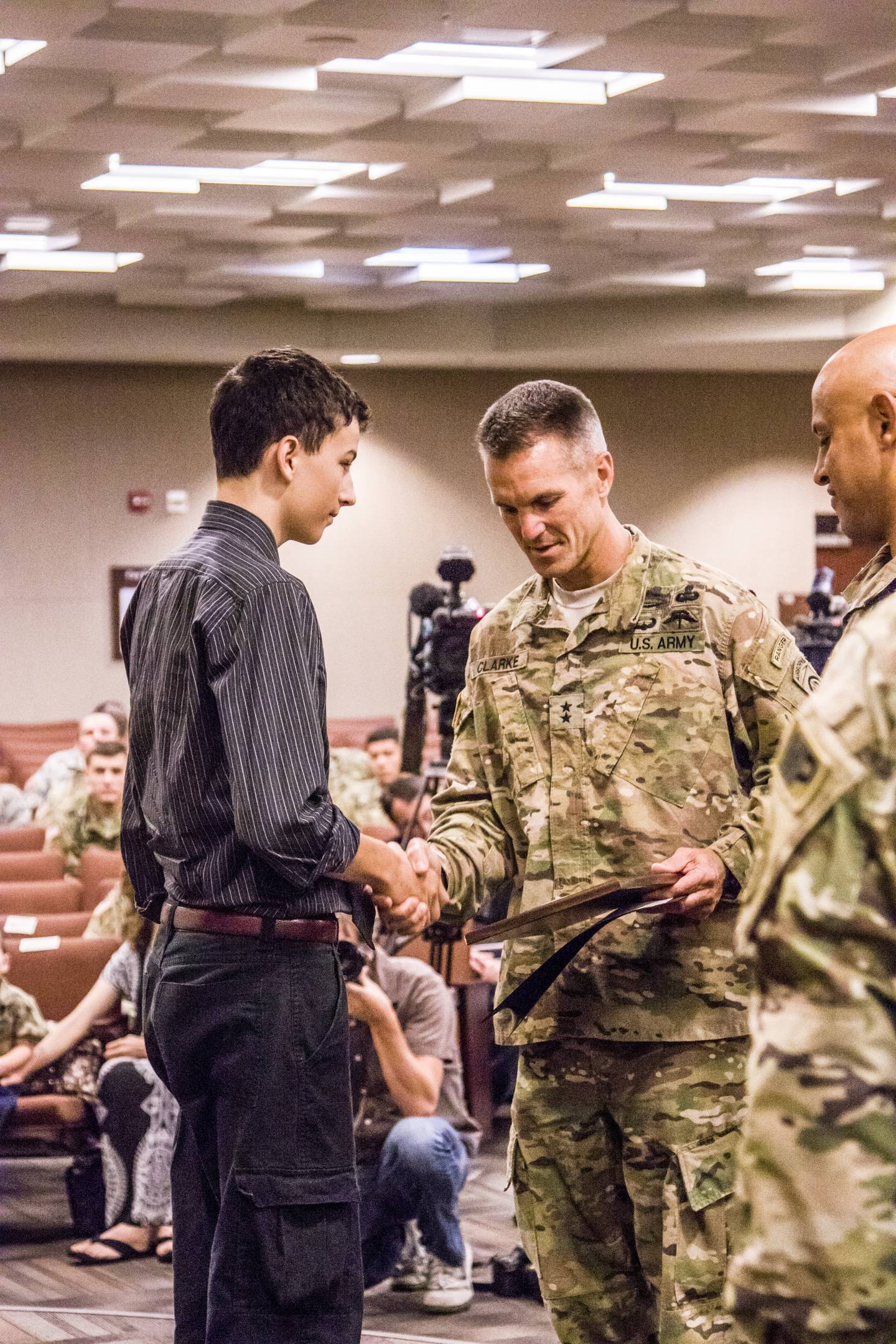 Isaac Rogers, the son of Spc. Benjamin Rogers, helped to fight back the flames after his family happened upon an accident scene in October 2014.
Photo Credit: Staff Sgt. Christopher Freeman/Army
Sara Gassaway was given the Commander's Award for Civilian Service while Isaac Rogers, now 13, was awarded with the Fort Bragg Directorate of Emergency Services Youth Courage Award.
"I am incredibly humble and honored," said Rogers. "I would hope [this experience] may give me an opportunity to share with others: our training, duty, ability to be a soldier doesn't stop when we take off our uniforms."
"SPC Rogers is a leader among his peers.  The entire company looks to him to help mentor our newest Soldiers because of his expertise, professionalism, and genuine care for others," commented Capt. Jason Trump, commander of Delta Company, 2nd Assault Helicopter Battalion, 82nd Combat Aviation Brigade.
"SPC Rogers' actions that day epitomize the values that both he and the Army hold in the highest regard," Trump continued.
Having no relationship before the rescue attempt, the experience drew Gassaway and Rogers closer together. After spending nights playing the night over in their heads, reviewing what more they could have done, both soldiers came to the conclusion they did the best they could to save Stokes, said Gassaway.
Gassaway also developed a relationship with Brittney Stokes' family, reaching out to them after her passing. After being notified of his commendation, the Stokes family was some of the first people he told about it.
"They will be attending the ceremony," said Gassaway. "I will be accepting the award for Brittney Stokes, in memory of her and the life that she lived."
Share: