Arlington National Cemetery groundskeepers walked off the job and went on strike Tuesday, after nearly a year of labor disputes.
The strike stems from a plea for paid sick leave and an hourly wage increase, protest organizer Keon Shim told Army Times.
The laborers are battling two contractors in charge of the joint operation: the Ohio-based Davey Tree Expert Co. and the Delaware-based Greenleaf Services, Inc.
Laborers' International Union of North America officials organized the strike and are representing the 30 grounds workers in negotiations with Davey and Greenleaf.
Davey, now a sub-contractor, had held its prime contract with Arlington for almost 40 years, before Greenleaf signed on as prime contractor to the memorial cemetery in 2014.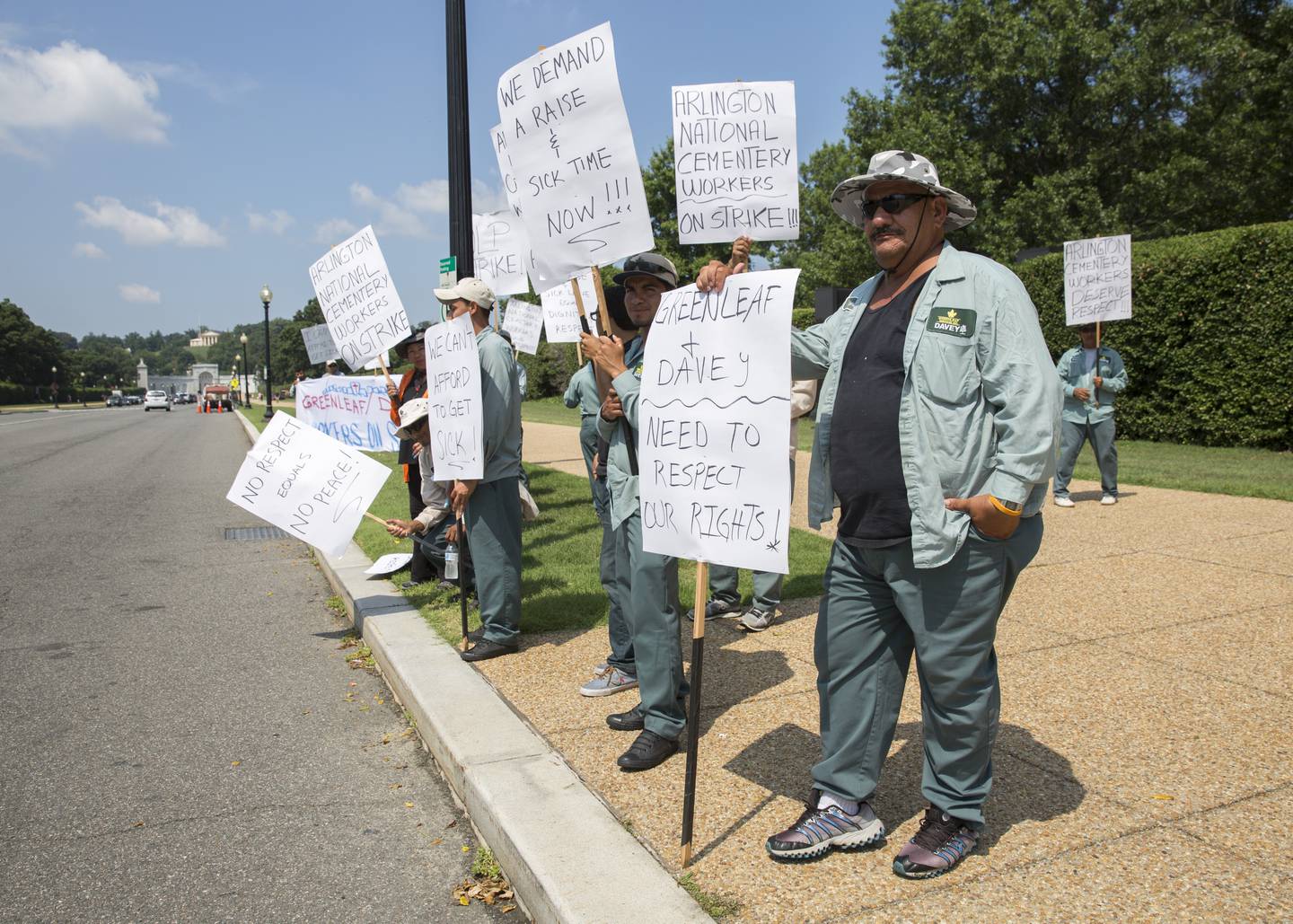 Landscape workers for Arlington National Cemetery, employed by Greenleaf Services Inc. and Davey Tree Expert Company, are on strike for higher wages and benefits they say aren't being given to them. A group of the workers, who are members of the Laborers' International Union of North America, picket near the entrance to Arlington National Cemetery in Arlington, Va., on Wednesday, July 20, 2016.
Photo Credit: Alan Lessig
The laborers on strike are in charge of providing all landscaping needs to the cemetery, including planting grass, hedge trimming, gardening, lawn mowing and trash pickup.
Greenleaf, founded and owned by service-disabled Navy veteran Joseph Winemiller, and Davey  pay the Arlington groundskeepers an average of $13 an hour without any paid sick leave, Shim said.
A statement from Greenleaf however, states their workers are paid between $17.37 and $18.93 an hour. The company is choosing to count healtcare and retirement benefits in their pa calculations, said Brian Petruska, LiUNA's general counsel.
While Davey offers 401K options and single healthcare for $200, which doubles for family coverage, Greenleaf provides none of these benefits, Shim said.
LiUNA is asking for a 4 percent increase in pay $13 to $13.52 an hour, additional break times outside of lunch, and that the new contract adhere to President Obama's executive order mandating a minimum of seven days paid sick leave for federal contractors. The executive order is expected to go into effect on Sept. 30, 2016. Negotiations began in August 2015 after the groundskeepers unionized in May 2015.
Shim, LiUNA Mid-Atlantic Region's assistant organizing director, is in charge of leading protests outside of Arlington's entrance. He told Army Times of the 45 total workers represented by LiUNA's Local 572 chapter, eight to 10 who were "scared of retaliation" are breaking the picket line.
"We are hopeful that we get this done so these guys can go back to work," said Shim. "They feel pride in their work, a lot of them know the significance of the Arlington Cemetery."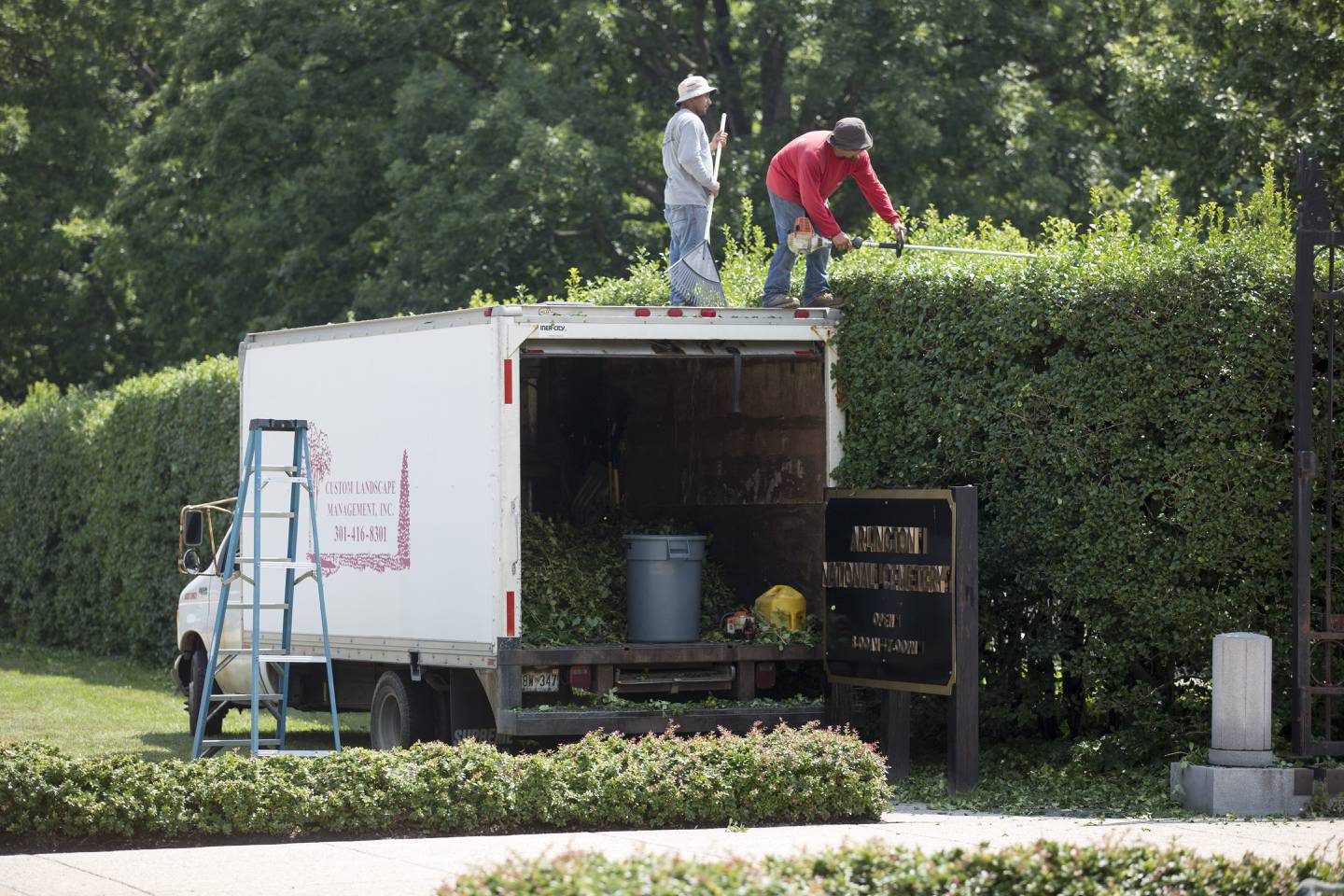 Replacement workers trim hedges next to entrance to Arlington National Cemetery, doing work normally done by Landscape workers for Arlington National Cemetery, employed by Greenleaf Services Inc. and Davey Tree Expert Company, who are on strike for higher wages.
Photo Credit: Alan Lessig/Staff
Shim alleged that Greenleaf supervisors had set up cameras on cemetery grounds and watched through binoculars to "intimidate the workers." The cameras have been taken down and removed, he said.
According to WJLA, Greenleaf Services, Inc., issued this statement:
"We are disappointed that our employees serving the landscaping needs of Arlington National Cemetery have decided to strike…Maintaining the pristine condition of these sacred grounds remains our top priority…In the interim, we have arranged for all required grounds keeping positions to be staffed with well qualified individuals."
Through further negotiations, Greenleaf "[hopes to reach] a collectively bargained resolution."
Army Times reached out to Greenleaf representatives for a further comment, but they did not immediately respond.
Identifying the strikers as contractors and not government employees, a spokesman for Arlington National Cemetery said the Army is not taking sides.
"Arlington National Cemetery is hopeful for a constructive and expedient resolution that is fair for all parties involved,"
Arlington made assurances that "there is no impact to the service they provide."
The subordinate command in charge of hiring contract services at Arlington, Mission Installation Contracting Command at Fort Belvoir, Virginia, declined to comment on the proceedings.
Shim said he was aware of one employee who hasn't received a pay raise, outside of cost of living adjustments, in the past 15 years. Without healthcare benefits, Shim said another employee flew back to El Salvador just to afford a major surgery.
Petruska and other union representatives re-entered negotiations on Wednesday, July 20. Greenleaf, who is in charge of negotiations, counteroffered with the addition of one day of paid sick leave without any pay raise.
"They took the stand that the employees get paid enough money," Shim told Army Times in a text message.
Negotiations are expected to resume sometime in August.
The labor union threatened to go on strike before Memorial Day weekend this year. Negotiations reopened and the union reconsidered, as disrespecting the holiday would "cloud their message", said Petruska.
Shim claims veterans are supportive of the strike and dissatisfied with how "workers at a national treasure" are being treated.
On Wednesday, retired Air Force Gen. Wilma Vaught happened to be visiting Arlington and talked to Army Times about the dispute.
"I would hate to see the grounds here at the cemetery deteriorate at all, because this is so meaningful to people coming here for the last rites for a loved one," said Vaught, president emeritus of the Women In Military Service For America Memorial Foundation.
Recently learning of the strike, Vaught is considerate of both parties involved.
"[Also] I would want [the workers] to be treated fairly and properly, because I want people to live a decent life and be able to take care of their families."
Share: