The vehicle belonging to a Fort Campbell soldier who failed to appear in court last week on stalking charges has been located in downtown Nashville, an Army spokesman said Wednesday.
Pfc. Shadow McClaine, who also goes by Branice McClaine and Branice Willis, did not report for duty on Sept. 6, authorities said.
Metro police found her 2013 silver Hyandai Elantra in a private parking lot downtown on Tuesday, said Chris Grey, public affairs chief at Army Criminal Investigation Command.
McClaine failed to appear in court Sept. 6 on charges of stalking, according to Montgomery County, Tennessee, court documents obtained by The (Clarksville) Leaf-Chronicle. She has open court cases on the charges of stalking, criminal impersonation and contempt of court. She has a court date set for 1:30 p.m. Sept. 21.
Master Sgt. Kevin Doheny, spokesman for the 101st Airborne Division, said McClaine is considered active duty. She is a white woman with brown hair and brown eyes. She is 5 feet 3 inches tall, 171 pounds, has pierced ears, and several tattoos on both arms and one foot.
McClaine last texted her mother about 7 p.m. Sept. 2 and said she was driving at the moment. She has not been seen or heard from since, and there has been no activity on her bank account, a poster says.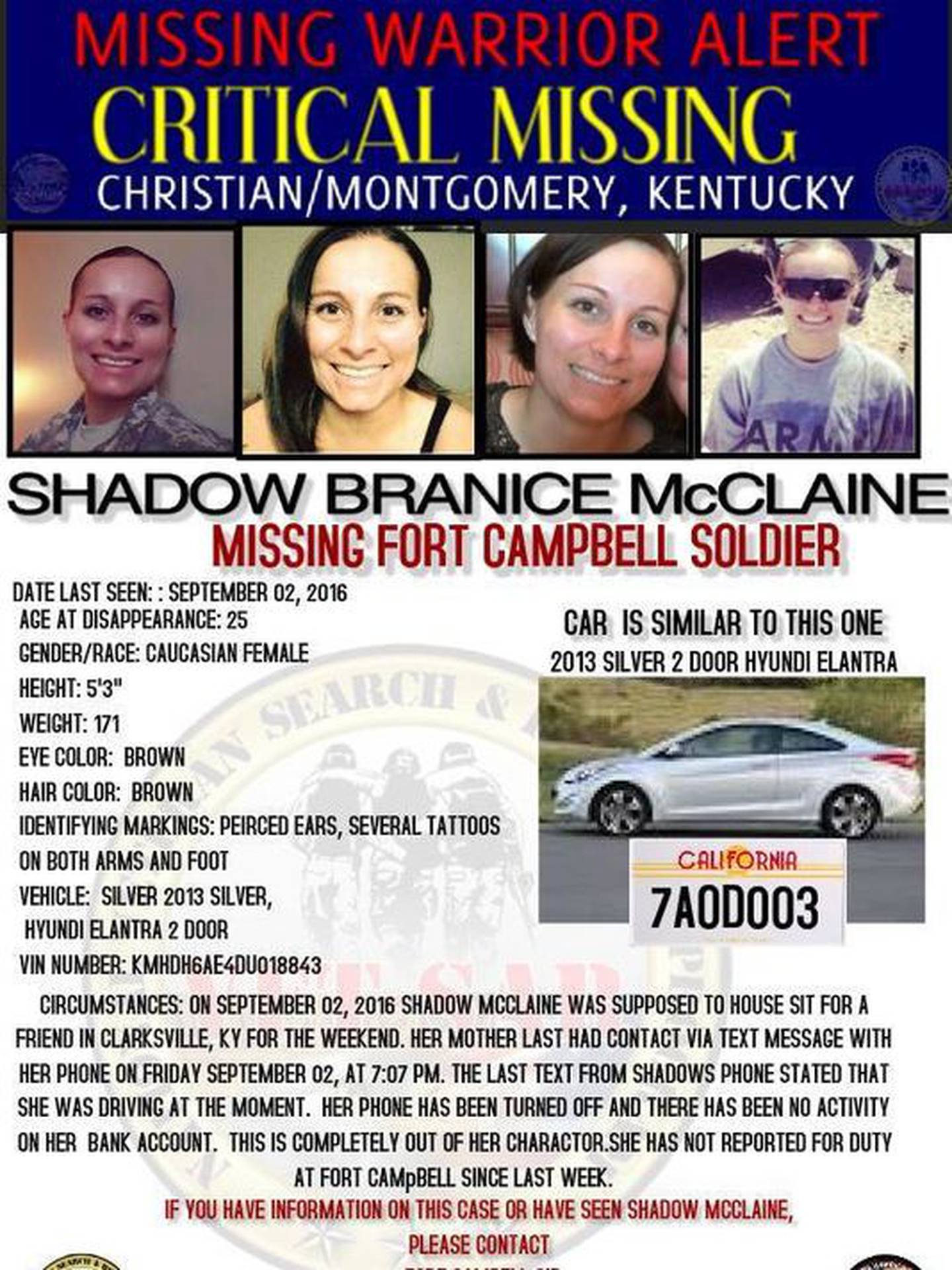 A poster made the rounds on Facebook details some circumstances surrounding Pfc. Shadow McClaine's disappearance. Two soldiers, one her ex-husband, were charged with her murder in November. Authorities found her remains in January.
Photo Credit: Facebook via The (Clarksville, Tennessee) Leaf-Chronicle

Anyone with information about her whereabouts is asked to call CID at 270-798-9406 or the Fort Campbell Military Police at 270-798-0416. Army CID also can be contacted at 844-ARMY-CID (844-276-9243) or via email at Army.CID.Crime.Tips@mail.mil.
Share: