The U.S. has fought in Iraq over three separate conflicts in the course of 25 years, and Maj. Gen. Joseph Martin has led soldiers during all of them.

About a month into their deployment, the 1st Infantry Division commander and about 400 troops are the latest unit to advise and assist Iraqi Security Forces in recovering land taken by ISIS in the previous three years.

"Now, look, it's a tough fight, but like I said before, the Iraqi Security Forces are absolutely committed to this as we are committed to being there to support them," Martin, now head of Combined Joint Forces Land Component Command, told Army Times in a Thursday phone interview.

The newly minted division commander, who came in at the last minute to replace his fired predecessor, is on his fifth trip to Iraq, but said it's not deflating to be back once again.

"It comes with the territory. It's part of what we do," he said. "I think there's a natural human tendency that when you leave, you say, let's hope we set the conditions so that this is the last time. Every time we come here we want to get it right and that's my endeavor this time as well. I think we're well on our way to do it."

What's different this time, he said, is that U.S. troops and 19 coalition countries are there purely to support the Iraqis.


"It is now because they're in the lead," he said. "They're a sovereign government, they've asked us to be here, and we've created a coalition to support them."
Since the coalition arrived to help the Iraqis fight back in 2015, Martin said, more than 34,000 square kilometers of land -- including 2,000 towns and villages, as well as a key oil refinery and oil fields, have been liberated.
"The ISF have turned the tables on Daesh," he said. "Lots and lots of progress. I don't see any end to that as we continue to move forward."
Back in the fight
Three months ago, Martin was the head of the National Training Center at Fort Irwin, California, when he got the call that he'd be heading to Iraq as the replacement for the 1st Infantry Division's recently relieved commander.
Maj. Gen. Wayne Grigsby was suspended and then relieved in late September amid an investigation, though officials have declined to elaborate other than to cite loss of confidence.
Martin was a year and a half into his stint at NTC when he got the call, he said, kicking the next step in his career into high gear.
"I didn't know what would happen next," he said. "When you're serving in that job, you hear about former commanders and where they went after that, but I had no false expectations of what the next opportunity would be."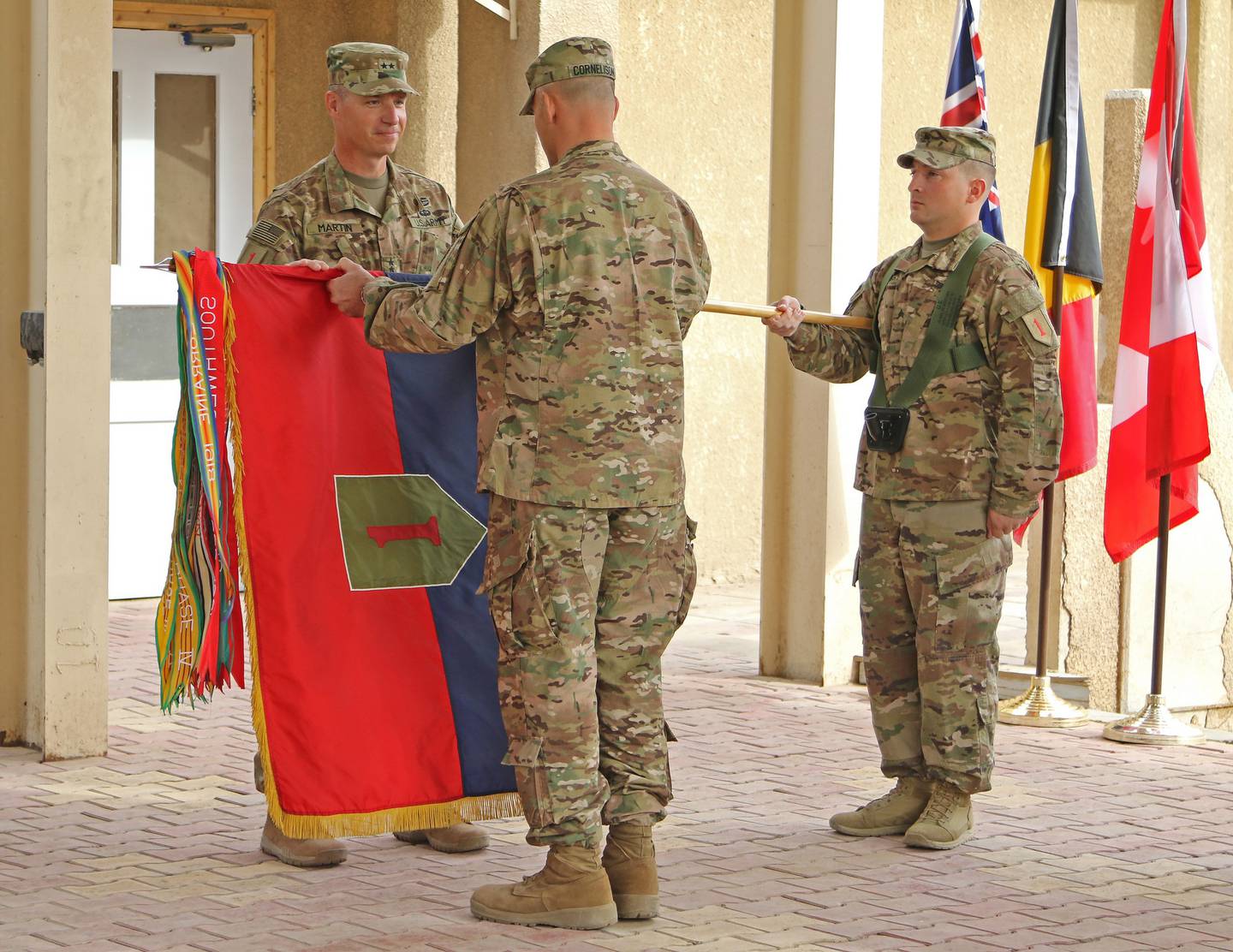 Maj. Gen. Joseph Martin, 1st Infantry Division and Fort Riley commanding general, and the Command Sgt. Maj. Curt Cornelison, the division's senior noncommissioned officer, assume command of Combined Joint Forces Land Component Command - Operation Inherent Resolve by uncasing the "Big Red One" colors during the Transfer of Authority ceremony Nov. 17 in Baghdad, Iraq. (Army photo by Spc. Anna Pongo)
Just over a month later, he was deployed while his family set up their home at Fort Riley, Kansas, for the third time.
"It was absolutely a welcomed opportunity to come back to the division," he said. "From the day that I was notified to the moment I'm talking to you right now, and the day they tell me it's time to go somewhere else, I've been looking forward."
And he didn't give into the pressure of taking over a rattled division and leading it into Iraq, he added.
"I just came in here and I was me," he said. "I looked at my wife and I said, I'm just going to be me and we're going to look forward to this mission, and that's what we did."
He'll also lead his troops home next summer in time for the division's 100th anniversary. But first, the coalition is focused on taking back the second largest city in Iraq, an operation that's taken two months and counting.
"The fight in Mosul's going to be tough," Martin said. "It's not slowing down. The progress is consistent."
Meghann Myers is the Pentagon bureau chief at Military Times. She covers operations, policy, personnel, leadership and other issues affecting service members. Follow on Twitter @Meghann_MT
Share: