The Army is sending new jungle boots and an improved hot weather uniform to soldiers in Hawaii in January.
Troops with the 25th Infantry Division will wear the new gear in different settings, including a Pacific Pathways exercise rotation to the Philippines and Thailand in February.
Program Executive Office Soldier will collect feedback from the soldiers in March to see if anything needs to be tweaked with the boots or uniform.
A limited number of soldiers — around 100 — have worn the Improved Hot Weather Combat Uniform, but January will be the first time soldiers have put on the new version of the jungle combat boot.
"The Improved Hot Weather Combat Uniform and jungle combat boot are aligned with the Army's modernization in terms of providing capability to war fighters to allow them to operate in a hot, wet environment," Col. Stephen Thomas, a project manager for soldier protection and individual equipment at PEO Soldier, told reporters during a roundtable at Fort Belvoir, Virginia, on Thursday.
Jungle Combat Boot: Version II
The second version of the jungle combat boot was inspired by feedback gathered from soldiers who tested the first version of the boot earlier this year.
Soldiers had been using a Vietnam-era combat boot that hadn't been tweaked in decades. The push for boots more suited to operating in the jungle comes as the Army conducts more training and exercises in the wet, humid Pacific after years of fighting in the hotter, drier environments of Iraq and Afghanistan.
This prompted PEO Soldier to ask industry for a solution, and their response was version one of the jungle combat boot. It was fielded to the 25th Infantry Division's 2nd and 3rd Brigade Combat Teams earlier this year, and their feedback helped create version two of the boot.
Soldiers who wore the first boot said they wanted it to be lighter, more flexible and have less stack height, or height off the ground, according to Capt. Daniel Ferenczy, assistant product manager for extreme-weather clothing and footwear at PEO Soldier.
"We took that feedback and went back to industry and challenged manufacturers to come up with novel designs that meet those requirements," he said.
RELATED
The lab tests show that the boots are quick-drying and puncture-protected with good support and mud traction, Ferenczy said.
In January, battalions with the 25th Infantry Division will receive 150 boots from each of the five vendors: Altama, Bates, Belleville, McRae and Rocky.
Version one of the jungle boot weighed about 2 pounds, whereas the new version is about 1.5 pounds, Ferenczy said. The difference in the stack height is about half an inch, which helps protect soldiers from rolling their ankles.
"[The jungle combat boot] is definitely unique in that it's designed entirely to not hold any moisture and to offer great traction in mud," he said.
Large drainage vents on both sides of the boot — in each of the versions ― prevent the boot from becoming soggy and heavy. A hockey puck-sized cushion built into the heel of the boot provides comfort without allowing the cushion to soak up water.
The lab tests showed that the new version dried about one hour faster than version one of the jungle boot.
Improved Hot Weather Combat Uniform
Lt. Col. Jonathan Allen, a product manager for soldier clothing and individual equipment at PEO Soldier, said they wanted the hot-weather uniform to have a lighter, more breathable and durable fabric that could operate in a wet, tropical environment.
Ferenczy said the drying time of this uniform is 30 minutes faster than the previous Army Combat Uniform that had hot-weather specific design tweaks. The improved uniform dries in 60 minutes instead of 90, he said.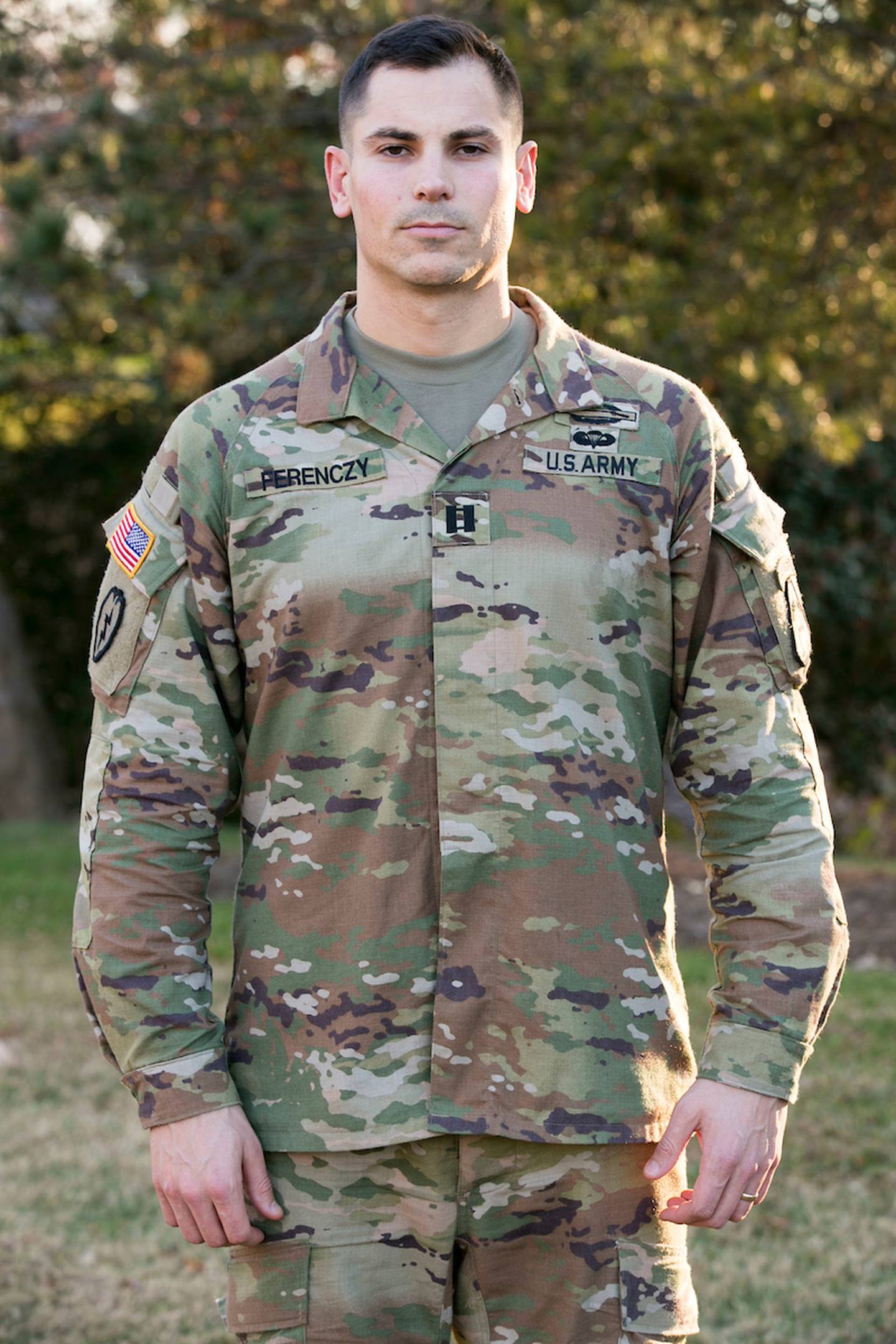 Other new features include:
Collar with fold-down design instead of mandarin.
Pockets on shoulders open up instead of to the front.

Buttons replace zippers.
No breast pockets.
No back pockets on the trousers.
A gusseted crotch. This eliminates four seams coming together in one spot and allows more movement to prevent blowouts.

Articulated knee. Several folds of fabric around it give the knee more space to maneuver.

Mesh ankle wrap. Designed to mitigate heat and drain water out. It also helps keep bugs from getting in the pants so soldiers can leave them unbloused.

The full-rate production has 65,000 uniforms being constructed, and each soldier will receive four uniforms, he said.
"The design behind [this uniform] was intended to reduce layers and seams," Ferenczy said. "They hold moisture and heat."
Charlsy is a Reporter and Engagement Manager for Military Times. Email her at cpanzino@militarytimes.com.
Share: