A year-long field test of the Army's new fitness test kicks off in October, and on Tuesday, a copy of the preliminary scoring system leaked online.
For now, Training and Doctrine Command is working on a gender- and age-neutral, 100-point system for each of the six events, with a 60-point minimum that will be familiar to anyone who's ever taken the current Army Physical Fitness Test.
"The chart represents the standards we intend to use for the Army Combat Fitness Test during the Initial Operational Capability field testing phase," Lt. Col. Jeffrey Pray, a spokesman for the Center for Initial Military Training, told Army Times on Wednesday.
To start, standards will be divided by "heavy," "significant" and "moderate" physical demand, similar to the Occupational Physical Assessment Test. One of the goals of the field study is to decide whether the final test will be scored according to military occupational specialty or unit type ― so, for example, an infantryman would fall into the "heavy" category, but so might everyone who serves in an infantry brigade combat team as well.
Elsewhere, jobs like combat engineer, field artillery and pilots fall into the heavy category, while military police, firefighters and helicopter mechanics are in the significant category.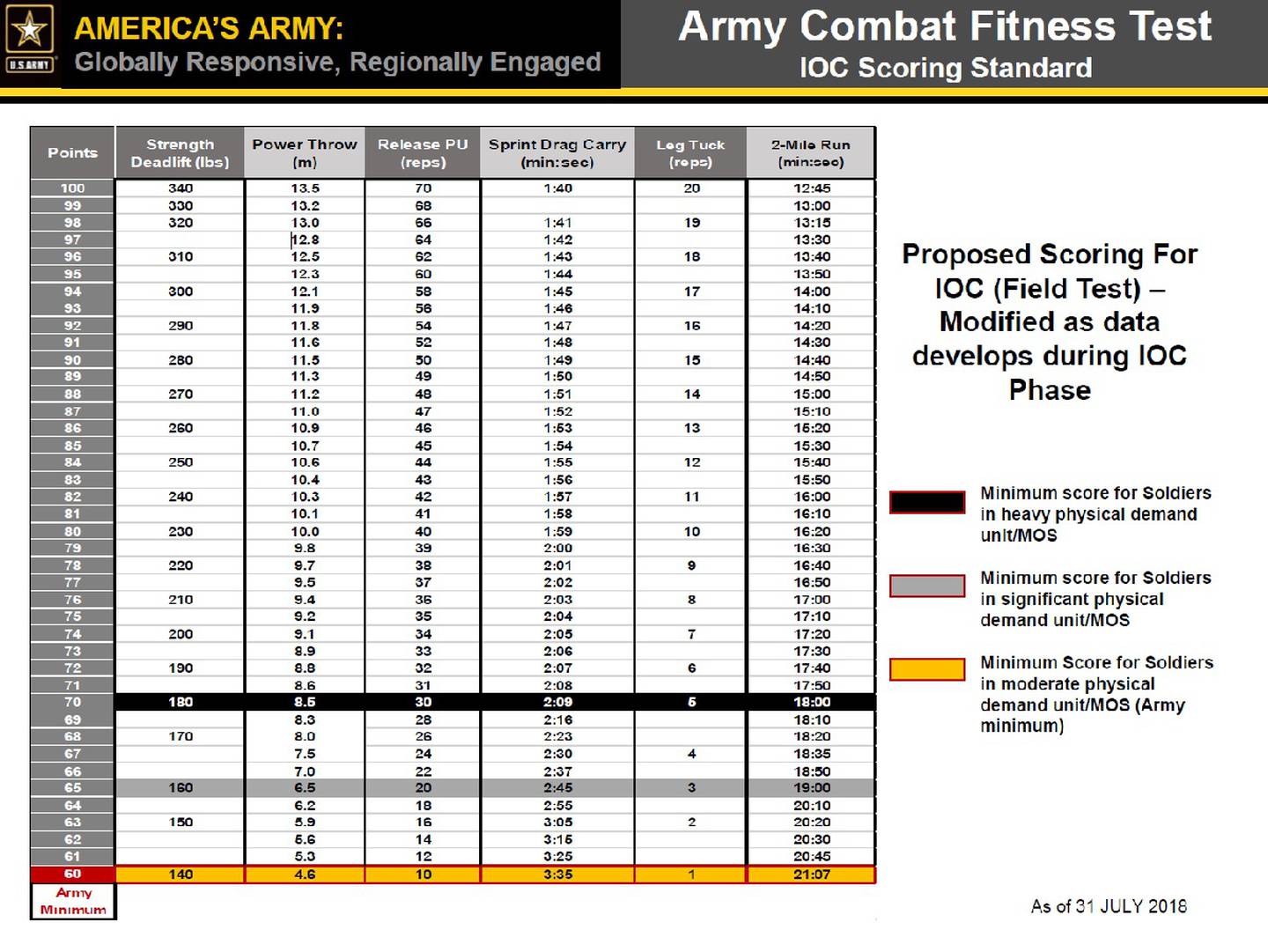 [See the full chart here.]
So for now, the minimum Army standard is a 140-pound deadlift, a 4.6-meter power throw, 10 release push-ups, 3:35 minutes on the sprint-drag-carry, one leg tuck and a two-mile run in no more than 21:07 minutes.
For the combat MOSs or units, it'll be a 180-pound deadlift, a 8.5-meter power throw, 30 push-ups, 2:09 sprint-drag-carry, five leg tucks and 18 minutes for the run. While those times are certainly slower than the scoring for the existing APFT, leaders are taking into account that soldiers are going right into the run following five other taxing events.
Pray said the standards for the PT test have not been finalized.
"These standards will be used for testing 60 battalions throughout the Army over the next year," Pray said. "Final standards are not expected to be approved until October of 2019, and may be adjusted up until the test is approved for record on/about 1 October 2020. This is a first step."
RELATED
Though the field study doesn't begin for two more months, senior leaders have been trying out the ACFT for months. Sergeant Major of the Army Dan Dailey and Maj. Gen. Malcolm Frost, the head of CIMT, told reporters in July that they had both taken it ― and that they both needed to work on lower body strength for the deadlift.
"War doesn't distinguish between gender and age. You can be 20 years old on the battlefield, or you can be 50, and you're going to have to accomplish the same mission. This test helps you execute your warrior tasks and battle drills, no matter who you are," said Command Sgt. Maj. Edward Mitchell, command sergeant major of the Center for Initial Military Training, during a test exhibition at Joint Base Langley-Eustis, Virginia, on Wednesday.
Following the year-long pilot, the ACFT will hit initial operating capability in fall 2019. After that, the Army has up to another year to roll out testing equipment and transition completely from APFT to ACFT.
Meghann Myers is the Pentagon bureau chief at Military Times. She covers operations, policy, personnel, leadership and other issues affecting service members.
Share: