There's a lot of talk in military circles about future threats, operating environments and shifting the focus to a more complex fight.
But military and civilian leaders, fresh from Operation Inherent Resolve, have brought back a message from the battlefield – the future is now.
RELATED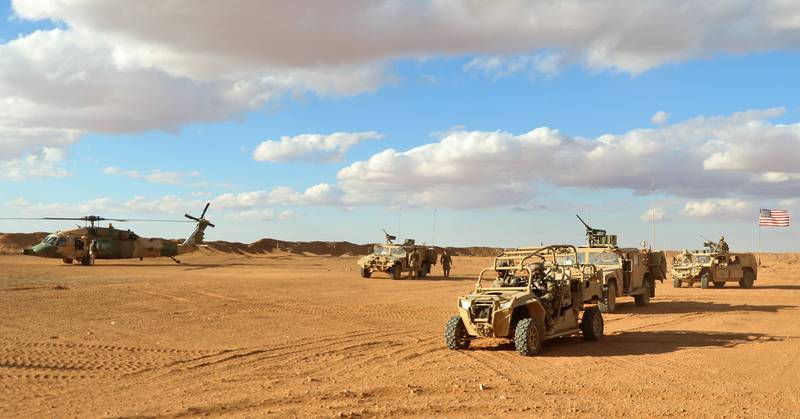 Chaotic, asymmetrical warfare, displaced civilian populations, rapidly evolving landscapes from kinetic operations to stabilization missions all while fighting alongside allies with competing aims, state and non-state actors, electronic warfare, weaponized drones and a flood of misinformation and propagand: welcome to the fight in Syria and Iraq.
British Maj. Gen. Felix Gedney, U.S. Air Force Brig. Gen. Leah Lauderback and Mark Stroh with the State Department shared a recap of the OIR mission over the past few years at the annual Association of the U.S. Army Meeting and Exposition. How and what they're seeing there is coming soon to a combat theater near you.
On its surface, the mission sounds simple – defeat ISIS.
The on-the-ground work was anything but, Gedney said.
As ISIS began to fall across the two countries, Russian and Syrian aims quickly shifted. Lauderback noted how both pushed their economic aims to grab up oil-rich areas.
During those shifts, Iran continued to push their influence into the region. And though the ground combat aspects of the fight in Iraq against ISIS wound down sooner than those in Syria, continuing sectarian divides and work adjusting the Iraqi military composition created their own challenges, Gedney said.
As battles still raged, the efforts of coalition military trainers and advisers moved from the tough job of generating a combat force to throw into the fight to maturing and entrenching portions of that force to build a stable Iraqi military for the future.
Offensive drones used by ISIS at seemingly low levels against Russian units caused outsized damage, Lauderback said. A complex attack using six or seven drones on a Russian weapons depot in a liberated area destroyed the entire site and killed soldiers with only a few hand grenades.
The same happened at Bal Al Assad Airfield. A similar attack took out pricey Russian aircraft and killed troops.
That complication along with Russian, Syrian and higher-end Iranian drones made for a cluttered airspace, she said.
The operation provided lesson in the softer, but no less important, side of combat – information operations.
"I'm not an information officer, but I know a fight when I see one," Gedney said. "And that's exactly what we deployed into."
ISIS propaganda was routinely and rapidly deployed both globally and locally. There was also an aggressive Russian and Syrian propaganda campaign.
"The Russians are really good at this, better than us," he said.
Entire military units and formations were sometimes deployed simply for the photo opportunity, Gedney said.
And much of the propaganda was quickly pushed across the world, often before those in theater could even see it to counteract it.
"I would argue in many of our nation's capitals we didn't realize we were being deceived," Gedney said.
Todd South has written about crime, courts, government and the military for multiple publications since 2004 and was named a 2014 Pulitzer finalist for a co-written project on witness intimidation. Todd is a Marine veteran of the Iraq War.
Share: