Army Futures Command officially broke ground with an August activation ceremony in its new Austin, Texas, hometown. On Friday, soldiers will don new shoulder insignia to mark their transition into the nascent unit.
The shield-shaped insignia includes coloring and imagery to suit the command's status as a four-star organization in charge of leading the Army through its modernization renaissance, officials from The Institute of Heraldry told Army Times.
"What we try and do here is to keep designs as simple as possible, which is really the essence of what heraldry is about," said Charles Mugno, the institute's director.
AFC needed both a shoulder sleeve insignia and metal distinctive unit insignia, worn on the right side of the Army Service Uniform jacket and the front of the beret, so the team at TIOH went looking for past examples of Army commands with similar missions.
"Because the mission will help to come up with design concepts, or symbolism, to readily identify the organization," Mugno said.
The institute is not in the business of designing logos or branding units, he added, so all of their new artwork is based on traditional symbols that date back as far as the 12th century.
In a meeting with senior leadership, the team learned that AFC had settled on "Forge the Future" as its motto, which provided the key inspiration.
"One thing that came to mind was blacksmithing, the anvil and hammer, and that kind of impact," chief heraldic artist Andrew Wilson told Army Times.
It turned out that the anvil motif was very reminiscent of President Dwight D. Eisenhower's coat of arms. The added "wedge shapes" emphasize direction ― toward the future.
Wilson chose the anvil as the defining feature to illustrate a forge but held off on adding a hammer or sword. He was aiming for "bold simplicity," he said.
"You don't want it to be too cluttered," he added.
The sword is featured in dozens of other unit insignia and is usually associated with an operational unit.
RELATED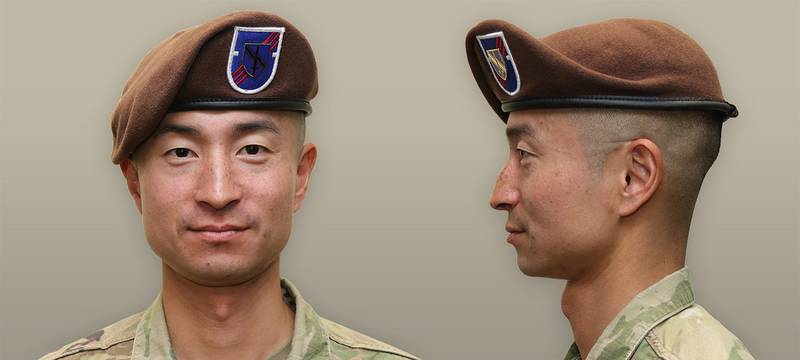 Cluttering up the insignia with multiple symbols would make it hard to distinguish, Mugno added, particularly on a metal unit insignia, which measures just over an inch tall. They also have to consider whether the symbols will look crisp both on the metal insignia and the fabric patch, both in the true color version and the subdued, camouflage-colored version.
Some AFC soldiers will get their new insignia in a ceremony at Joint Base Langley-Eustis, Virginia, on Friday, when the Training and Doctrine Command-based Army Capabilities Integration Center is re-designated the Futures and Concepts Directorate under AFC.
Meghann Myers is the Pentagon bureau chief at Military Times. She covers operations, policy, personnel, leadership and other issues affecting service members.
Share: