The West Point Association of Graduates awarded an AH-64 Apache pilot the Alexander Nininger Award last week for her role safeguarding a Ranger night raid near the border of Afghanistan and Pakistan four years ago.
Capt. Lindsay G. Heisler, a 2012 West Point graduate, was deployed with the 101st Aviation Regiment to Bagram, Afghanistan, when the actions took place. She had already been in-country for eight months.
"Every night, we flew air assault security missions with Chinooks from the 160th Special Operations Aviation Regiment, carrying friendly forces across Afghanistan to capture or kill high-value targets," she said in prepared remarks at an Oct. 24 banquet at West Point.
On Dec. 5, 2015, Heisler was flying as the co-pilot and gunner on an Apache helicopter with Chief Warrant Officer 2 David Woodward. The two pilots served as an armed escort for MH-47 Chinooks from the 160th SOAR that were ferrying a Ranger raiding party.
The Rangers were heading to a target compound in search of an HVT in southeastern Afghanistan's volatile Paktika province. The target compound was 30 meters from the Pakistani border, according to Heisler.
The objective was surrounded by mountains on all sides except for the east, towards Pakistan, she said. After the drop-off, the Chinooks left for refueling, while Heisler, Woodward and another Apache crew remained overhead for air support.
"About two to three hours after infil, we identified an enemy fighting position observing the friendly forces," Heisler said. They engaged the target and the mission carried on until about 6 a.m.
As dawn arrived, the Ranger commander called for exfil and postured his team near the landing zone, a place where they were vulnerable to enemy fire. The ground force began receiving indirect fire from an unknown location to their north. Heisler was able to identify a six-man mortar team through her sensor pod. The joint terminal attack controller on the Ranger team gave Heisler clearance to fire again.
Neither of those engagements were out of the ordinary.
"Now, another key piece of knowledge the enemy had learned after almost 15 years of conflict is that the Apache helicopter, what they refer to as 'the Dragon,' can easily find people using the FLIR in our target acquisition systems," Heisler explained, using the acronym for forward-looking infrared cameras.
"Their tactic to counter this is to hide themselves and their weapon systems completely out of sight, either in a building, under a blanket or inside thick vegetation until they hear the loud, unmistakable sound of Chinook helicopters flying to pick up the ground force," she added.
The loud rotor noise is the insurgents' cue to emerge and take shots at the aircraft. As the Chinooks swooped in, seconds from landing, a curtain of enemy fire pinned the Rangers and Chinooks to the ground from all directions.
"I had never seen anything like it before in my entire life," Heisler said.
"We had enemy RPG and machine gun fire originating from high points on the mountains to the west, from an area concealed by trees to the north and from qalat [earthen] structures to the south and to the east — inside Pakistan," she added.
Woodward positioned his Apache between the friendlies and insurgents to draw fire away from the ground forces, while Heisler began acquiring targets in her sensors and engaging them with her 30 mm chain gun.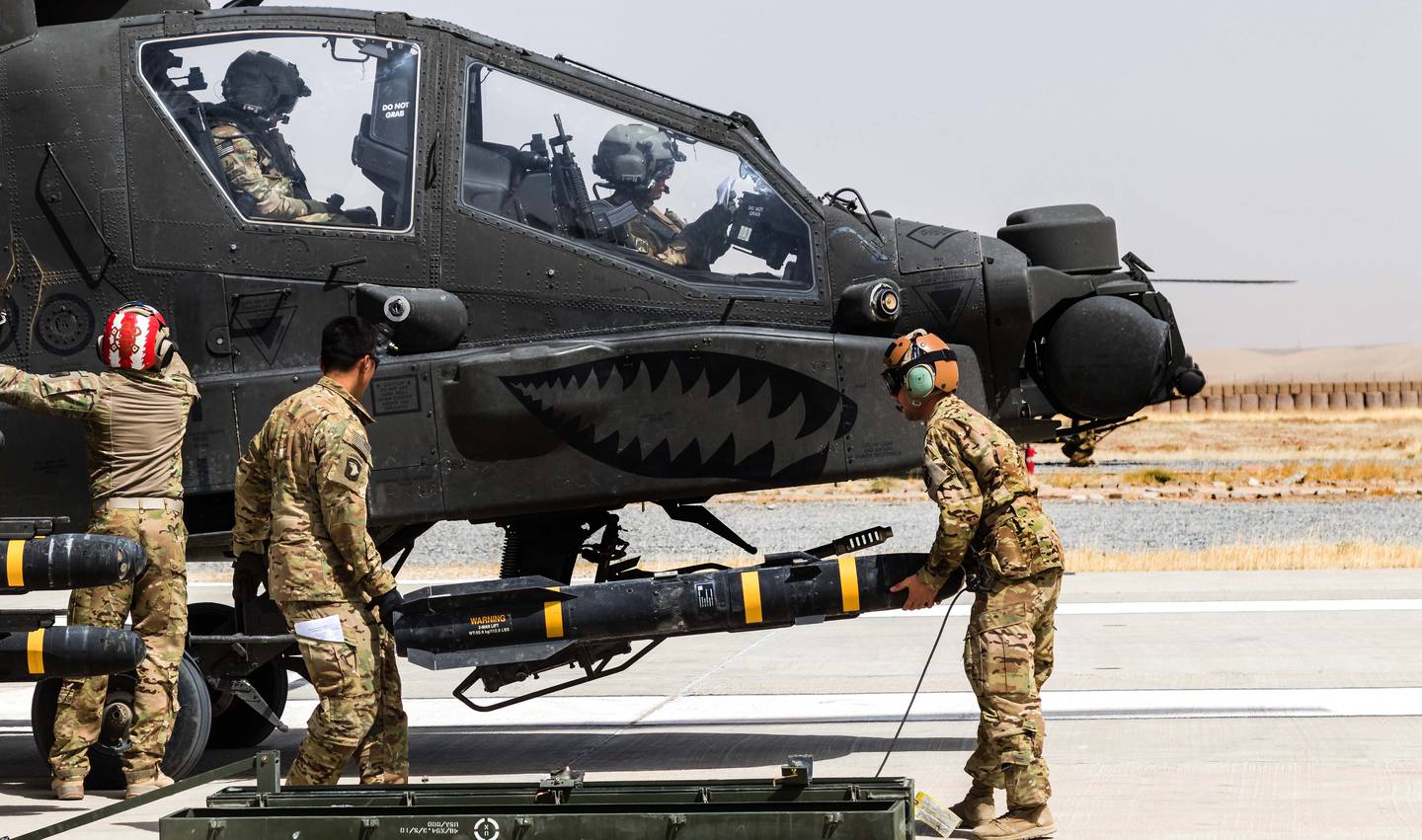 The other Apache crew had taken damage from the onslaught and their aircraft was experiencing hydraulic issues. The Chinook on the ground had taken fire as well, but the pilot flying it believed he could still get home.
"We were able to keep the enemies' heads down just long enough for the Chinooks to find a window and take off," Heisler said.
Heisler and Woodward maintained security over the Chinook and other Apache as the aircrews limped back to an unnamed forward operating base. Once back, they found that one of the Apaches had taken damage to the tail boom, but thankfully missed the rotor, which would have caused a crash landing inside insurgent territory.
The Chinooks had also sustained battle damage to their rotors.
"After we debriefed, the crew of an ISR aircraft overhead the objective area identified a total of eight enemy DShK [heavy machine gun] fighting positions once they watched their tape after they landed," Heisler said.
Both Woodward and Heisler received Distinguished Flying Crosses for their actions that night.
West Point superintendent Lt. Gen. Darryl A. Williams said during the banquet for Heisler that the Ranger unit commander later reported: "In my 20 years of service, I have never been pulled from a more dire situation."
The Nininger award that Heisler received is "given to an exemplar of heroic action in battle," and named after Alexander R. Nininger, a 1941 West Point graduate who was posthumously awarded the first Medal of Honor in World War II for actions near Abucay, Bataan, on Jan. 12, 1942.
Kyle Rempfer is an editor and reporter whose investigations have covered combat operations, criminal cases, foreign military assistance and training accidents. Before entering journalism, Kyle served in U.S. Air Force Special Tactics and deployed in 2014 to Paktika Province, Afghanistan, and Baghdad, Iraq.
Share: