JOINT BASE PEARL HARBOR-HICKAM, Hawaii ― Two more U.S. service members remains from the 55 boxes returned from North Korea in July have been identified, and the U.S. military will be notifying their families within days, directors for the Defense POW/MIA Accounting Agency said Monday.
The families "will be notified very shortly," said DPAA Chief Scientist John Byrd. "The IDs will be made officially in the next couple of days ― two to three days ― and the family will be notified within 24 hours of the IDs being officially made."
Each of the two sets was confirmed three ways ― through a DNA sample, through matching chest X-rays and dental records, Byrd said.
"No doubt about it," that the agency is confident these two service members will be correctly reunited with their families, Byrd said.
The remains were repatriated as a result of President Donald Trump's Singapore summit with North Korean leader Kim Jong Un.
The remains were discovered in box 14 and box 16 of the 55 boxes and were some of the most complete of the 55 returned, with individual soldiers contained in each box, DPAA officials said.
RELATED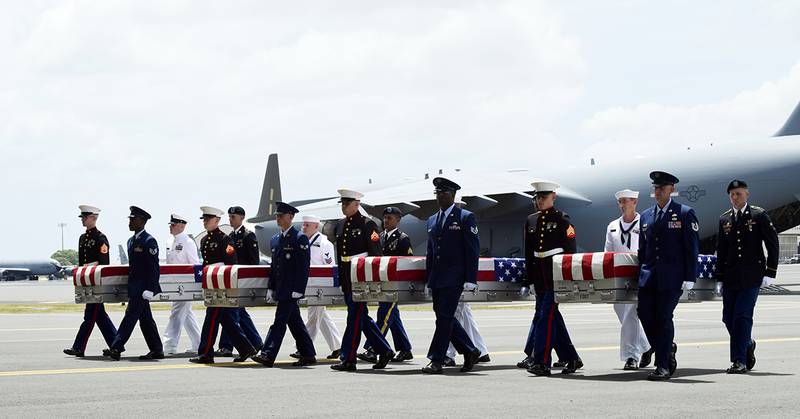 Officials showed reporters each of the 55 boxes, whose contents are carefully laid out on almost two dozen lab tables at DPAA's lab at Hickam Air Force Base. Reporters traveling with Marine Corps Gen. Joseph Dunford, chairman of the Joint Chiefs, were allowed onto the lab floor to look at the remains up close.
The remains come from the 1950 Battle of Unsan, the officials said. Of the 55 boxes, 20 came from Unsan and 35 came from the Battle of Chosin Reservoir in December 1950.
With box 16, the bones themselves were so well preserved and had enough known scientific markers that one of the scientists was able to identify them as belonging to an African-American male just a day after they were received. Military Times was able to see the remains from box 16 up close; with portions of the hips, femurs, spine, jaw and some teeth preserved.
"Even at Osan [Air Base], we already recognized that we ought to be able to identify him, and so we jumped on this one in August first when the remains came in here, we were already working aggressively to try to determine his identity, because we knew we had a good chance of doing it quickly," Byrd said.
The names will be announced publicly once the family is notified, Byrd said.
The work of identifying these service members has become so intimate that one of the lab workers was actually able to quickly identify who she thought the deceased was by spending the evening searching through all of her records, before any testing began.
Through testing, she was ultimately proved right, Byrd said.
Tara Copp is the Pentagon Bureau Chief for Military Times and author of the award-winning military nonfiction "The Warbird: Three Heroes. Two Wars. One Story."
Share: