The recent push to grow the military branches has meant increased recruiting numbers and even better rates for the active duty forces on retaining troops.
That's meant higher numbers of new and experienced personnel throughout the branches than they've seen during previous years of drawdowns.
But the more troops who stay in the active-duty ranks, the fewer migrate to the Guard and Reserve. An estimated 10 percent or more of new Guard and Reservist are prior active-duty service members.
RELATED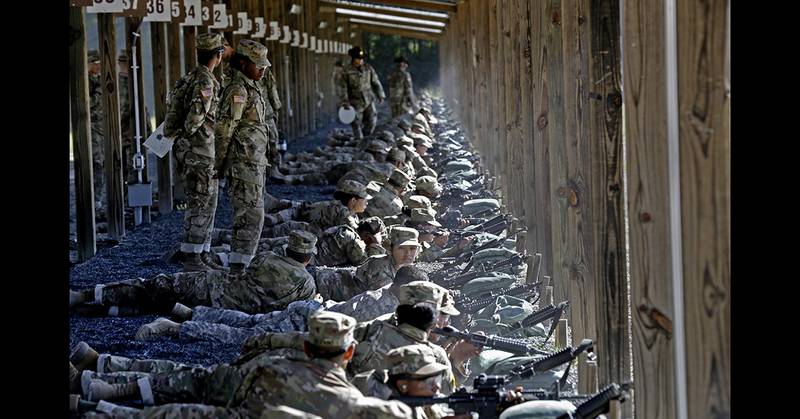 At the recent, annual Reserve Forces Policy Board meeting in Arlington, Virginia, representatives from each of the services laid out their manpower initiatives. All noted that increased retention is a success for the active force and even for total force end strength, but it does present problems for Reserve and Guard units who look to those leaving active duty.
"The Army is on fire, in terms of its retention ― it's exceeding its numbers," said Maj. Gen. Tammy Smith, the deputy for the Army's manpower and personnel.
The Army met its retention goals back in April, five months ahead of the end of the fiscal year. Rather than stop retention bonuses and re-enlistments, the Army kept going and, as of earlier this summer, it was more than 1,000 soldiers over its retention goal for the year.
Army Secretary Mark Esper said at the time that retention had hit a historic high of 86 percent, up from the more typical 81 percent.
Bonuses for NCOs ranged from $1,200 for E-5s, adding one to two years to their time to as much as $72,000 for some E-6s and E-7s to re-enlist for another five years.
The retention balances out the challenges the Army is seeing in getting new recruits to meet the higher number of soldiers needed to grow the Army, Smith said.
Active soldiers joining the reserve forces saves money because the transitioning soldiers are already trained.
There's also been a push for reservists to go active, which has contributed to a shortfall of several thousand Reserve soldiers this past years, officials said.
So far, the Army Guard and Reserve retention is mirroring the active side. Smith said that Reserve retention is at 118 percent of goals set for this year.
Even with that retention, recruiting has lagged enough that the Army Reserve will not meet its end-strength goals this year, she said.
But that may not hold. And next year the Army will need even more retention along with more new recruits to meet its end-strength goal of nearly 200,000, she said.
"We rely heavily on that transitioning population," Smith said. "It's going to get more challenging next year."
The Army isn't alone. Navy leaders are seeing better retention than in the past, but they note that they'll need more to grow the force in the coming years to meet the needs of new platforms and a potential 355-ship Navy.
Rear Adm. John Nowell, director of military personnel plans and policy, told the board that some of that retention is a result not only of more people wanting to stay in the Navy, but the force finding places for them and ways to retrain them when needed.
"Two to three years ago if you said, 'I'm kind of interested in leaving,' we didn't just show you the door, we opened the door and gave you a gentle shove," Nowell said.
At that time, when drawdowns across the board crowded the space for those who wanted to stay, if a sailor didn't have the needed rating, they couldn't re-enlist.
But a modernized rating approach has given the Navy a way to retrain some sailors if their current rating doesn't match force needs.
And retention will play a key role in increasing the size of the Navy.
Currently about 40,000 new sailors join the Navy each year and about 40,000 sailors leave.
If the service is planning to man 355 ships, it needs to grow by an additional 21,500 sailors by 2022 just to manage 326 ships. The 355-ship Navy, which is the current goal, will require another 25,000, Nowell said.
That needed increase for a 355-ship Navy is hitting the reserves.
Nowell said that 1,200 sailors moved from the reserve to the active side over the past year.
The Air Force has begun a shift in its combined retention and recruiting efforts to look at the total force rather than juts prioritizing the active side and treating the reserves as an afterthought.
Brig. Gen. Steven Rosenmeier, mobilization assistant to the Air Force deputy chief of staff for manpower, personnel and services, told the board that in their planning they try to balance the needs of both.
"We have higher tenure retentions," Rosenmeier said. "Is that good or bad? We retain talent on the (active component). But what effect does that have on the prior service recruiting pool for the Air National Guard and Reserve?"
So, they're finding ways to move more seamlessly between the two components.
One program aims to allow reservists to do extended periods of active duty, up to three years.
"But that's three years they're not drilling as a reservist or in the Guard," Rosenmeier said.
They're exploring volunteer retirees to return to limited reserve status to help fill those garrison positions.
Todd South has written about crime, courts, government and the military for multiple publications since 2004 and was named a 2014 Pulitzer finalist for a co-written project on witness intimidation. Todd is a Marine veteran of the Iraq War.
Share: