Reserve 1st Lt. Deshauna Barber may have made Miss USA pageant history by becoming the first service member to hold the title but she's determined to not let any one role define her.
After going through Virginia State University's ROTC program, Barber was commissioned as a second lieutenant to the 1015th Quartermaster Company in 2011. She is a logistics officer in the 988th Quartermaster Detachment at Fort Meade, Maryland.
Army Times got the opportunity to sit down with Barber, who competed as Miss District of Columbia, when she returned to the city following her June 5 victory and a media tour. The answers have been edited for clarity.
Q. You're entire family has served in the military. What inspired you the most to join as well?
A. What inspired me the most was absolutely my dad and my mom. During our time growing up, what they both instilled in us was the military, being as much of a contributor to this country as possible.
Q. What was the youngest age you determined that you wanted to join?
A. Probably like 5. My dad used to be a drill sergeant. I remember seeing him, coming in with his round hat, and I used to think it was the coolest thing. He was a big mentor to me, still is to this day. And I knew I wanted to be just like him. … That was a big inspiration.
Q. Take me through the day, a regular day for you, on-base training.
A. I'm a Reserve officer, so I serve two days a month in the United States Army Reserve. During the days that I'm actually serving, I wake up at 5 a.m., usually have PT for about an hour, hour and a half.
Then I go straight to my office, working on paperwork, making sure soldiers have their pay needs taken care of. A lot of my time is dedicated to planning our annual training.
My unit is a petroleum lab unit. We're in the lab a lot … making sure soldiers retain muscle memory … in case we were to be called overseas or if we had our annual training over the year.
Q. While training did you find any kind of challenges specifically?
A. I am a very small person naturally. I'm very slim. I found it very difficult to carry the rucksacks, and be able to deal with those physical challenges, so I really had to push myself and challenge myself to be able to handle the training
It definitely made me a stronger person. I'd say, the military has made a serious contribution to my mental and physical strength.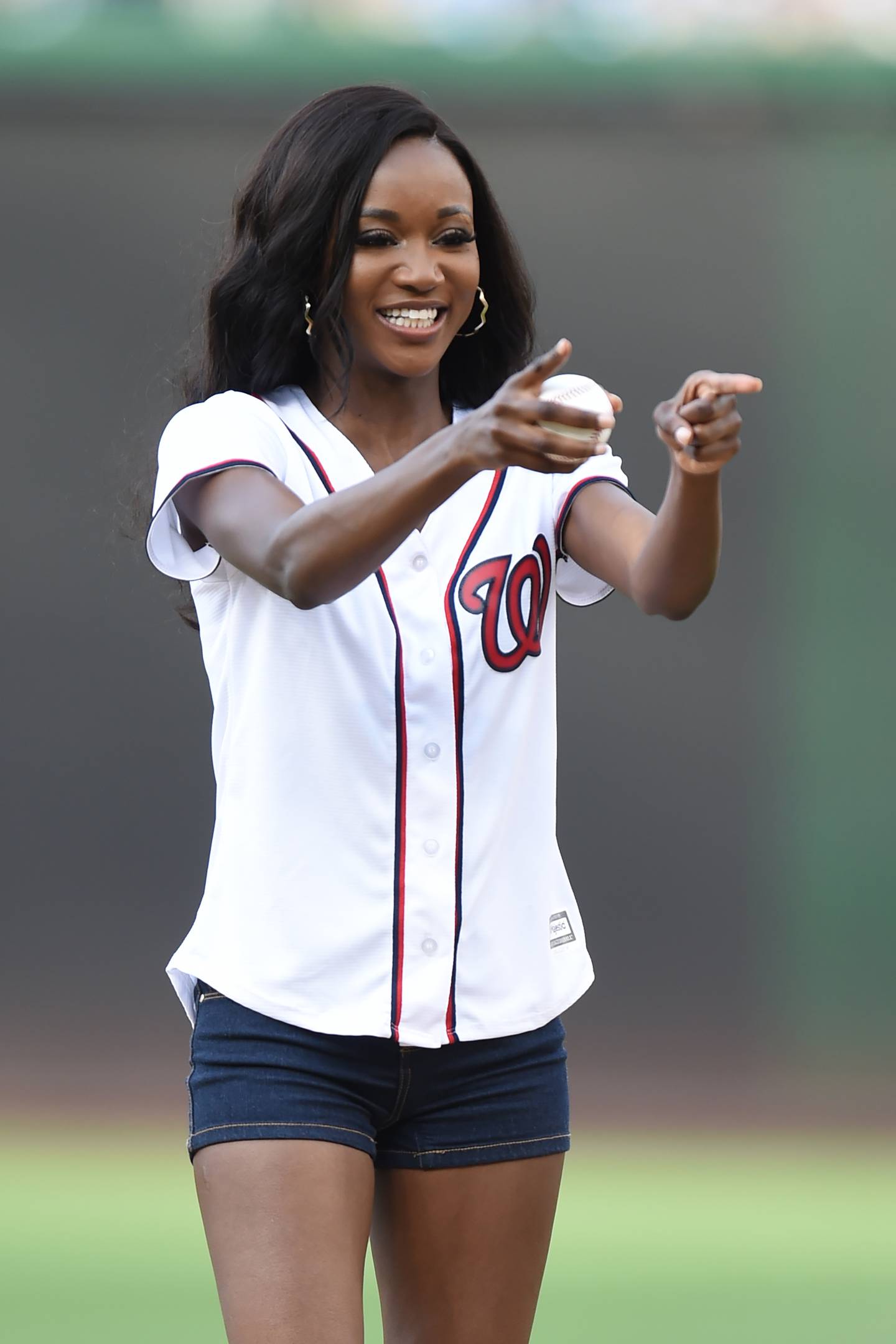 Barber points toward home before throwing out the ceremonial first pitch before a baseball game between the Washington Nationals and the Milwaukee Brewers in Washington, D.C., on July 5.
Photo Credit: Mitchell Layton/Getty Images
Q. Did you find any challenges because of your gender?
A. I wouldn't say it's necessarily because of my gender. You obviously have those issues where women are less prominent in the unit. … It's kind of dependent on the makeup of the unit.
But I will say it's a little bit difficult, because you're a women and you're expected to live up to a certain standard and sometimes we have to challenge ourselves a little bit more as women.
I want to challenge women to be able to chase those goals. And I think we have. We just had the [first women in history] go through Ranger school … and that's something that really represents a lot in terms of what we're capable of doing.
Q. What is your take on being both a soldier and a pageant contestant?
A. I look back at all the women that have won Miss USA and how unique and great our backgrounds are. So to know that I'm the first active serving military officer to be Miss USA is an honor. And it's very flattering and humbling to know that I represent that.
Q. What were your fellow soldiers' responses to your pageant participation while training?
A. They definitely love it. The day after I was crowned, the 988th was heading to annual training at Fort Bragg, North Carolina. They kept getting asked, 'Isn't your company commander Miss USA?' They're very supportive of everything I do.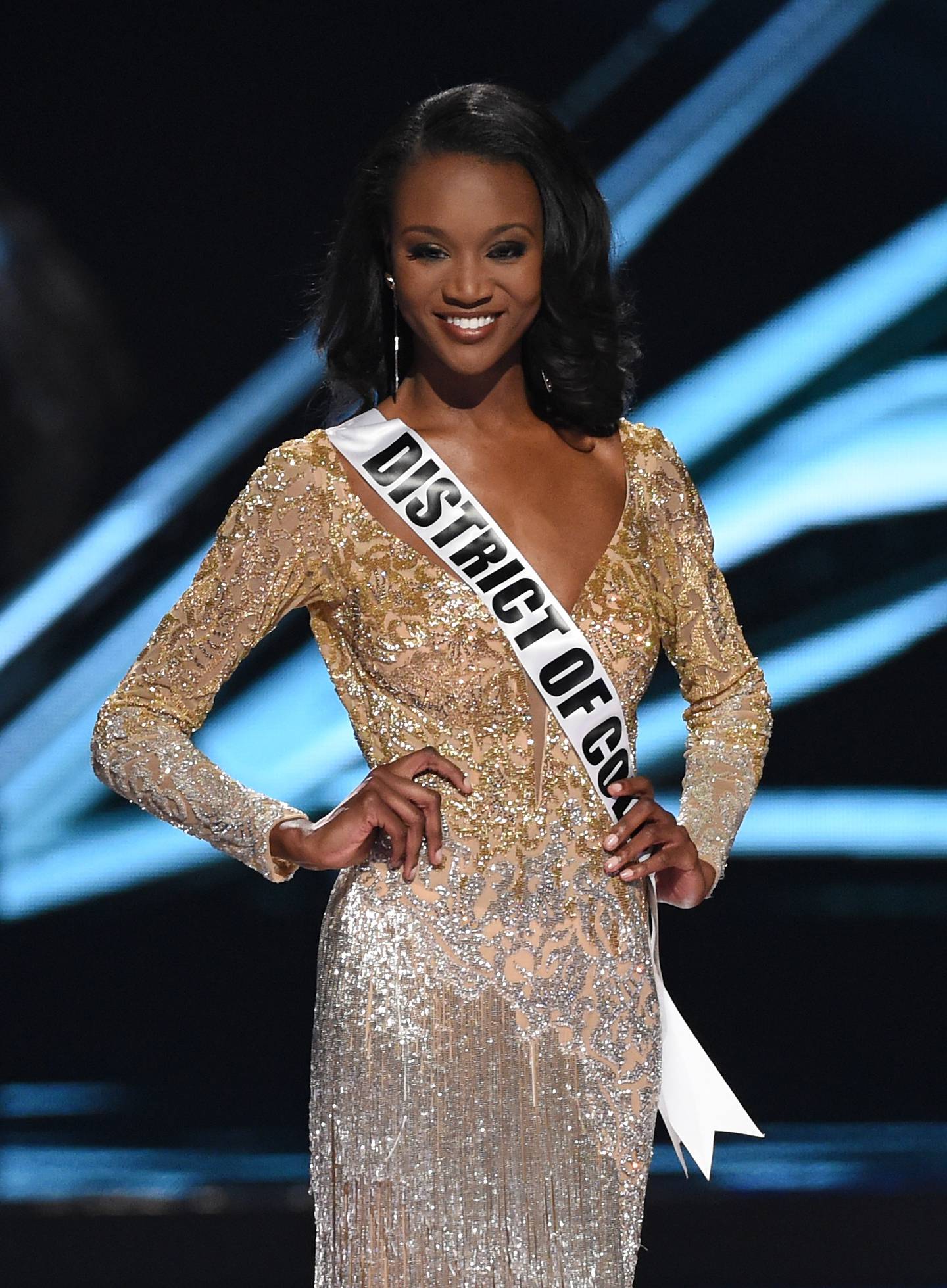 Barber said her fellow soldiers have been extremely supportive of her pageant win.
Photo Credit: Ethan Miller/Getty Images
Q. Both a pageant winner and a female officer, what does your habit of "breaking the mold" say about the future of women in the military?
A. I think it says that we really need to break out of this box. Not only pageant women, but female soldiers, we feel so confined to live and be a certain way. Don't allow this glass ceiling to set over you. You can be anything you want to be, make sure you chase those dreams and never limit yourself.
Q. As Miss USA, you said you'd use your spotlight to give attention to issues that matter. What are some of these issues?
A. One that matters so heavily to me is PTSD care for our veterans. I want to make sure that these soldiers have what they need when they return from deployment. Twenty-two veterans commit suicide each and every day. That is a gigantic number I hope one day becomes zero.
It's something that is heavily discussed and heavily known in the military, but it's not internationally or nationally known in the media.
Soldiers have made the sacrifices that they need to make to serve this country. So I think it's important we make the sacrifices we need to make to ensure that they are taken care of.
Q. Did you work with any particular organizations?
A. I've worked with the USO. They do something called Operation That's My Dress. It's targeted toward female soldiers and daughters of veterans or active soldiers. It allows them the opportunity to say that we care about you and we just want you to feel like women.
CAUSE focuses on recreational activities for soldiers and soldiers' families. Soldiers who have recently come back from deployment bring their families to our different events and it allows them to acclimate themselves back with their families and understand how to socialize again.
I've also done Operation Homefront. When soldiers are coming back from deployment, you are there waiting for them with signs. This is usually hosted at different airports around the country.
Q. What are some ways people can serve their country, outside of joining the military?
A. There are a lot of ways, I would recommend community service. I don't think you have to join the military to actively contribute to this country.
There are so many other things you can do: You can be a police officer, a firefighter, start your own nonprofit. If each and every person found a social issue and either joined a nonprofit or started [one], this country could be even better than it already is.
Q. Can you talk more about your experience as a leader in the military?
A. When I first joined the Army, I went through a Basic Officer Leadership Course in Fort Lee, Virginia. It was my first time being full-time Army. You are with officers from all parts of the country and we're all on the same level as second lieutenants.
I realized that you have to listen first to the people that have walked in these shoes or to the people who have prior experience on the enlisted side. As a leader there's no way you can lead without being able to be a follower.
Q. How has your officer training prepared you for these pageants? How has that set you apart from other contestants?
A. One of the things I learned from the military that contributed to my success at Miss USA was, absolutely, the mental preparation.
The training I received, being able to speak in front of colonels, you have to have a certain confidence about you, education level, where you can really be able to verbalize how you feel and make it make sense.
When answering that question onstage, I used the moments I've had in the past as an officer or a commander and having that pressure … and told myself: I'm briefing a general right now, let's see how I answer this question.
Q. What's one message you have for soldiers serving right now?
A. First and foremost, thank you for your service. The sacrifices that you're making are so important to this nation and the foundation that we stand on. Continue doing what you're doing.
Understand that we do care. Never feel as though you have to lock in your emotions. Understand there are a lot of people battling the same things … if you've just returned from overseas.
Understand that we appreciate all of the sacrifices that you make. If there is anything that you need it is to not be afraid to ask for help. Because there is nothing wrong with asking for help and there is nothing to be ashamed about.
Share: