With the above statement, former Army Ranger Mat Best makes a succinct case for the $325,000 crowd-funding effort behind "Range 15," a feature-length film project from Best's Article 15 Clothing company and Ranger Up, a veteran-run, industry-leading clothing maker founded in 2006 by Ranger-tabbed West Point grad Nick Palmisciano.
What might supporters of "Range 15" expect? Well, Best's line comes a few minutes into this promotional video, which includes, in no particular order:
Dakota Meyer — Medal of Honor recipient, former Marine sergeant and celebrity spouse — sitting at a bar, holding what appears to be a grenade, and calling a fellow Medal of Honor recipient, retired Army Master Sgt. Leroy Petry, to ask whether he'd like to star in the movie.
Best getting mocked and spat on for his service by a pair of clean-shaven, popped-collar-wearing young men. A quick cut to the next scene reveals the men covered in blood courtesy of Ranger Up and Article 15 crew members, whose weapons of choice appear to include a hatchet, chainsaw and cucumber.
A post-bloodbath powwow that reveals the veterans' distaste for most military movies, blasting their lack of concern for details like uniform rules and "that stupid salute every single time at the end of the mission."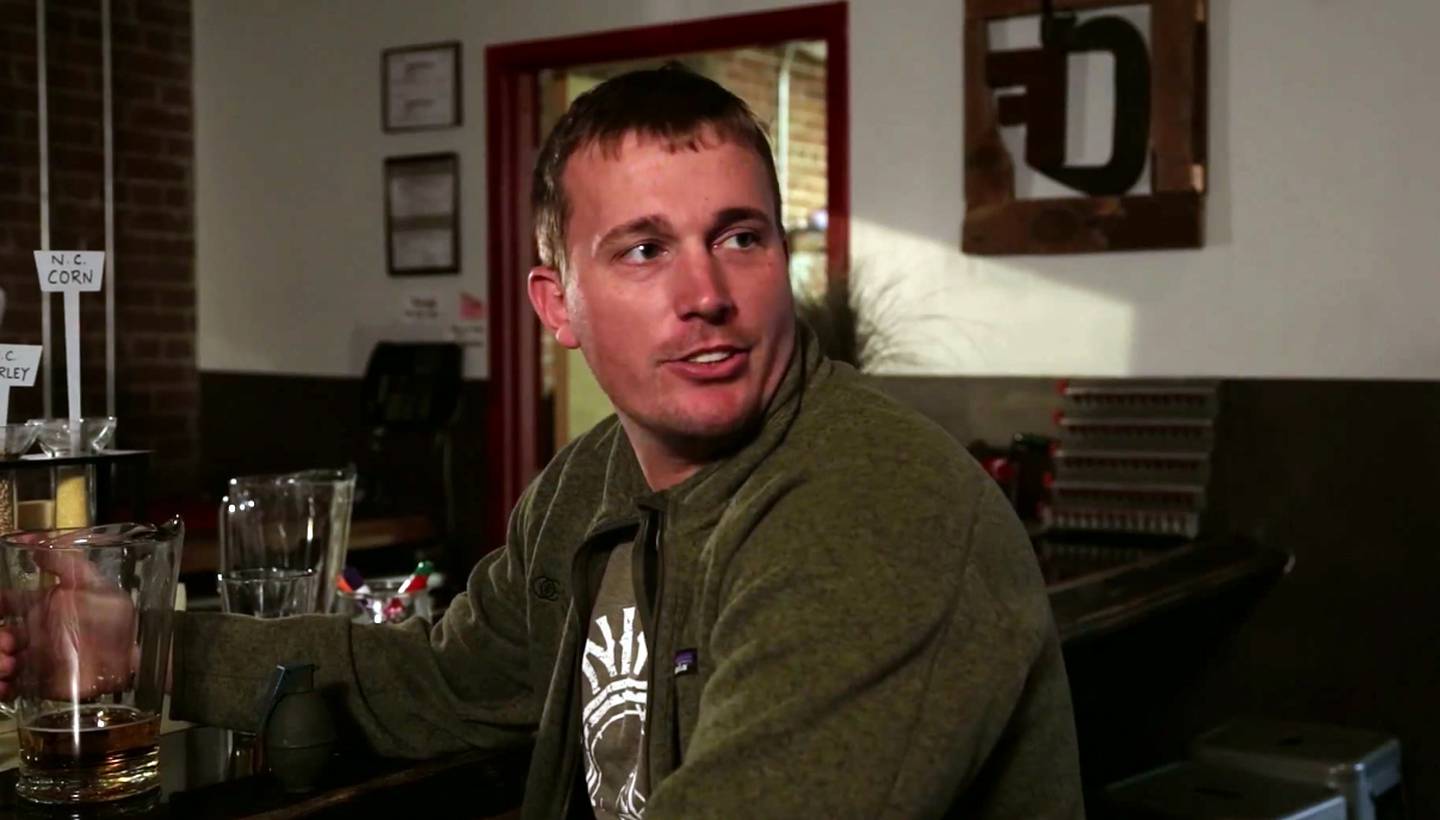 Medal of Honor recipient Dakota Meyer mans a bar stool in a promotional video for "Range 15."
Photo Credit: Screen shot via YouTube
Both companies have flexed their viral-video muscles, each with uploads on YouTube sporting millions of views. Best first came onto Ranger Up's radar before Article 15 existed; The clothing-maker used to share Best's clips via its social media platforms, and after Article 15 launched, the Ranger Up CEO offered his help "on the not-fun business side," Palmisciano remembered.
Last year, they found a way to collaborate on the fun side, and plans for a movie project, thanks in part to a well-received script, earned some notice by the entertainment elite.
"But we ultimately said, 'If we turn this over to these people, they're going to turn it into every movie that's ever been done,' " Palmisciano said. "And we really want to be sure we keep the military humor in it, that it actually exemplifies the way veterans are. And so we decided to take a lot more risk and do it ourselves."

Between the two companies and sponsorship dollars, the film already has a $500,000 budget (not including donations). Production is set for October, with plans for a trailer debut at January's SHOT Show in Las Vegas and an April premiere.
"It's giving the military something they can own themselves," Jarred Taylor, Article 15's chief marketing officer and a former Air Force staff sergeant, said of the project. "All cops have 'Super Troopers,' and they hold that so close to them because of the inside jokes about being cops. ... We wanted to bring that to the military."
Aside from star power brought from Meyer and Petry, the movie will feature mixed martial artist Tim Kennedy, who brings his background as a Special Forces sniper as well as acting chops featured in several Ranger Up-produced videos: Channeling Katy Perry, or performing as the Black Swan, or impersonating legendary newsman Ron Burgundy, for instance.
The humor helps convey a serious message, Palmisciano said.
The team hopes to raise $325,000 via an Indiegogo crowd-sourcing campaign on top of the cash already invested in the project; donations crested the $88,000 mark early Tuesday afternoon, within a few hours of launch.
"We try to show that as we grow, we want to bring the veteran community with us," Taylor said. "To see them jump that fast to support us is amazing."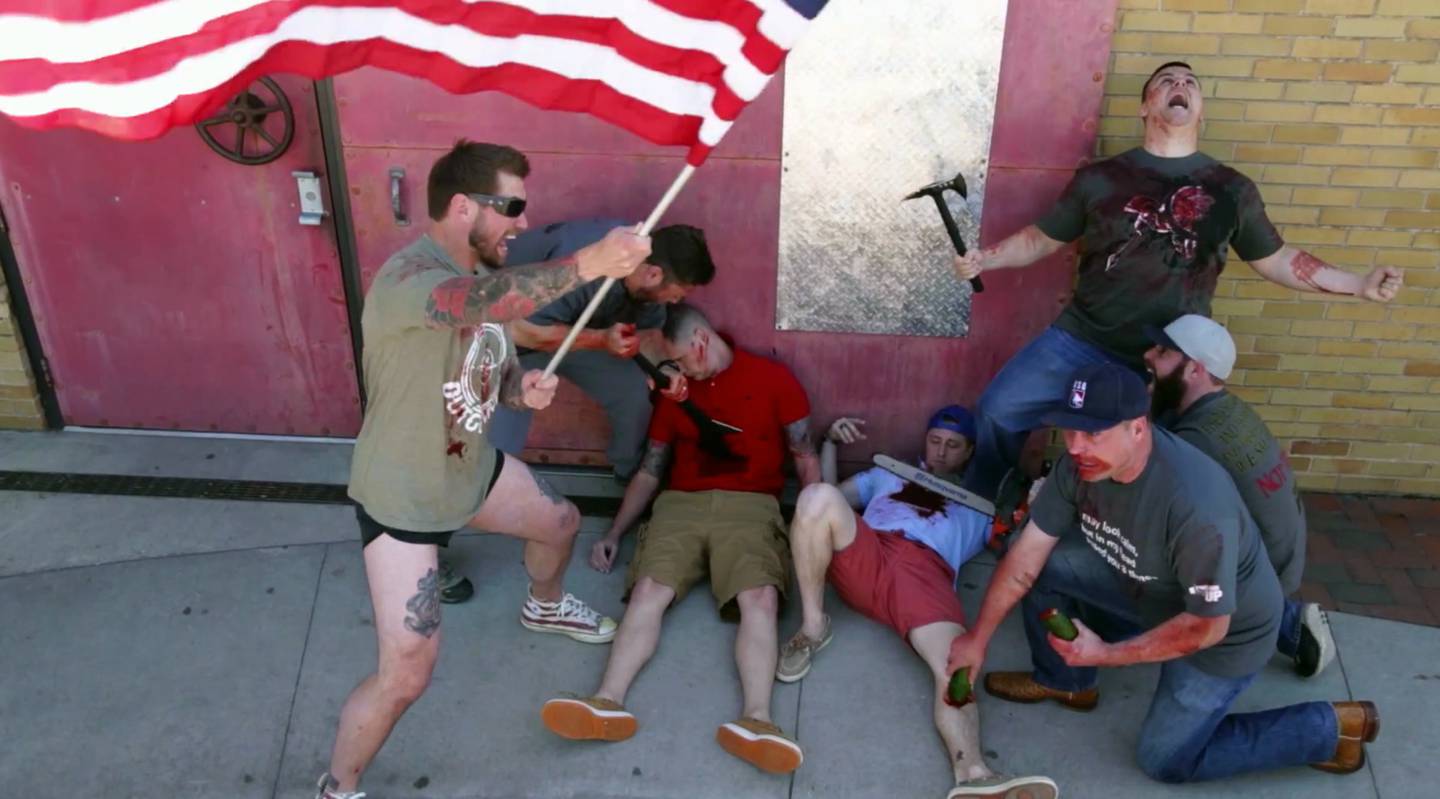 The prior-service crews of Article 15 Clothing and Ranger Up, familiar to millions of viral-video watchers, make quick work of some enemy forces during a recent "Range 15" promotional video.
Photo Credit: Screen shot
Perks for donors run from the traditional (exclusive T-shirts and advance downloads of the video next spring) to the expensive ($10,000 earns an executive producer credit) to the less traditional and very expensive: Drop 150 grand and when the movie's good guys are on the ropes, says the donation page, "BOOM, in comes YOU riding a white f---ing horse and wielding a golden mini-gun."
Any donations exceeding the goal will be used to increase the film's star power (the wish list includes Carl "Apollo Creed" Weathers and James "Dawson's Creek" Van Der Beek) and its special effects budget, the donation site says.
The early flood of donations has been accompanied by offers of support and participation from entertainment types and others, pitching everything from parachute scenes to A-list cameos. It all might be too much to pack into a single film, Palmisciano said, but he has a solution.
"I've already started writing the second movie," he said.
Kevin Lilley is the features editor of Military Times.
Share: