AMVETS has created a 30-second public service announcement to elaborate on their print ad that was rejected by the NFL for including the message "#PleaseStand."
In the new announcement, phrases like "please vote," "please volunteer," "please serve" and "please exercise your rights," are interspersed with shots of an American flag waving in the wind. A concluding shot depicts a man dressed in AMVETS regalia asking the listener to "please stand," echoing the message of the rejected print ad.
That ad, which would have cost the veterans organization $30,000, featured the "#PleaseStand" phrase, alongside a picture of service members saluting the American flag and information on how to donate to the congressionally chartered nonprofit.
Both advertising attempts were created amid the controversy surrounding the NFL's decision to allow its players to kneel during the national anthem.
RELATED
The print ad was rejected on Jan. 21, and was accompanied shortly thereafter by a statement from NFL Vice President of Communications Brian McCarthy.
In it, McCarthy said the premier football game of the season "is designed for fans to commemorate and celebrate the game, players, teams and the Super Bowl. It's never been a place for advertising that could be considered by some as a political statement."
The NFL added that the Super Bowl will have an ad from the Veterans of Foreign Wars, which will include the message "We Stand for Veterans."
McCarthy said AMVETS was asked to consider changing their ad to read "Please Stand for Our Veterans," however they did not reply in time for production deadlines.
AMVETS said in a press statement that it is a "non-partisan organization and does not consider its message political at all."
RELATED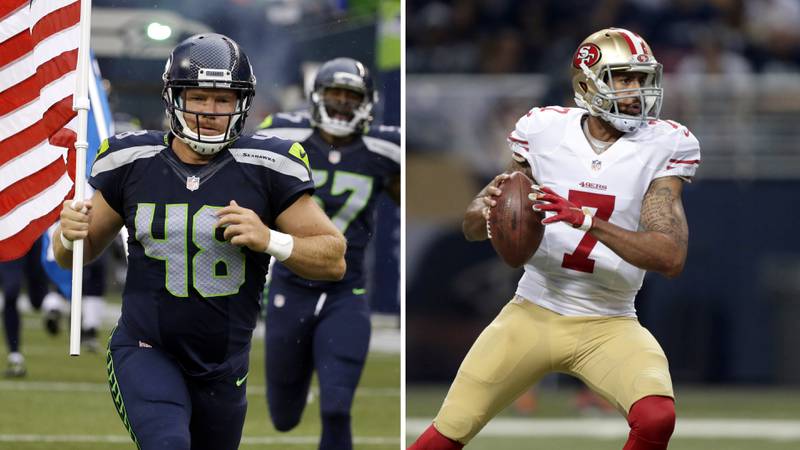 The group wrote that the new public service announcement does not simply call for people to stand, but also to observe other non-political civic responsibilities as well.
"Our message has always been patriotic and polite. It simply requests that people choose to stand during the national anthem. It neither judges, vilifies or even opposes those who choose otherwise," said AMVETS Executive Director Joe Chenelly.
"We're simply asking that people choose standing, and the NFL has made it harshly clear that it does not want veterans delivering this message anywhere near its biggest game. We think that's wrongheaded," Chenelly added.
Other large veterans groups, such as the VFW and American Legion, have also been critical of the flag protests that have been common before NFL games over the past year. President Donald Trump has been similarly critical of the anthem protests.
"Wouldn't you love to see one of these NFL owners, when somebody disrespects our flag, to say, 'Get that son of a bitch off the field right now,'" Trump said during a September rally in Alabama. "You know some owner is going to do that. He's going to say, 'That guy that disrespects our flag, he's fired.' And that owner, they don't know it, [but] they'll be the most popular person in this country."

Players involved in the protests, which involve silently kneeling, counter that the protests are not related to service members at all.

The protests date back to 2016, when then-San Francisco 49ers quarterback Colin Kaepernick chose to protest racial inequality and police brutality by sitting during the anthem. He later chose to kneel instead after speaking with former Staff Sgt. Nate Boyer, a former Special Forces soldier who was in camp with the Seattle Seahawks as a long snapper before being released prior to the 2015 regular season.
Both the new announcement and the rejected print ad can be viewed on AMVETS's multimedia page.

Kyle Rempfer was an editor and reporter who has covered combat operations, criminal cases, foreign military assistance and training accidents. Before entering journalism, Kyle served in U.S. Air Force Special Tactics and deployed in 2014 to Paktika Province, Afghanistan, and Baghdad, Iraq.
Share: