Brian Mast first started thinking about running for Congress from his hospital bed at Walter Reed.
The explosive ordnance disposal technician was bedridden for two months after losing both his legs to a landmine in Afghanistan.
"As I'm lying there in a hospital bed and I'm talking to my wife, I was telling her I feel it would be very difficult to go through life thinking that the best contribution I've made to America is in my past," Mast said. "We define ourselves in our work. All of us, soldiers, airmen, Marines, sailors, we define ourselves with service to our country. For me, the thought of losing that was a very devastating thought."
So this summer, Mast, who medically retired as a staff sergeant, launched his quest to represent Florida in its 18th Congressional District. The incumbent, Democratic Rep. Patrick Murphy, is running for the Senate, leaving a wide-open contest for the seat.
Mast, who is running as a Republican, faces a primary challenge against five other candidates.
"I'm in the throes of a heated primary," he said. "This race that I'm in is one of the most likely pickup seats in the entire country. That's what makes it such a heated race."
Mast on Tuesday said his campaign raised $170,000 during the last quarter, and he's been staying busy with speaking engagements and various events locally and across the country.
"The campaign has just been going incredibly well," he said. "I've pretty much doubled the fundraising efforts of my opponents in this race. Almost every single day, to include the weekends, I'm booked almost from when I wake up in the morning until I go to bed."
On the campaign trail, Mast said he often hears from people who appreciate his military service.
"One of the things I've heard resoundingly is that someone, before they ask to be a leader, should first ask to serve this country," he said. "I've heard that several different ways."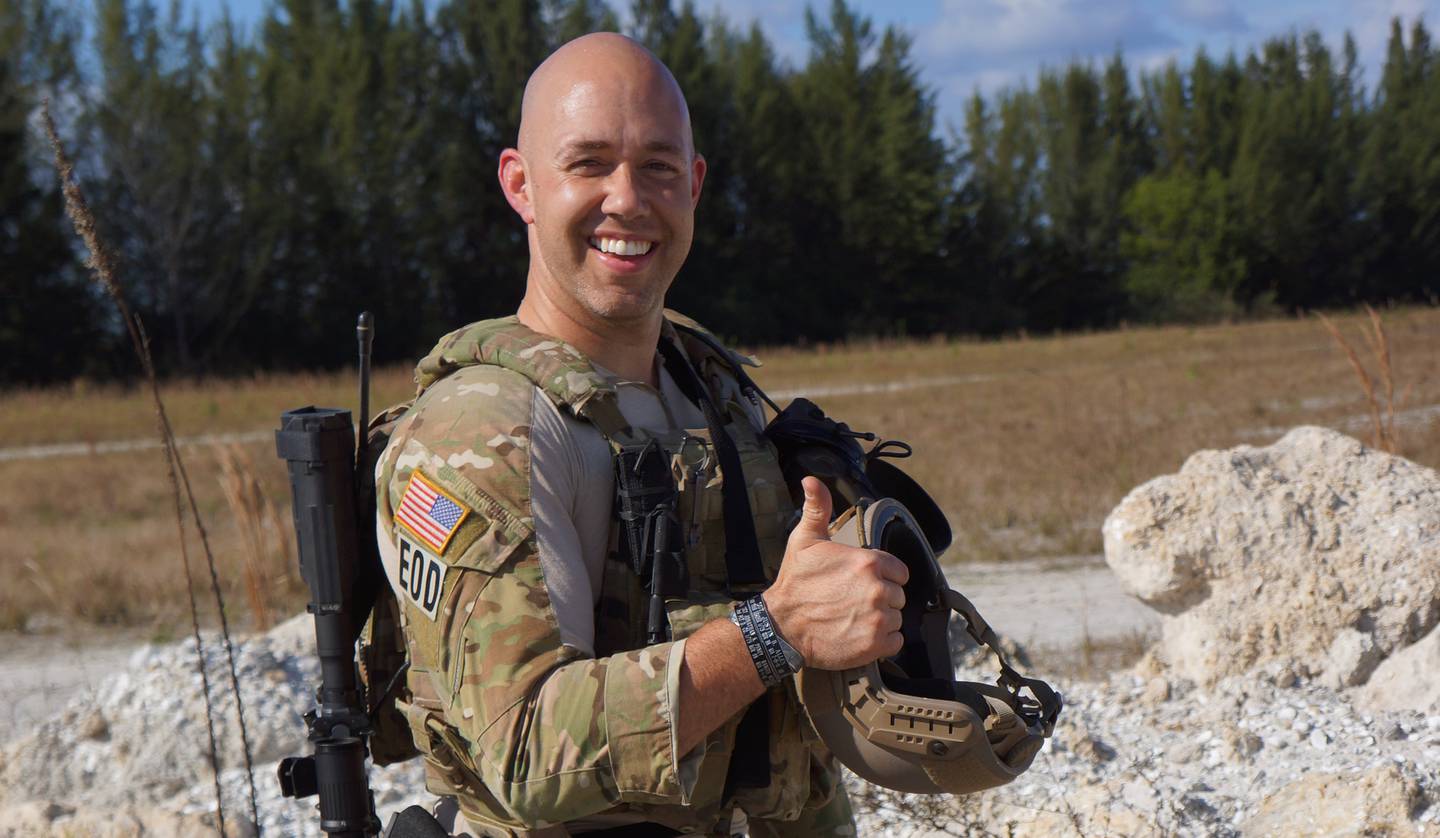 Retired Staff Sgt. Brian Mast, an EOD technician who lost both his legs in Afghanistan, is running for Congress.
Photo Credit: Courtesy/Brian Mast
Mast joined the Army Reserve in May 2000 as a combat engineer. In 2006, he transitioned to the active Army to become an EOD technician and later was selected for the 28th Ordnance Company, which works with special operations troops.
On Sept. 19, 2010, three months into his first deployment to Afghanistan, Mast was on a mission with the 75th Ranger Regiment in southern Afghanistan.
The soldiers came under fire even before their helicopters could land, Mast said. Once on the ground, as the EOD specialist, Mast led the assault force as it worked its way to the target compound.
"We came to a place in the route, and I said, 'if I was a bomber living here, this is exactly where I'd place an improvised explosive device. The unit needs to stop and let me check this area,'" Mast said.
As he searched the dirt for buried bombs, Mast looked for trip wires, disturbed dirt, batteries, or anything that looked out of place.
"I didn't see anything, and the mission has to go on, so I gave the snipers behind me the signal that I was going to forge ahead," Mast said.
As the soldiers crossed a small waterway using a "very narrow bridging ladder," one of the soldiers fell.
"What I was told is that I moved back to try to go help pull him out, and whatever direction I moved into, I basically found the IED I thought was there," Mast said. "I stepped on the device. I remember that pretty vividly."
There was a "blinding flash," Mast said, adding the explosion was a "complete surprise."
"I wasn't expecting that that step would result in an explosion," he said. "It felt like an uppercut, a boxer hitting my chin, is the best way to describe it."
Mast said he remembers tumbling through the air, not sure at first if he was the one who got hit.
"I realize I can't stand up, and I'm using my arms to wipe all the dirt and mud from my eyes," he said.
In addition to amputating his legs above the knee, the explosion broke all of Mast's fingers and damaged his left arm.
Through his headset, Mast remembers hearing his fellow soldiers saying, "EOD is hit, EOD is down," he said. "As I'm hearing them radio this up, it was a very out-of-body experience. I'm EOD and they're talking about me."
Mast, who remained conscious, said he remembers joking with his fellow soldiers as they carried him to the medical evacuation helicopter.
"The last thing I remember from that evening is the men carrying me to the helicopter and those medics and my guys rendering me one last salute and telling me I would be OK," he said.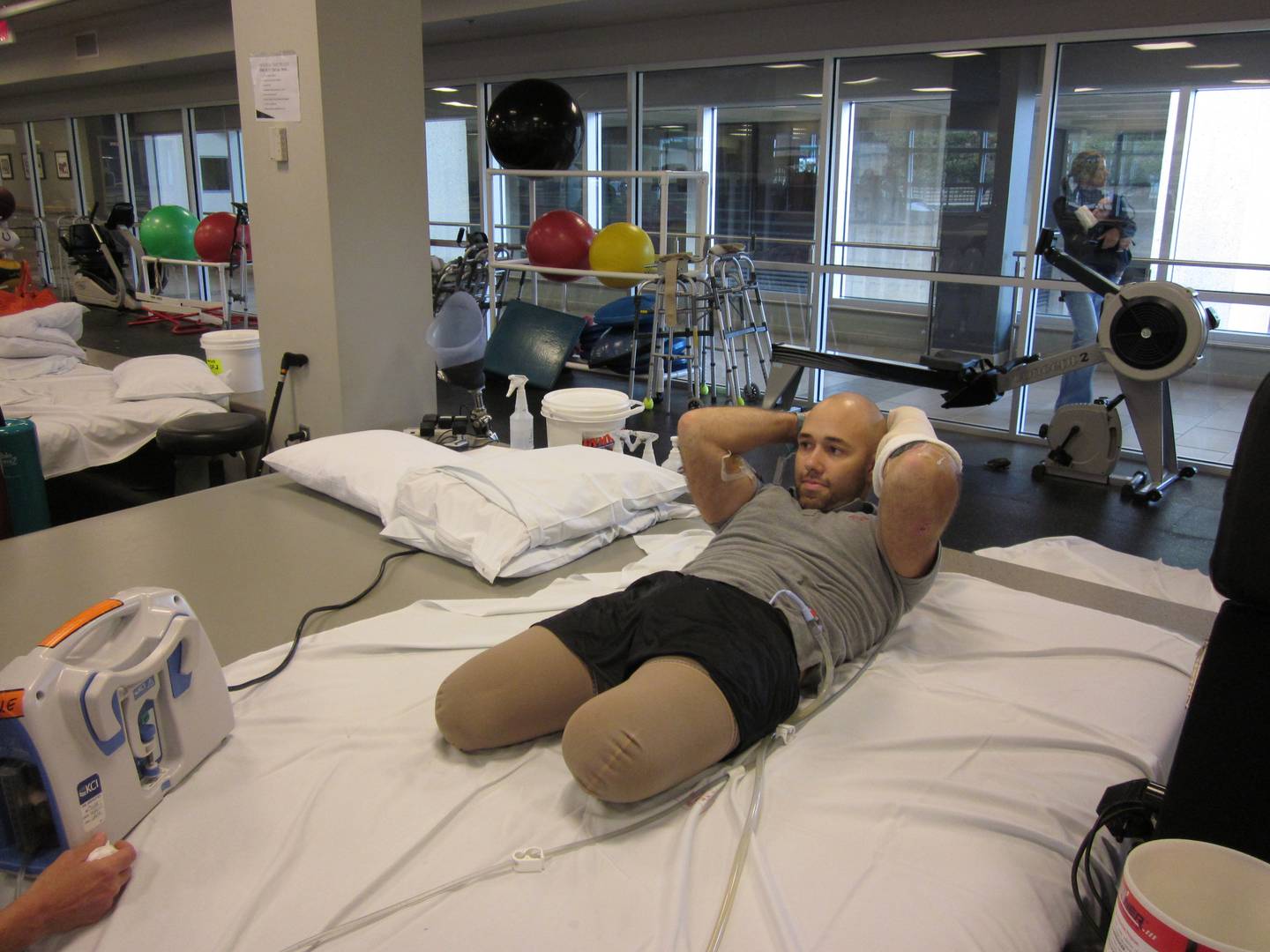 One month after losing both his legs in Afghanistan, retired Staff Sgt. Brian Mast does physical therapy at Walter Reed. Mast is now running for Congress.
Photo Credit: Courtesy/Brian Mast
Mast woke up five days later, on Sept. 25, 2010, at Walter Reed National Military Medical Center, where he stayed until Feb. 1, 2012.
During his time at Walter Reed, Mast stayed busy. He helped teach a class about homemade explosives for the Bureau of Alcohol, Tobacco, Firearms and Explosives, and interned with the Department of Homeland Security.
After he was discharged from Walter Reed, Mast, his pregnant wife and 2-year-old son moved home to Florida.
Mast, who earned the Bronze Star and Purple Heart, was medically retired in June 2012 after 12 years of service.
After settling in at home, Mast began work on his bachelor's degree, taking intensive summer classes at Harvard University. This spring, he will graduate from the elite university with a concentration in economics, a minor in government and a second minor in environmental studies.
While at Harvard, Mast saw "a lot of anti-Israel protests going on in and around the Boston area," he said.
As one protest let out, "some individuals decided they were going to make the jump from protesting Israel to protesting me," he said. "Nothing came of it, but at that time, [because of] the immediate jump that individuals were making from protesting Israel to protesting the U.S. and its service members, I decided to make my own show of support for Israel."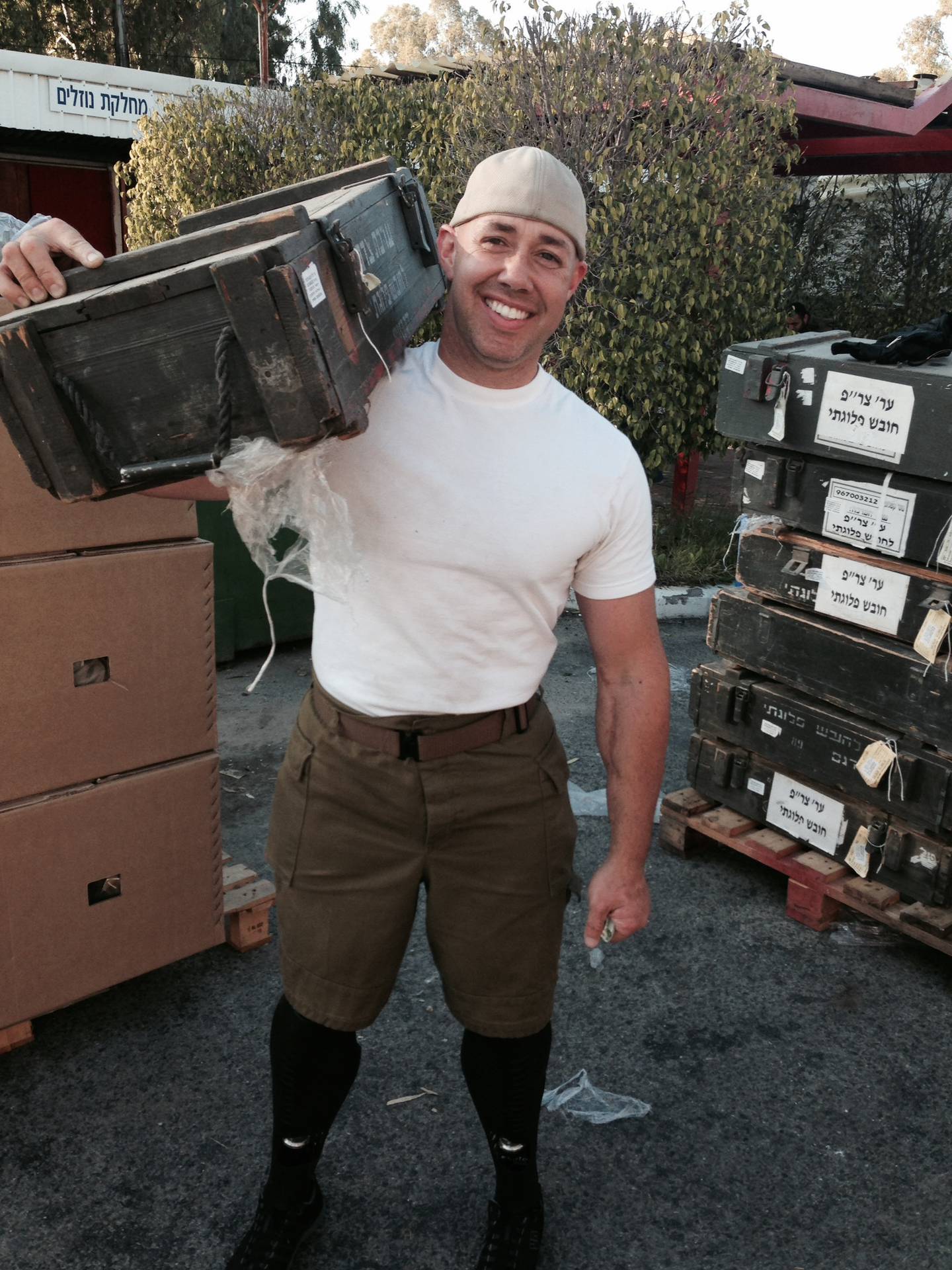 Retired Staff Sgt. Brian Mast, a double amputee who's running for Congress, served a short stint in Tel Aviv in support of the Israeli Defense Force in January 2015.
Photo Credit: Courtesy/Brian Mast
Mast signed up to support Operation Protective Edge, which allowed civilians to serve short-term stints alongside the Israeli Defense Force in a supporting, non-combat role. This included packing medical kit bags for the troops and simply showing support, Mast said.
"Nobody should be under the impression that I was carrying an Uzi through Gaza," he said. "I was doing logistics work."
After he returned from Israel earlier this year, Mast stayed busy juggling his campaign with finishing summer classes. He also fielded numerous speaking engagement requests from pro-Israel groups interested in his time with the IDF, he said.
"Campaigning is an absolutely all-out effort," he said. "It really is an exhausting thing to do. But it's a good problem to have if you're that busy."
The Republican primary for Mast's race is next August; the general election is November 2016.
If elected, Mast said he believes he brings three distinct characteristics to Congress, thanks to his time in the Army.
"The most important thing I learned from my leaders in the military is they never asked me to do something that they weren't willing to do themselves," he said. "That, unfortunately, is not what we see coming out of Washington, D.C. Across the board, there are policies that exist for those who call themselves leaders that are not guaranteed for everybody else."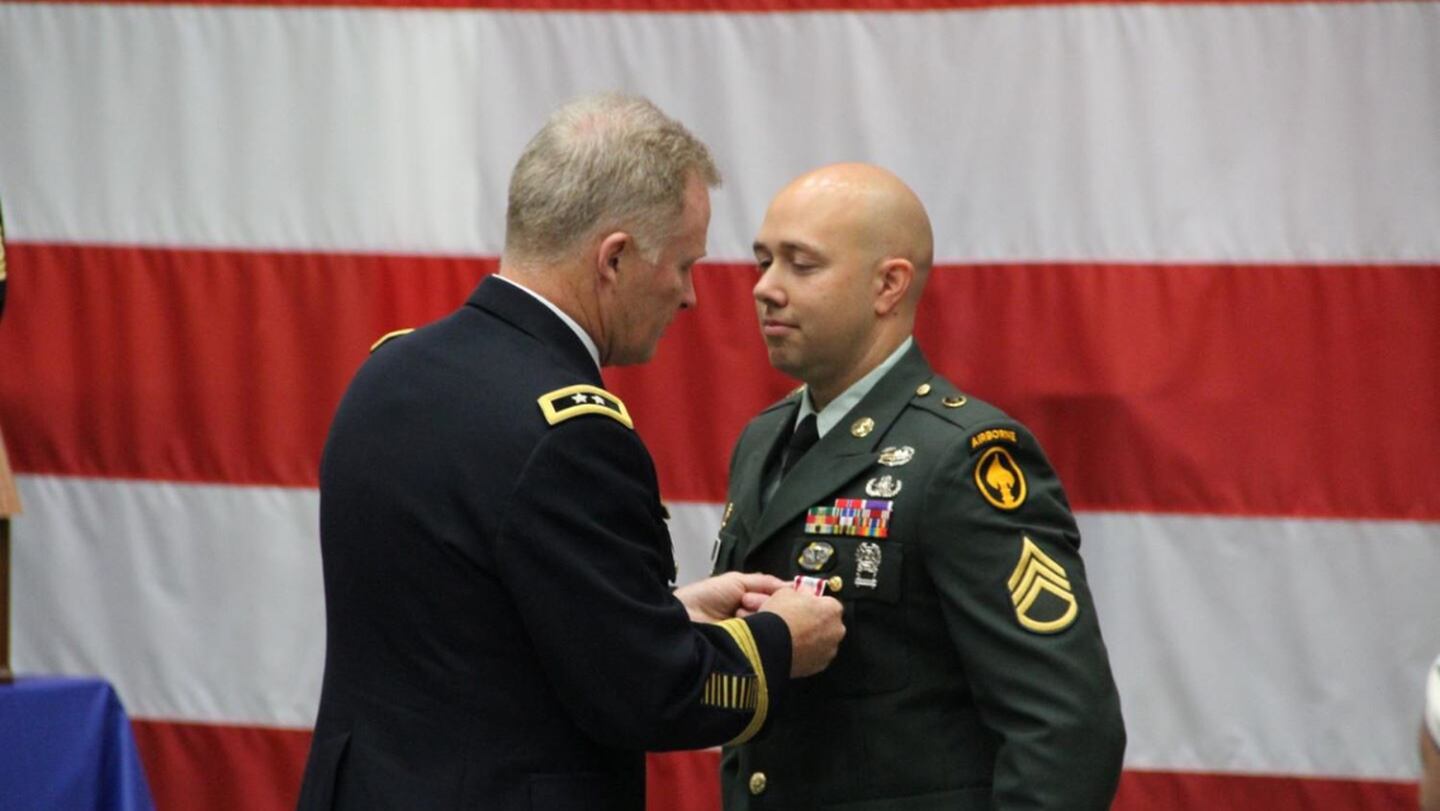 Staff Sgt. Brian Mast was medically retired in 2012 after losing his legs in Afghanistan. He is now running for Congress in Florida.
Photo Credit: Courtesy/Brian Mast
Being in the Army also showed him that decisions have "very real consequences," Mast said.
"I was a bomb tech. If I did my job poorly, that could result in death or loss of limb for somebody else around me," he said. "The decisions we're looking to make in Washington, D.C, have very real consequences for every person in whatever community. It's real names, and it's real faces, and it's real small businesses, and it's real families. It's easy for people in Washington, D.C., to forget that."
The Army also taught him the true meaning of selfless service, Mast said.
"You take all the branches, the Army, the Navy, the Marines, the Air Force, the Coast Guard, nobody is forced to choose to serve, and, likewise, nobody is forced to serve in the House or the Senate," he said. "I believe if you choose to do that, if you serve your country, you serve without regard for personal gain, and you serve with no regard for personal sacrifice. Do it any other way, and it doesn't do justice to those who serve on the battlefield."
Michelle Tan is the editor of Army Times and Air Force Times. She has covered the military for Military Times since 2005, and has embedded with U.S. troops in Iraq, Afghanistan, Kuwait, Haiti, Gabon and the Horn of Africa.
Share: