The decorated U.S. Army Special Forces officer who was investigated for whistleblowing to Congress about the government's hostage-recovery process has retired from the U.S. Army.
Lt. Col. Jason Amerine was recognized during a retirement ceremony Friday at the Pentagon, said Lt. Col. Jennifer Johnson, an Army spokeswoman, in a statement in response to a query from Army Times.
Amerine was awarded the Legion of Merit, "an award commensurate with his more than 22 years of Army service," Johnson said.
He officially retired on Saturday.
Amerine, who led the Special Forces team that fought alongside future Afghan President Hamid Karzai early in the war in Afghanistan, in June testified on Capitol Hill that the Army revoked his security clearance, escorted him from the Pentagon and launched a months-long criminal investigation in response to his efforts to inform Congress about what he sees as problems with the government's hostage-recovery process.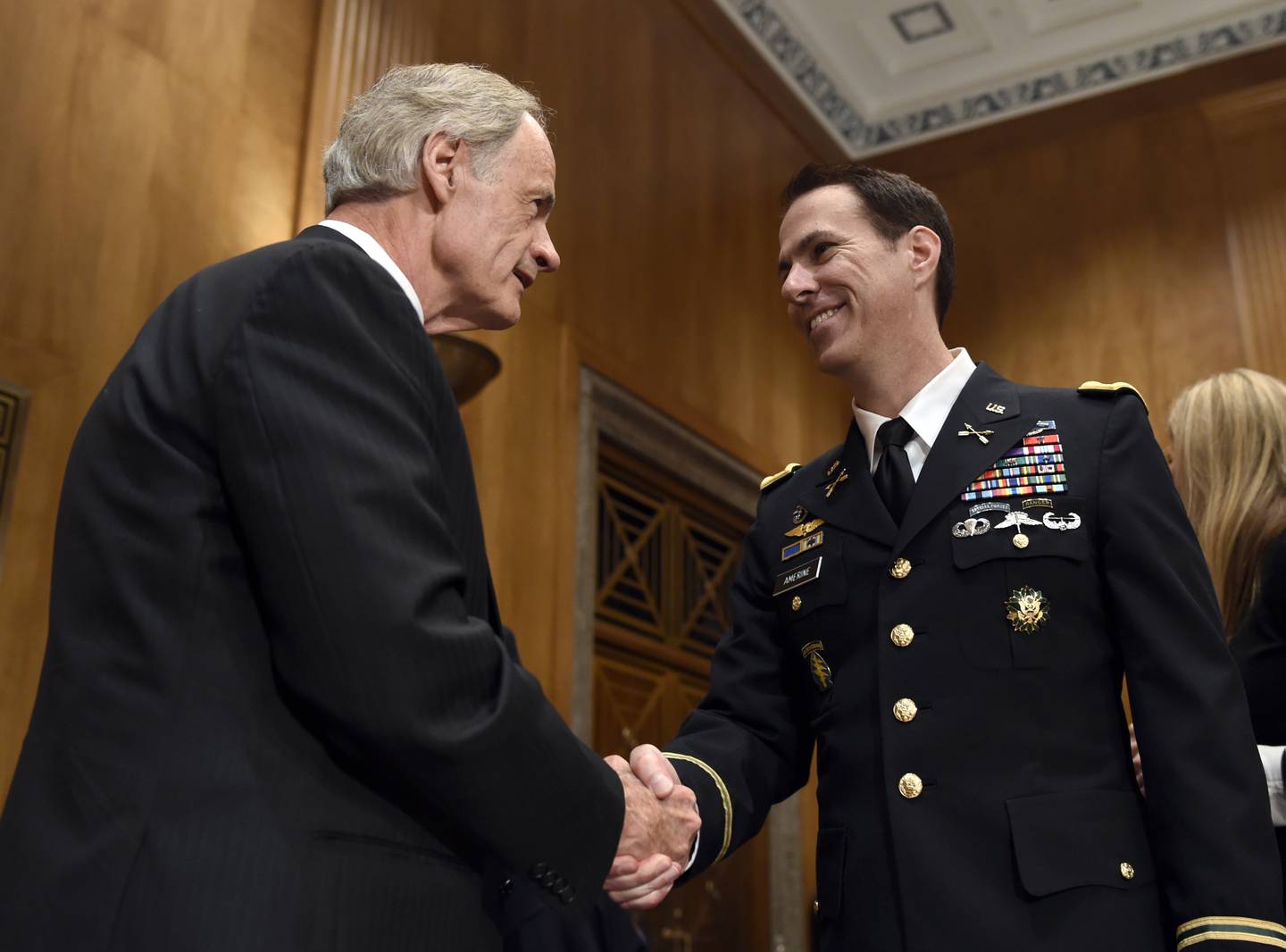 U.S. Senate Homeland Security and Governmental Affairs Committee Ranking Member Sen. Thomas Carper, D-Del., left, shakes hands with U.S. Army Lt. Col. Jason Amerine, on Capitol Hill in June.
Photo Credit: Susan Walsh/ AP
Amerine told the U.S. Senate Committee on Homeland Security and Governmental Affairs that Rep. Duncan Hunter, R-Calif., had brought Amerine's team and the FBI together to discuss hostage-recovery issues late last year. The Special Forces officer, who earned the Bronze Star with Valor device and the Purple Heart, said that the FBI responded in January with a formal complaint to the Army that he allegedly disclosed classified information by talking to Hunter.
Amerine eventually was cleared of any wrongdoing; a Defense Department inspector general probe also cleared senior Army officials of retaliating against him, according to media reports.
In a statement, Hunter, a Marine veteran, praised his fellow officer.
"On Friday, Lt. Col. Jason Amerine retired from the U.S. Army following a long, honorable and distinguished career," Hunter said in a statement. "I first came to know Jason years ago while working on an issue unrelated to hostage recovery, but it was our work together to improve the system and process to recover Americans held captive that truly defines Jason's character and integrity."
Citing Amerine's "relentless commitment and pursuit" to save captured Americans, Hunter blasted the "resistance within government" to supporting much-needed change. He also credited Amerine's efforts with pressuring the White House to "initiate a hostage policy review," and for leading lawmakers "to implement necessary improvements to hostage policy changes" through the defense authorization bill.
The Army "took the bait" and wrongly investigated Amerine, Hunter said, and "that investigation continued for too long, and too many threats were made."
"But, after it all, the Army did the right thing and cleared Jason of any wrongdoing and allowed one of its decorated heroes to retire," he said.
Michelle Tan is the editor of Army Times and Air Force Times. She has covered the military for Military Times since 2005, and has embedded with U.S. troops in Iraq, Afghanistan, Kuwait, Haiti, Gabon and the Horn of Africa.
Share: