Hundreds of paratroopers, each of them bearing an unopened toy, are expected to gather Dec. 4 at Fort Bragg, North Carolina, for a chance to jump in the 18th annual Randy Oler Memorial Operation Toy Drop.
The event, a Fort Bragg airborne tradition, is expected to once again collect thousands of toys to be distributed to area children and families just in time for the holidays.
Operation Toy Drop brings together Army Reserve personnel, paratroopers, dozens of volunteers, Air Force crews and troops from several partner nations for one of the world's largest combined airborne operations. It is hosted by U.S. Army Civil Affairs and Psychological Operations Command.
To participate, paratroopers may bring a toy and be entered into a "lottery" and a chance to jump in the airborne operation. Soldiers are not required to bring a toy to receive a lottery ticket. If they win a seat, they will be paired with a jumpmaster from one of the international partners signed on for the event and have a chance to earn a set of foreign jump wings.
So far this year, jumpmasters from nine countries have signed on to participate: Colombia, Canada, Cambodia, Germany, Poland, Indonesia, the Netherlands, Italy and Latvia.
This year, "Lottery Day" will take place Dec. 4 at Green Ramp, Pope Army Airfield. Paratroopers will line up early in the morning to get a lottery ticket and, if they want, donate a toy. Seats on aircraft will be chosen from the lottery tickets.
The next day, Dec. 5, at Sicily Drop Zone, the selected soldiers will get their chance to jump and earn their foreign wings.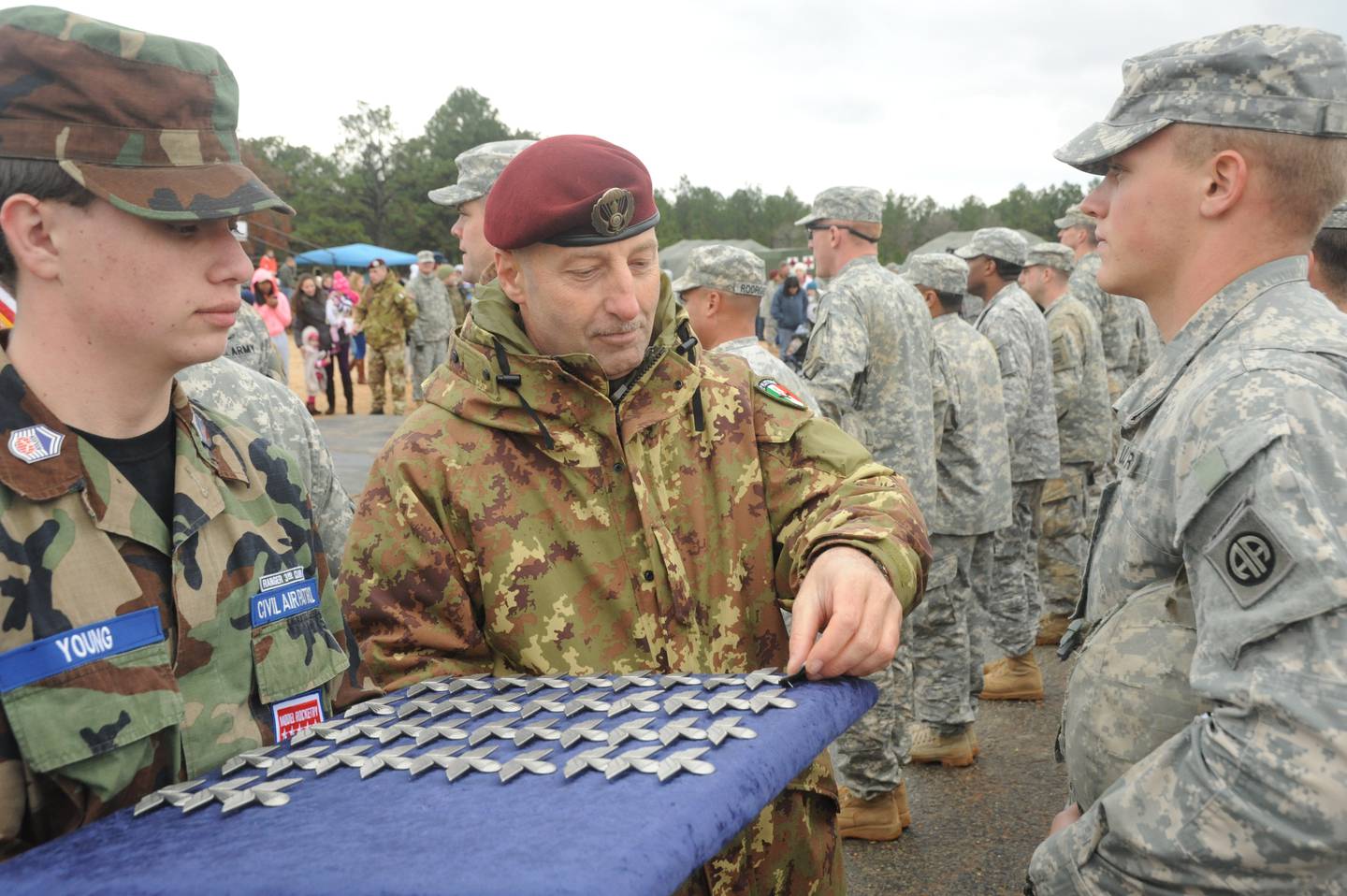 An 82nd Airborne soldier receives foreign jump wings after participating in Operation Toy Drop at Fort Bragg, N.C.
Photo Credit: Master Sgt. Steven Steadler/Air Force
Operation Toy Drop was established in 1998 by then-Staff Sgt. Randy Oler, a civil affairs soldier. Operation Toy Drop started out as a joint training event and airborne operation, but it quickly grew to more than 1,200 participants and 550 toys collected.
The event has grown each year since, especially as the airborne operation began to include foreign jumpmasters.
Oler died in April 2004 after suffering from a heart attack while performing jumpmaster duties.
Operation Toy Drop now bears his name. In 2014, it raised more than 6,000 toys for children in need. In all, Operation Toy Drop has collected and donated nearly 100,000 toys to children in need.
Share: