A sergeant in the Wyoming National Guard has become the Army's first female enlisted infantry soldier.

Sgt. Shelby Atkins on Thursday graduated alongside 32 male soldiers from a two-week infantry qualification and transition course at Camp Guernsey Joint Training Center in Wyoming. The course was designed to train soldiers for the Wyoming Guard's first infantry unit in more than 100 years.

"She's the first female Army [noncommissioned officer] in the total Army to be granted the infantry [military occupational specialty]," said Jack Harrison, a spokesman for the National Guard Bureau.

Army officials in the Pentagon also confirmed that fact to Army Times.

Atkins follows Capt. Kristen Griest, who in April became the Army's first infantry officer.

Griest, who was one of the first women to earn the coveted Ranger tab, applied and was approved for a branch transfer from military police to infantry. She graduated from the Maneuver Captain's Career Course on April 28 wearing the infantry's distinctive blue cord.


More women are expected to follow in the footsteps of Atkins and Griest. The Army in April announced it had approved requests from 22 female cadetsto enter as second lieutenants in the infantry and armor branches; they are expected to start training in late June. The Army also opened an eight-week application window for female lieutenants who want to branch-transfer into infantry or armor.
The first female recruits who enlisted to go infantry or armor are not expected to start basic training until early next year, Army officials said.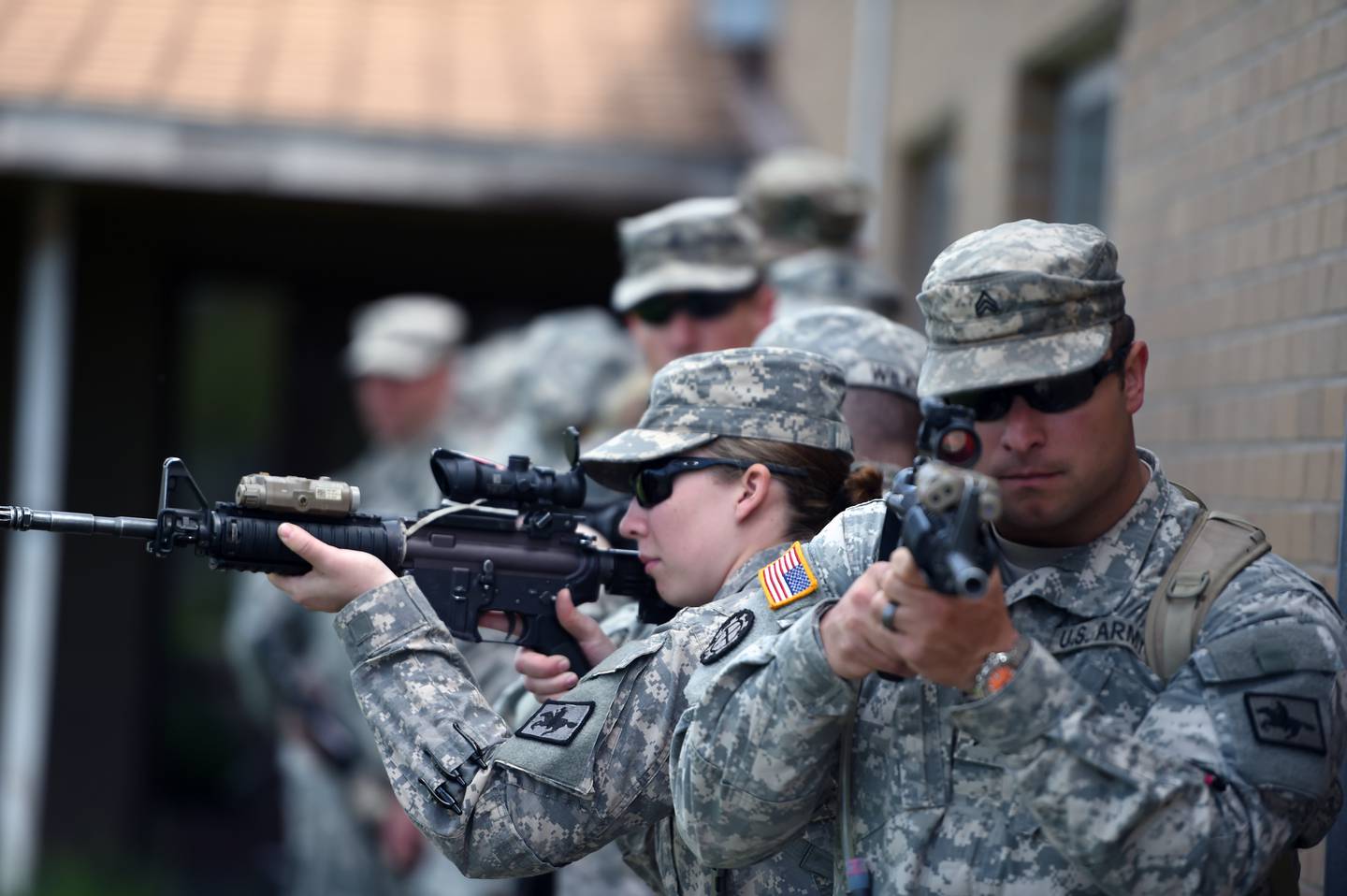 Urban operations training was one block of instruction 33 graduates had to complete during a two-week infantry course at Camp Guernsey, Wyo. The qualified infantrymen, including Sgt. Shelby Atkins, the Army's first female infantry NCO, will part of Wyoming's new infantry unit.
Photo Credit: Sgt. 1st Class Jimmy McGuire/Army
These moves are part of a multifaceted Army campaign to open all branches and specialties to women, as ordered by Defense Secretary Ash Carter in December.
Other initiatives include combat arms reclassification opportunities for enlisted women, and the opening of officer, warrant officer and enlisted assignment opportunities in the 75th Ranger Regiment, a unit previously closed to women.
The Army also has opened its storied Ranger School to all qualified soldiers, regardless of gender.
Carter on Dec. 3 announced his decision to lift all gender-based restrictions on military service. The move paved the way for women to serve in the previously all-male infantry, armor and Special Forces fields and opened nearly 220,000 jobs across the military.
The move has been deeply divisive, with many voicing their disapproval on social media. However, senior Army leaders have said that anyone who meets the standards should be given the opportunity to serve.
Atkins, who was a horizontal construction engineer before switching military occupational specialties, was one of at least two female soldiers who attended the infantry qualification and transition course, said Deidre Forster, a spokeswoman for the Wyoming Guard. Atkins, who has deployed to Bahrain, was the only female graduate, Forster said.
Atkins was not available for an interview.
She, along with her fellow graduates, will be assigned to C Company, 1st Battalion, 297th Infantry Regiment. This company-sized element will be the first infantry unitin the Wyoming Guard in more than 100 years; it is scheduled to be activated in July, Forster said.
The company will replace the 1041st Multi-role Bridge Company, which officials last year announced would be deactivated.
The two-week infantry course the soldiers underwent was designed to train infantry soldiers for the new unit, Forster said. The Army sent infantry NCOs to Wyoming to teach the course.
"We wanted to qualify soldiers for that MOS together as a unit," Forster said.
Michelle Tan is the editor of Army Times and Air Force Times. She has covered the military for Military Times since 2005, and has embedded with U.S. troops in Iraq, Afghanistan, Kuwait, Haiti, Gabon and the Horn of Africa.
Share: