Almost two years after former NFL quarterback Colin Kaepernick first took a knee during the national anthem, NFL owners have approved a policy to address the issue.
Football players can now stay in the locker room when the "Star Spangled Banner" is played before games, but they are required to stand if they come out to the field during the song, according to the Associated Press.
The lack of policy led to some confusion, including when Pittsburgh Steelers left tackle Alejandro Villanueva stood with his hand over his heart during the national anthem in September.
RELATED
The former Army Ranger who served three tours in Afghanistan was applauded for standing alone while his other teammates remained in the tunnel behind him.
However, the next day he said he just wanted to get a glimpse of the American flag and wasn't trying to make a statement or set himself apart from the Steelers organization.
Kaepernick, who used to play for the San Francisco 49ers, said he was kneeling during the anthem to protest racial injustice and police brutality.
Many were divided on the action. Some believed Kaepernick was free to express his opinion through a peaceful statement like kneeling, but others believed he was disrespecting the flag and troops who had served and died for it.
RELATED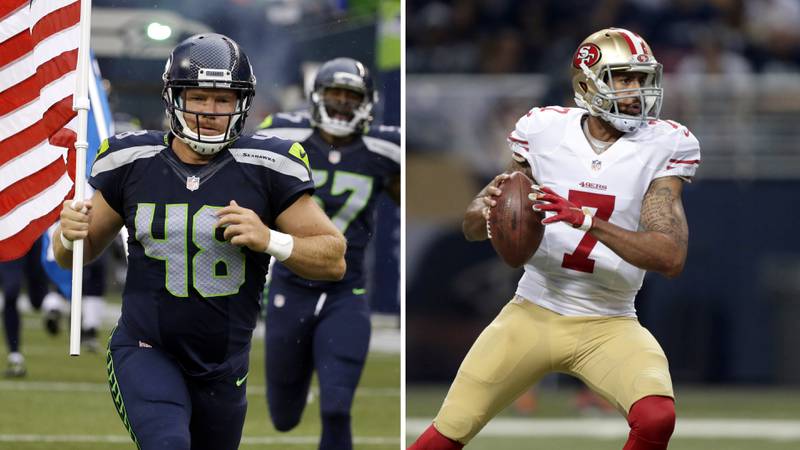 NFL Commissioner Roger Goodell said the change in policy was unanimously approved by the owners during their spring meeting, according to the Associated Press. However, it was met with skepticism by the players' union.
"We want people to be respectful of the national anthem. We want people to stand," Goodell said. "That's all personnel, and to make sure they treat this moment in a respectful fashion. That's something that we think we owe. We've been very sensitive on making sure that we give players choices, but we do believe that moment is an important moment and one that we are going to focus on."
If anyone decides to kneel on the field during the anthem, the team — not specific players — will be fined.
Charlsy is a Reporter and Engagement Manager for Military Times. Email her at cpanzino@militarytimes.com.
Share: