It sounds simple.
Three words — "readiness over metrics" — summarize the impact Lt. Gen. Jody Daniels hopes to have on the Army Reserve.
But the 34th Chief of the U.S. Army Reserve, who holds a doctorate in computer science and boasts deep industry experience paired with her service, isn't naive about the problems the Army's smallest component faces. And many of the challenges exist despite — or perhaps because of — the Reserve's achievements throughout the Global War on Terror.
The component is authorized around 189,500 troops, making it the smallest portion of the roughly 1 million-soldier "Total Army." Since Sept. 11, 2001, more than 256,000 Army Reserve troops have mobilized at least once for the conflict, representing slightly under one-quarter of all military reserve component deployments during the period, according to defense manpower data. Only the Army National Guard, which is nearly twice as large, has deployed more reservists.
RELATED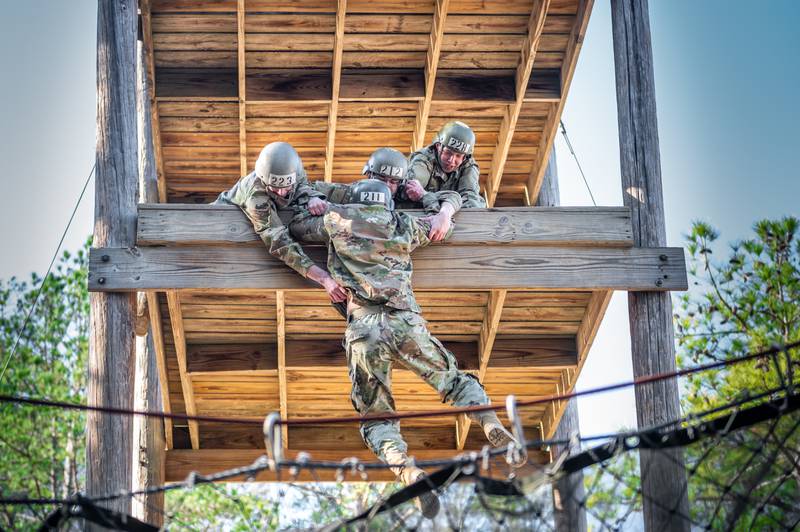 More than half of the total Army's civil affairs, legal, psychological operations, chaplain, military history, quartermaster and medical units belong to the Army Reserve. Leaders, including Daniels, often claim to lawmakers that the force's units provide the active-duty Army with critical capabilities at a fraction of the cost to maintain them full-time.
But the practices that fed the mobilization machine have the Reserve on the ropes as the wars end and Pentagon officials look toward large-scale conflict rather than counterinsurgency rotations.
Many challenges burden the component's officers as they try to manage part-time service with full-time careers and family commitments. To understand the problems, Army Times scoured budget documents and public comments from Daniels and other Reserve officials, interviewed experts and current officers, and secured other documents from sources or via the Freedom of Information Act.
The Reserve hasn't met its end strength target since 2016, and a recent report found that more than one-third of its new lieutenants don't finish their initial military training within two years of joining the force.
Meanwhile, the troops who are in uniform are facing increased "promotion peril," as a recent operations order terms it because they aren't completing the professional military education courses required to advance.
The result is a significant decline in the number of officers who want battalion command — traditionally considered the culminating experience of a successful Army career — and burnout among those who accept it. Ongoing struggles with filling some battalion command slots even led the Reserve and the Army Talent Management Task Force to launch a pilot program placing active duty officers in command of select Reserve battalions that haven't had a commander in years.
Daniels is working to overcome these hurdles, and she's shared her game plan in a series of articles and speaking engagements, as well as a Jan. 27 phone interview with Army Times for this article. She named it "Operation Shaping Tomorrow," a comprehensive plan to address the component's myriad manpower obstacles. Step one is focusing on people and their experience rather than turning metrics green on PowerPoint slides.
Currently serving officers interviewed by Army Times believe in Daniels' vision but worry that the message isn't getting through. They requested anonymity because they weren't authorized to speak to the media.
"I think [Daniels] is completely squared away," said one current Reserve battalion commander. "The problem is she needs to fire every f------ [general] she has…because all of them are still looking at metrics."
A leaky accessions pipeline
The end-strength shortfall now facing the active Army and National Guard is old news to the Reserve, which hasn't met its authorized end strength since 2016, according to an Army Times review.
That's left some Reserve units understrength and without leaders in key positions, officials have acknowledged. The component experienced non-prior service recruiting shortfalls earlier and more acutely than the active Army and Guard, too.
A previously unreported factor compounding the end-strength crisis has been the Reserve's struggle to ensure new troops complete their initial training on time, according to a July 2022 report by the Army Audit Agency obtained by Army Times.
Unlike the active component, where a soldier's career begins when they ship to training, Reserve and Guard troops often see significant delays between when they take their oath and when they make it to training. In the Guard, enlisted troops awaiting training are kept in holding units, but Reserve recruits and newly-commissioned officers attend regular drills while they await training — or work to secure a seat.
Nearly a quarter of the Reserve's enlisted recruits who joined between Oct. 1, 2016, and Feb. 28, 2018, didn't complete their initial training within two years of joining, as required by law.
The delay was more pronounced for new officers, more than a third of whom did not complete their basic officer course within two years, commissioned during the period, the report said. While some lieutenants went on to complete training beyond the two-year mark, nearly one in five of them hadn't as of May 2021, leaving them ineligible for deployment or even promotion to first lieutenant.
The battalion commander argued the officer training delays may be due to problems securing slots for the lieutenants to attend required courses.
"I had to work my ass off to get two of my second lieutenants into [the Basic Officer Leader Course]," he said, pointing to backlogs that began with reduced course capacity during the COVID-19 pandemic. Each career field has its own course, and some branches have longer wait lists than others.
Daniels acknowledged the delays to Army Times, explaining that the Reserve took "a really hard look at how many [lieutenants] we're commissioning in which different branches…to be careful that we don't over access in particular areas versus others." The reserve command is "doing a better job managing…monitoring [and] analyzing" the delays since the report's publication.
The delays risk running the Reserve afoul of federal law mandating that troops who don't complete their training within two years be kicked out of service, auditors warned. If unchecked, the tardy trainees may derail Daniels' "big hairy audacious goal" of being overstrength by 3,000 sergeants and 500 captains by the end of 2024.
The rise of "promotion peril"
The Reserve also faces barriers to ensuring that the troops who do complete their initial training go on to fulfill other professional military education requirements.
Officers who want to reach the rank of major must complete Captain's Career Course, and those aiming for lieutenant colonel must complete Intermediate Level Education. Both courses take months to complete in person, and part-time officers often are left to study through an additional drill weekend each month or online distance learning courses are done on their own time and dime.
And they're failing to complete — or even start — their courses in droves, Brig. Gen. Lance Calvert wrote in a December 2022 memorandum provided to Army Times.
"The USAR, and subordinate echelons, are not exercising adequate oversight of the timely career management/progression of captains and majors due to a lack of "meaningful management" in scheduling the courses, Calvert explained in the memo. "[T]he data shows that a significant number of officers are not attending school within established career map guidelines creating a backlog and increasing the population of [captains] and [majors] who are now in promotion peril."
Calvert said the "backlog of Captains and Majors that are in promotion peril…exacerbates ongoing officer retention issues and contributes to the [Reserve's]" end-strength woes.
For the fiscal 2018 promotion board considering majors for promotion to lieutenant colonel, nearly half of the otherwise eligible majors were blocked from promotion consideration because they hadn't finished intermediate education, according to a fiscal 2023 enrollment guide available on the Reserve's website.
The distance learning and part-time versions of intermediate education are designed to mirror the graduate-level courses provided at the Command and General Staff College for those who attend in person, adding complex classwork on top of officers' existing military, civilian work and family responsibilities.
The Reserve's commander, Daniels, said the component is taking a "proactive look at [professional military education]" such as intermediate education in order to ensure commands are scheduling their officers to attend and giving them the time they need to complete it.
The component's major commands are centralizing enrollment decisions for officer education and prioritizing seats based on a soldier's relative "promotion peril" and whether their career field is undermanned, according to the Calvert memo. They're also directing commands to synchronize enrollments with the slower periods in unit training cycles so officers aren't trying to balance their education with deployment preparations.
But some officers make a conscious choice to skip or fail intermediate education.
One Reserve major, who requested anonymity because he wasn't authorized to speak with the media, told Army Times that he chose not to attend the course out of fear it would degrade his home life.
"I wasn't looking forward to the workload, the online classes, the extra weekends," he explained, adding that his unit was expecting him to continue fulfilling his typical duties despite the sharp jump in demand. After considering the tradeoffs, he's preparing to submit his retirement request, having served previously as an enlisted service member.
The burden of battalion command
There's a deeper reason why the major opted out of intermediate education and consideration for lieutenant colonel — he doesn't want to command a battalion and fulfill the extra duty days and outside-of-drill workload that comes with the role.
The current battalion commander said he spends 20 hours per week outside of drill working on Army tasks. He served nearly 70 additional days in uniform in 2022, he estimated. That contrasts with the 39-day annual commitment of "one weekend a month, two weeks a year" recruiters use to sell part-time service.
"I have a good federal job…I have an eight-year-old kid, and I have a wife, and I have things that I do in our personal life that I enjoy more than I think I would feel a sense of purpose and accomplishment in being a battalion commander," the major said. "It's not rewarding enough for me to put the rest of my life on hold for."
The anonymous major is far from the only officer opting out of battalion command, whether by passing on promotion opportunities or formally opting out of the board that selects future battalion commanders.
"If someone doesn't have time to complete [professional military education] or isn't making time to complete [it], that's telling you something about the role of the Reserve in their individual life when it comes to selecting for [battalion] command," said Kate Kuzminski, who heads the military and veterans program at the Center for a New American Security think tank.
She likened the move to "quiet quitting," a term coined in 2022 to describe workers across America reportedly doing the minimum to remain employed.
"If you're not interested in battalion command at a certain point in your career, then maybe it's time to leave the Reserve," she said. "That's the tightrope walk that the Reserve is walking because they don't actually want to lose a bunch of people on that."
Time-consuming requirements such as medical deployability and administrative readiness often take away from training time, though, potentially reducing the rewards of battalion command and driving up the workload. Much of it falls to overworked full-time staff thinly spread throughout the Reserve.
A 2022 inspection by the Army Reserve Command inspector general found that most units and leaders are overwhelmed by administrative work and readiness requirements that consume training time, Daniels said. She's launched an initiative to change that culture because she believes the solution to the component's recruiting and retention woes is to send troops home from drill weekend feeling as though they did their jobs and participated in meaningful training.
The inspection found less than one hour per weekend was devoted to skills training in a typical Reserve unit.
Daniels said she's asked her staff to stop focusing on metrics and to help units train. A memorandum outlining her priorities obtained by Army Times backs up her words. She even ordered her personnel directorate to stop circulating weekly Reserve-wide reports ranking units on medical compliance.
"I'm encouraging all of my folks to get after tough, realistic training done safely in order to give their soldiers something to talk about when they go back to the office on Monday, or to their schools or their communities," Daniels explained. "Go talk about it, bring more [recruits] into the force."
The current battalion commander said the message isn't getting out. He commands a non-deployable training unit that provides part-time drill sergeants who augment basic training centers during the busy summer months when recent high school graduates enter the force. Despite succeeding in getting drill sergeants to school and training centers, he received a middling evaluation due to administrative metrics.
He said his superior criticized him for "not doing very well at metrics" such as medical readiness before submitting the mediocre evaluation. "What the f--- do I need deployability for?"
The battalion commander said Daniels is "fighting the current" in trying to deemphasize metrics after more than two decades of war ingrained them in the component's culture.
It's not clear if Daniels' combined efforts can immediately address a shortfall of battalion commanders, either. According to the news website Task & Purpose, 110 Reserve battalion command roles remained vacant between 2016 and 2020. The lack of leaders grew so dire in some fields that Daniels approved a pilot program that placed a handful of active-duty officers in command of Reserve units in 2022.
Kuzminski and Daniels hope the program can help address short-term manpower needs and make more commands available to competitive active-duty officers while the Reserve works to rebuild its officer career development pipeline.
But if the status quo continues, argued the current battalion commander, the problems plaguing the Army Reserve will only grow worse.
"The battalion commanders that I have seen in my division…they're all retiring [after finishing]," he said. "This is taking everything out of [us]."
And if Daniels' gambit to change the culture around readiness doesn't stick?
"The Reserve's on a highway to hell," the battalion commander said.
Davis Winkie covers the Army for Military Times. He studied history at Vanderbilt and UNC-Chapel Hill, and served five years in the Army Guard. His investigations earned the Society of Professional Journalists' 2023 Sunshine Award and consecutive Military Reporters and Editors honors, among others. Davis was also a 2022 Livingston Awards finalist.
Share: