FORT EUSTIS, Va. – Soldiers may soon have the option of gaining an additional skill identifier and special qualification identifier in the Army's newest, all-encompassing health and fitness program.
Also, U.S. Army Physical Fitness School at Fort Jackson, South Carolina will be renamed the Holistic Health and Fitness Academy and the service expects to see instruction in the program included in training at leader schools such as the U.S. Army War College, School for Command Preparation and Drill Sergeant Academy, officials said.
The service recently matched up its ongoing Holistic Health and Fitness (H2F) rollout plans with the service's Regionally Aligned Readiness and Modernization Model. That effort will mean pairing staff and equipment for H2F with those units that cover some of the more contested regions of the globe, which also receive the combat equipment and training to match.
RELATED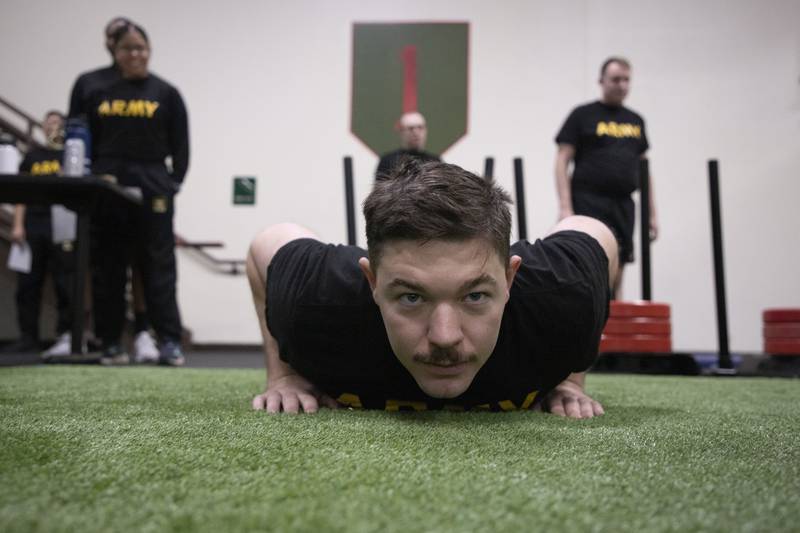 In May, the Army plans to publish a Center for Army Lessons Learned Handbook on Holistic Health and Fitness, which will include an instructional checklist, lessons learned, and best practices gleaned over the past five years, said Col. Jason Faulkenberry, H2F director.
These announcements and more came April 25 during the first day of the service's annual symposium on the health program among banners that read "Changing the Army's Culture of Health and Fitness."
Top Army leadership is hammering out the details on the skill and qualification identifiers, said Maj. Gen. John Kline, commanding general of the Center for Initial Military Training, a major proponent for H2F.
His recommendations include an estimated month-long additional skill identifier course at the home station for soldiers to run H2F aspects at the platoon and company level. Ideally, having two soldiers in each company with the training would be the ultimate requirement, however as many soldiers who are qualified to receive the training could do so, Kline said.
The more intense special qualification identifier is aimed primarily at staff sergeants and sergeants first class. That's in part because that level of training would take 12 weeks at a center such as Fort Jackson. Once a soldier completes the training and returns to their unit overseeing the health program would be their primary job, he said.
Moving up the chain, a brigade-level adviser would hold the rank of master sergeant or higher.
Skill and qualification identifiers hold weight when gauging Army priorities. Other such skills include combat lifesaver, master fitness trainer and sexual harassment/assault response and prevention.
Kline noted the identifiers also benefit the Army National Guard and Army Reserve by providing the less-resourced brigades in those components short-term, at-home training for the initial levels.
"We're trying to thicken, enrich the ranks out there with knowledge of H2F," Kline said.
That knowledge should prove valuable within units throughout the Army as the service works to improve fitness with more rigorous standards such as the Army Combat Fitness Test and less-forgiving measurements for determining body composition.
Army Times reported in March following the release of the Army Comprehensive Body Composition Study that the service would change the tape test to more accurately measure body fat percentages, an indicator that, if over certain thresholds, can threaten a soldier's promotion and retention expectations. However, soldiers who score a total 540 or higher on the fitness test with at least 80 points per category can waive the tape test entirely.
The H2F program emerged out of multiple efforts initially aimed at reducing or preventing soldier physical injuries that date back to at least 2015. That effort grew to encompass a variety of readiness domains — physical, nutritional, mental, spiritual and sleep.
The work also anticipates growing trends in a less-fit recruiting pool more prone to injuries and more likely to be overweight or obese when they arrive at basic training.
An unexpected but encouraging byproduct of the H2F program has been its effects in the mental health area. Anecdotal examples provided by various Army leaders in recent years have shown the program has identified soldiers thinking of suicide and given them help they needed.
"What H2F is doing in the area of prevention across all domains is needed. It's needed in the Army and frankly, exceedingly in American society," Kline said.
Newer efforts include using H2F resources for readiness preparation such as pre-deployment or pre-exercise training for hot or cold climates and even tailored programs for school preparation for such demanding training as the Ranger School course or Sapper Leader Course.
The Army's initial pilot program emerged in October 2018. Since that time, the service has fully equipped and staffed 28 active duty brigades, primarily within the close combat force such as infantry.
Another dozen brigades are scheduled to fully field their H2F teams this year with 10 more per year until 2030. By then the Army expects to have 110 fielded brigades across the force. That's slightly fewer than half of all active duty brigades.
Todd South has written about crime, courts, government and the military for multiple publications since 2004 and was named a 2014 Pulitzer finalist for a co-written project on witness intimidation. Todd is a Marine veteran of the Iraq War.
Share: