U.S. and coalition troops are focused on preparing Iraqi Security Forces for the upcoming push to take back Mosul from the Islamic State terror group, a top general told Army Times Thursday.
"We're very focused on training the units that are going to ... isolate and shape and clear Mosul," said Maj. Gen. Gary Volesky, commanding general of the 101st Airborne Division and commander of Combined Joint Forces Land Component Command-Iraq. "We're making progress, but the closer we get to Mosul, the harder it's going to be. The enemy's going to fight much, much harder the closer we get."
Volesky, who deployed to Iraq in late February with about 270 soldiers from the 101st Airborne Division headquarters, spoke with Army Times about how his soldiers are doing and current conditions on the ground in Iraq. This is his fifth tour in Iraq; and it comes just months after the 101st Airborne completed a deployment to Liberia to support Eboloa-fighting efforts there.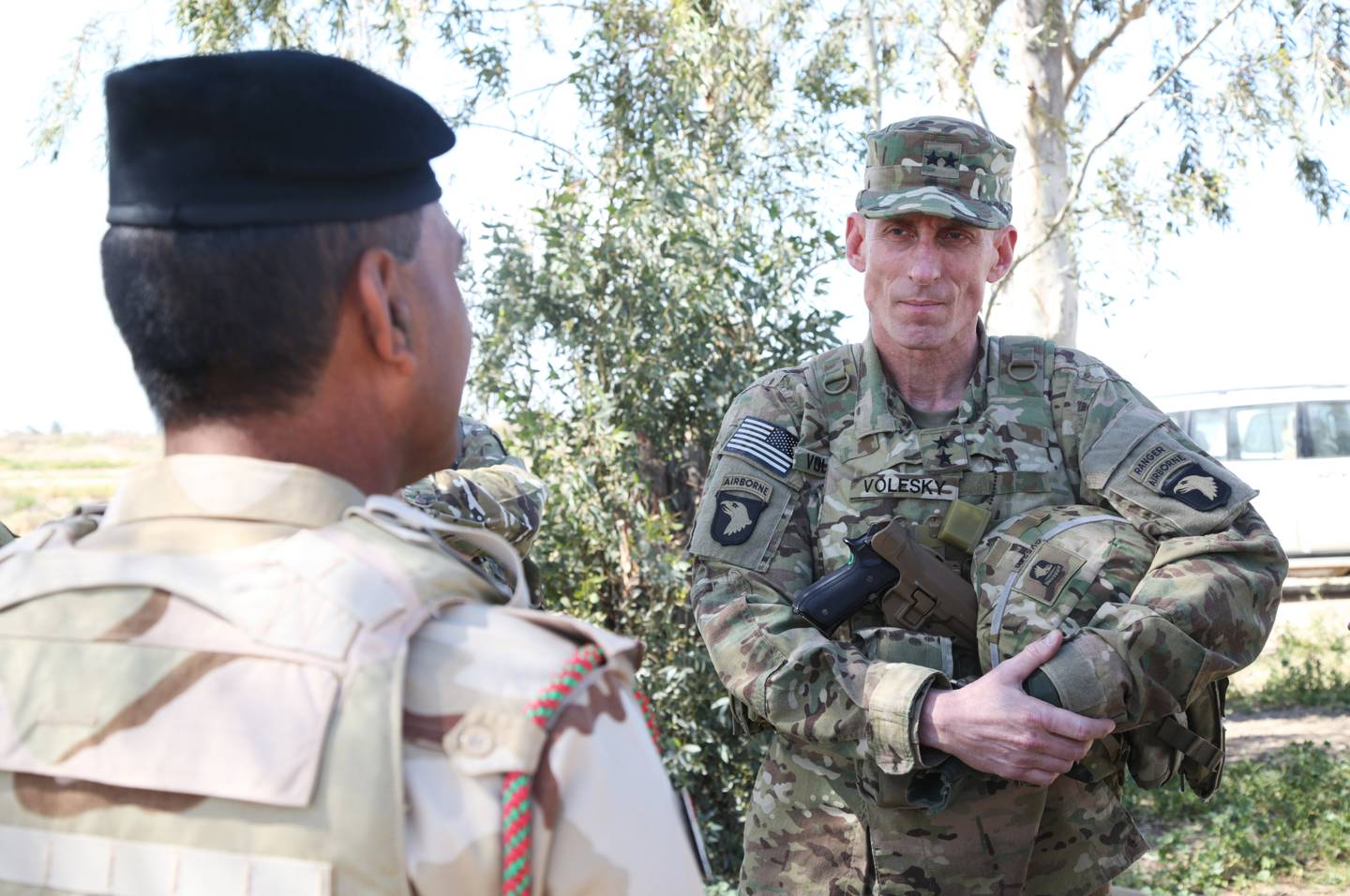 Maj. Gen. Gary Volesky, commander of the Combined Joint Task Force Land Component Command - Operation Inherent Resolve, speaks with Iraqi army Col. Jalood during a training overview at Camp Taji, Iraq on March 16.
Photo Credit: Sgt. Kalie Jones/Army
Q. Now that you've been on the ground for almost two months, how are things going?
A. Our primary effort is to defeat Daesh and, really, enabling the Iraqis to do that. They're in the close fight. What we do is enable them through airstrikes, fire support, and set the conditions for them to continue the attack.
We're also doing training and equipping, especially those units designated for the counter-attack in Mosul.
Q. What have you already seen since taking command on the ground?
A. Before we got here, the focus was really defending the forward-line of troops the Peshmerga and Kurds had established up in the north, then it was really focused on clearing Ramadi. It took a number of months to clear Ramadi. After they lost Ramadi, the enemy really has been disrupted.
What's different today is because of the great success they've had in Ramadi, the Iraqis have been able to accelerate, put more pressure [on the enemy]. In the last 30 days, [the Iraqis] are hitting the enemy at multiple points.
Q. How is that impacting the enemy?
A. The enemy is not able to launch these huge attacks. We see 15 to 20, max, of their fighters. They are losing ground every day. Based on what they seized when they came into Iraq, they've lost 50 percent of what they seized. Half of what they previously owned, they don't own anymore. They're not attacking and trying to go back into those areas they've lost.
What we see them doing is trying to transition into an insurgency in those areas. You'll still see reports of vehicle-borne IED attacks and suicide vest attacks, but not this force they had.
We believe the continued pressure on Daesh is going to continue to have them crumble.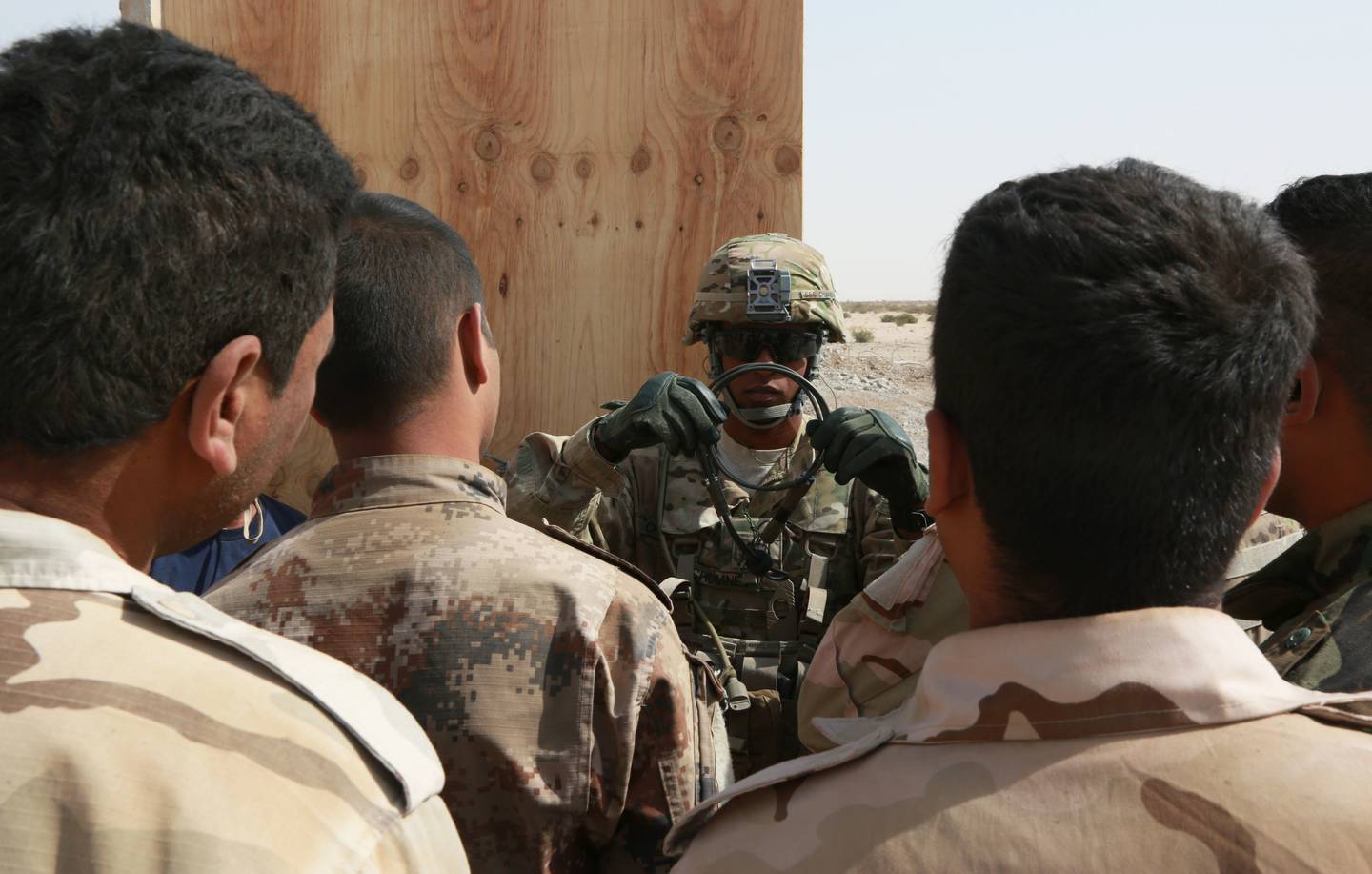 A U.S. Army Soldier assigned to 1st Battalion, 32nd Infantry Regiment, 1st Brigade Combat Team, 10th Mountain Division, teaches Iraqi soldiers how to properly tie a knot during the engineer course at the Besmaya Range Complex, Iraq.
Photo Credit: Spc. Lakendra Stevens/Army
Q. How is the training coming along, and what challenges are you facing?
A. It's really about generating [enough] forces to continue putting pressure on the enemy. These [Iraqi] units are all in the fight. It's not like they have all these units somewhere else that they can just call up.
They've got Baghdad to secure, they've got Daesh throughout Iraq.
Q. What challenges are the Americans facing?
A. We're not leading the fight. It takes patience. This is based on the Iraqi campaign plan and their time of movement.
Q. How are your soldiers doing as they settle into their tasks? They've been pretty busy the last few years.
A. A number of my staff, they deployed to Liberia. They're like me. This is their second deployment in two years as well. But the quality of our soldiers is just impressive. The soldiers are the ones who drive activity and action. Without them, we couldn't do anything. We couldn't do what we do without our families and these great soldiers we get the honor of leading.
Units at Fort Campbell deploy all the time, but look how busy our Army is. You look at all of the places the Army has deployed — Europe, the Middle East, Korea, all across the world. That's how busy the Army is.
This enemy that we're facing, it's a threat to everybody.
Michelle Tan is the editor of Army Times and Air Force Times. She has covered the military for Military Times since 2005, and has embedded with U.S. troops in Iraq, Afghanistan, Kuwait, Haiti, Gabon and the Horn of Africa.
Share: