More than 600 of the Army's field artillery soldiers are settling in back home after a nine-month deployment in which they engaged ISIS targets operating in Syria.
Rafferty spoke to reporters at the Pentagon about the unit's efforts to support Operation Inherent Resolve at the Pentagon. His unit brought exclusively using High Mobility Artillery Rocket System
 platforms. to the fight. HIMARS consists of GPS-guided rockets launched from Medium Tactical Vehicles, potentially from hundreds of miles away from the target. 
While the deployment was based in Jordan, Rafferty's brigade was spread across among five different countries to support an area of responsibility in northeastern Syria that lies to the north of the Euphrates River valley. It's currently an Islamic State support zone.
"It was really the ISIS, or Da'esh, support zone that provided fighters, equipment, and resources from Syria down into the fight in Iraq," he said during the recent June 24 Pentagon briefing. "So in that way we were supporting the fight in Iraq."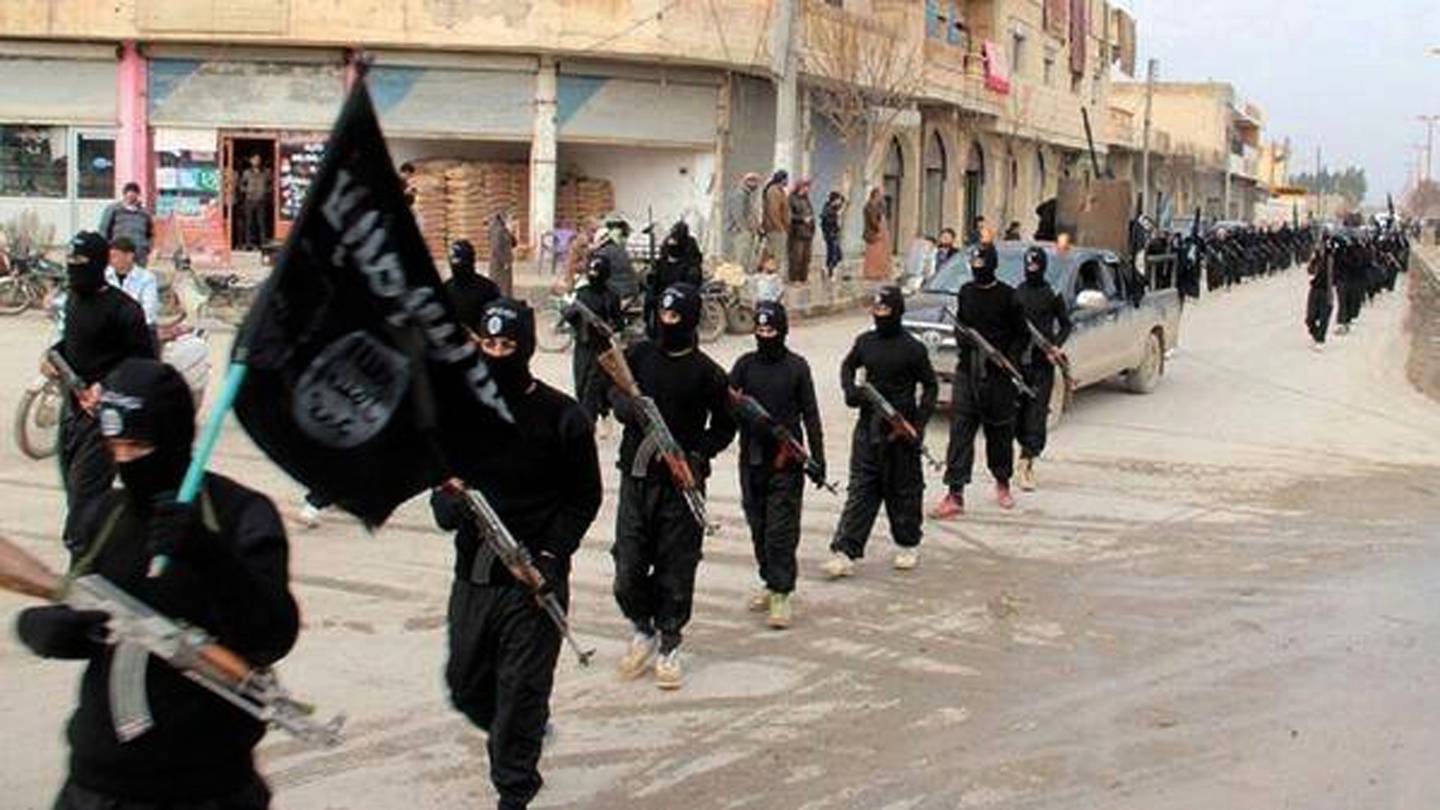 This undated file image shows fighters from the Islamic State group marching in Raqqa, Syria. Field artillery soldiers from all three Army components just returned from a nine-month deployment to Jordan where it engaged ISIS targets and built relationships with partner armies.
Photo Credit: Militant website via AP
Rafferty's His deployed command consisted of more than 600 soldiers, although ; less than 100 came from his headquarters in Fort Bragg, North Carolina. The rest , while the rest were reserve components soldiers. (The 18th, subordinate to the XVIII Airborne Corps, serves as the contingency field artillery brigade, giving it an enduring mission in the Global Response Force.) were from battalions from the Michigan and New Hampshire National Guard and joined up with batteries from Fort Sill, Oklahoma, and Joint Base Lewis-McChord, Washington., to fill out the operational brigade.
And that multi-component aspect was as it should be, he said, particularly for artillery.
"It was my first experience commanding a mixed force," Rafferty said. "I can honestly say I'm a believer in the total force concept, and that we are really one Army. …In the future, that's how we're going to fight, so we'd be stupid not to train that way."
He said among the squads and platoons of reserve components soldiers proved "extremely good," and as well drilled if not more so in cases than some active duty units, thanks to crews often staying together for long periods. He was then able to focus on shoring up communication and leadership at on the higher echelons, where there was more of a range of experience levels. 
"That's my job as a commander,; apply leadership at places where we require more," he said.
The dispersal of his soldierselements across five countries also made communications crucial. ; heHe called the mission command systems used "very impressive" in enabling their capabilities, which enabled him to run the mission despite being far away from many of his soldiers.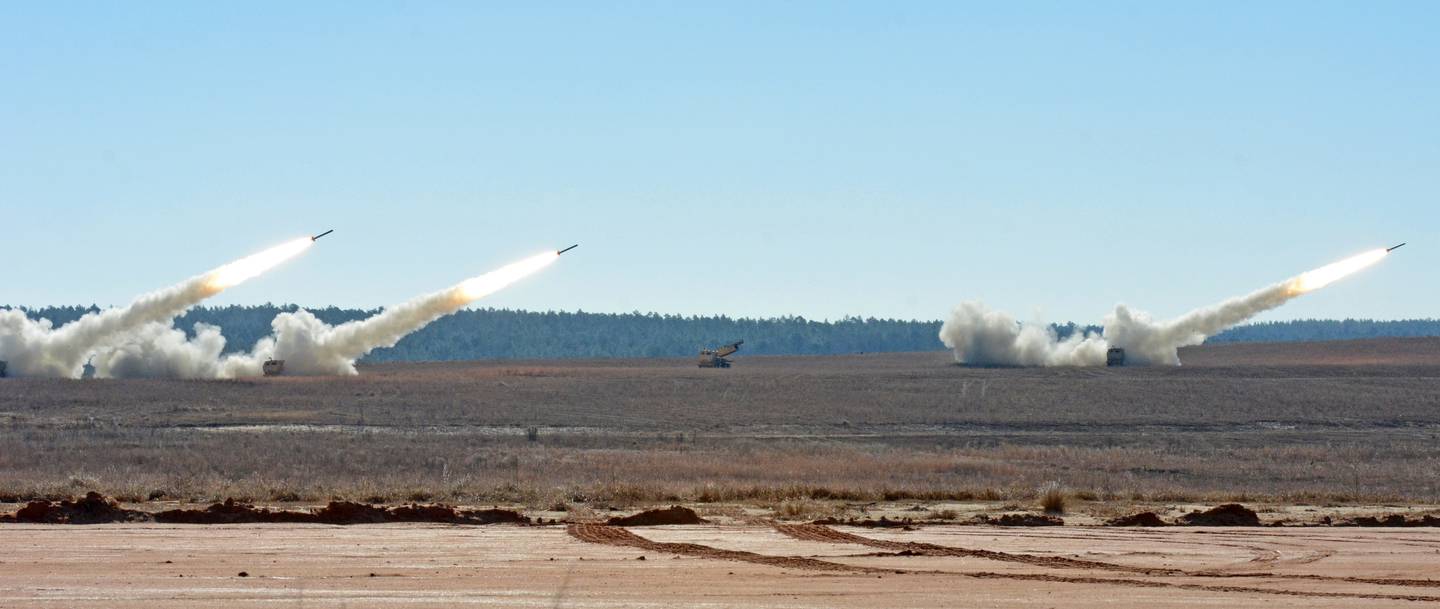 Three M142 HIMARS from the 18th Field Artillery Brigade fire simultaneously at Sicily Drop Zone, Fort Bragg, N.C. The unit just returned from a nine-month deployment to Jordan where it engaged ISIS targets and built relationships with partner armies.
Photo Credit: Sgt. Steven M. Colvin/Army
There was also coordination to be done with other armies. Overall, his mission "touched" nine countries in all, and included live-fire training with different nation's armies. He called Jordanians "willing partners and great hosts," and said the goal was to move beyond occasionally training together toward being able to fight together. Training builds trust, he said, and that —plus compatible systems — leads to interoperability.
"We want to rely heavily on our partners. We want to fight alongside them if it comes to that," he said "It provides a focus for our partner training.": The fact that we were unified by a purpose: Deter aggression and be prepared to fight if needed."
Integrating went beyond the host nation. Rafferty's soldiers also ; his elements worked with regional partner armies, including the United Arab Emirates and Saudi Arabia. The goal was to build partner capacity and, in some cases, take the next step toward interoperability, depending on how established the particular relationship happened to be.
He said U.S. artillery "hasn't done much, if any, meaningful training along Saudi partners in quite a while" compared contrasting with some other partners. That, he said, was primarily an advising and equipping mission as well as building a relationship with their artillery commander. But as the deployment went along, the relationship strengthened, he said.
As with most operational commanders, Rafferty deferred on broader broader policy questions. But he did say that while defeating the Islamic State would rested on the shoulders of regional partners, there are were encouraging signs where he sat, as these partners they gain confidence from further training and support. He said the path forward and steps required have become apparent, but also that it was difficult to know at what pace they'd be taken.
"We were leaving knowing we've still got a long way to go, but I do feel pretty confident that the effort has not been in vain," Rafferty said.
Share: