When Col. Larry Burris and elements of the 101st Airborne Division's 3rd Brigade Combat Team deployed to Afghanistan last year, President Obama was still in office, and the Afghan war was hardly a blip on the public's radar.
Then as the soldiers prepared to come home, President Donald Trump announced a renewed commitment to Afghanistan and promised to increase the numbers of troops deployed to America's longest war.
As national leaders have transitioned and struggled with the way ahead in Afghanistan, Burris and his soldiers in country quickly adopted and beefed up their predecessors' recently formed practice of sending small, tailored groups of soldiers to train, advise and assist their Afghan military counterparts in far-flung parts of the country.
The soldiers guided the nascent military in vehicle maintenance, battle tactics and reconnaissance, and more.
The 3rd BCT Rakkasans provided route clearance, site and personnel security, and shepherded the Afghans to the point where they could call in their own air and artillery strikes with their own units rather than relying on NATO forces for complicated air-involved missions. "Rakkasans" is a nickname meaning "parachute men," bestowed upon members of the 187th Infantry Regiment from their post-World War II occupation of Japan.
The brigade lost three of its own late in the deployment — Sgt. Eric Houck, 25, of Baltimore, Maryland; Sgt. William Bays, 29, of Barstow, California; and Cpl. Dillon Baldridge, 22, of Youngsville, North Carolina, were killed on June 10 while battling Islamic State forces in Peka Valley, Nangarhar province.
RELATED
The Taliban claimed at the time that one of their commandos had infiltrated U.S. forces to kill soldiers.
Burris told reporters during a recent roundtable following the deployment that three soldiers at the scene — two specialists and a private — responded exactly as the should have under trying circumstances.
"They headed back into the building without their NCOs, treated casualties, called a medevac and killed the Afghan who'd shot their comrades," Burris said.
Small groups, many places
Not all of the brigade went to Afghanistan. One battalion deployed to Kosovo and another stayed at Fort Campbell, Kentucky, Burris said.
The remainder of 3rd BCT — 1,900 soldiers in all — was spread out between Kabul, Bagram and Helmand and Kandahar provinces in Afghanistan, Burris said.
The way those soldiers were deployed — spread out across multiple locations in small groups — likely is going to be what future deployments will look like for soldiers going to Afghanistan.
As the Pentagon finalizes how many additional troops to send to Afghanistan under Trump's new strategy, soldiers who are tapped to deploy likely will find themselves in what the Army is calling expeditionary advisory packages.
The packages have a mix of soldiers and equipment, including troops for force protection, howitzers, mortars, intelligence, surveillance and reconnaissance equipment, forward refueling capability, surgical teams, explosive ordnance disposal advisers and so on, Burris noted, according to an Army article.
Burris said that advising the units around the country varied, depending on their circumstances. For instance, units in Nangarhar province were in combat regularly, which took priority over other concerns.
"When they're in the fight all of the time, that becomes the focus," Burris said.
And they were designed to be deployed to Afghan brigades in the field for anywhere from one day to 10 weeks at a time, depending on what the Afghan unit needs, he said.
Burris said during his unit's time working with the Afghans over their nine-month deployment, they saw vast improvements by the Afghan military in the areas of indirect fires, ground-to-air coordination, equipment maintenance and fighting prowess.

The Pentagon acknowledged recently that there are approximately 11,000 U.S. troops in Afghanistan. Previous reports indicated only 8,400.
RELATED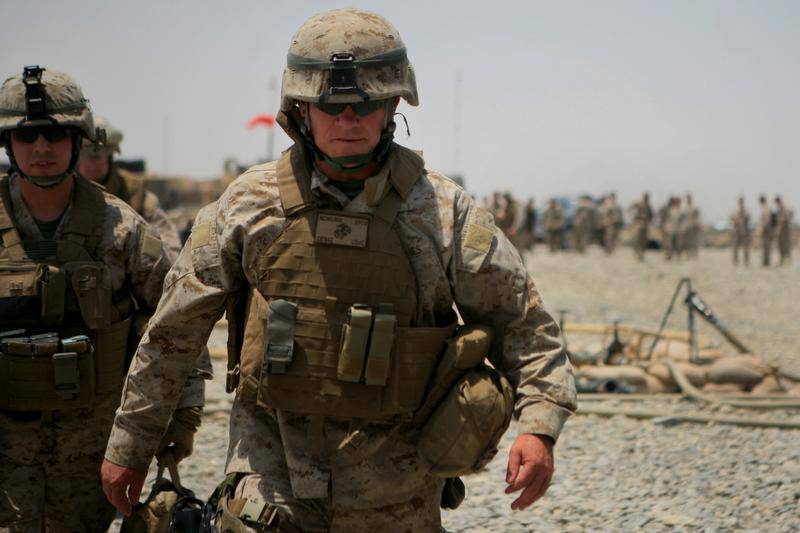 And while that doesn't include any additional troops under the president's new strategy — who could number as many as 4,000 — the numbers are still a fraction of the more than 100,000 U.S. troops in the country in 2011, during the height of the 16-year war.
Todd South has written about crime, courts, government and the military for multiple publications since 2004 and was named a 2014 Pulitzer finalist for a co-written project on witness intimidation. Todd is a Marine veteran of the Iraq War.
Share: