A year ago, the Army set an ambitious benchmark of recruiting 80,000 new soldiers in fiscal year 2018. The number dropped to 76,500 in April, but it was the highest goal in a decade, at a time when combat operations in the Middle East have ramped down, along with the eligibility and interest from young people to serve in the first place.
The service announced on Sept. 21 that it would not be making its end strength goal, despite a historic uptick in retention, after falling short 6,500 new soldiers.
But the Army continues rolling along, so what does that end strength hit mean for the next several years? End strength is set to grow to 487,500 in the coming year, and because of last year's zero-growth numbers, that means adding 11,500 to the force.
"It's not going to be an easy mission," Lt. Gen. Thomas Seamands, the Army's deputy chief of staff for personnel, told Army Times in a Sept. 26 interview. "We've got recruiters all across the country and overseas who we're asking to do some really heavy lifting. We think we've given them the right tools to be successful."
The service is going into the new fiscal year with boundless optimism, based on a handful of factors. To start, there are simply fewer people scheduled to get out of the Army this year, based on known numbers of ending contracts and pending medical separations.
"The number of soldiers who are scheduled ETS is about 10,000 fewer," Seamands said.
And with last year's 86 percent retention rate, there's a chance that a good chunk of them will stay on. In the meantime, that gap in planned end strength continues to show itself in holes throughout the Army's formations.
Getting to 105 percent
One way or another, the Army is growing. For now, those extra soldiers will go to rounding out existing, undermanned units, rather than building any new brigades.
"There is no plan that the secretary of the Army or I have approved [that has] to do with major force structure additions to the Army," Army Chief of Staff Gen. Mark Milley told Army Times in a Sept. 24 interview. "Nor do we necessarily think that's necessary."
For more coverage from the AUSA annual meeting, click here.
Instead, the boost is meant to augment the readiness of current units, many of which are allowed to fall behind if they do not have immediate plans to deploy.
"We want all of the units to be manned at 90 percent, for example. That's near-term. That's what we want to get to," Milley said. "Once we get to that, we want to raise the flag, or raise the bar. Then we want to get them to 100 percent. Then once we get to that, we want to get them over 100 percent."
Given that on any one day, a unit will have several members who are in school or injured, seeking behavioral health treatment or on leave tending to family issues, the perfect scenario would be 105 percent manning in every unit, to allow a cushion for extenuating circumstances.
"That means then, optimally, that they will be going to major collective training events at 100 percent strength," Milley said. "That would be ideal. You will never reach the ideal. It's not really in the realm of the possible, so to speak. But we want to keep trying to get there."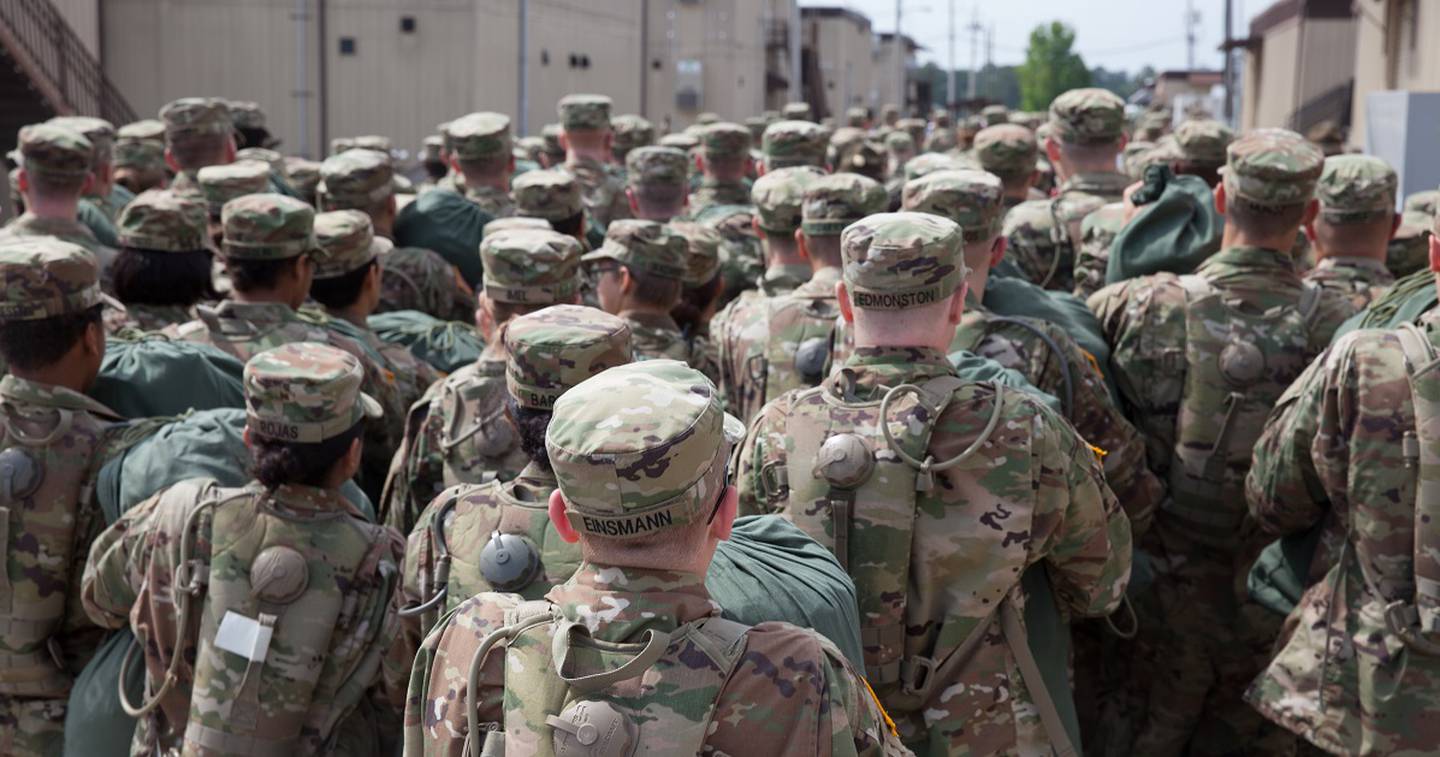 There are also spots to fill in the institutional base, Seamands said, and a larger Army will turn that around.
"So the operational units are the bread and butter, but you've also got holes in [Training and Doctrine Command], in drill sergeants, recruiters," Seamands said. "Each of the strengths of the [opposing forces] at [the National Training Center] and [Joint Readiness Training Center] are not where they should be. You've got holes in the observer/controller/trainers, the guys who walk the lanes and help train these units."
The Army has been pulling some levers to increase the number of sergeants and staff sergeants who are available to fill those jobs, through re-enlistment bonuses and a friendlier promotion board.
RELATED
The Army reached its 100 percent recruiting strength in the last few months of the fiscal year, Seamands said, but going forward the service is going to organize itself around a 72,000-a-year recruiting goal.
That means 8,300 recruiters to start, plus proportionate growth in basic training spots and drill sergeants.
"If we're being honest, we've probably looked at it almost on a year-to-year basis," Seamands said of the recruiting goal and size of the training base. "So now we're looking at three to four years, you know, what do we need to do to ebb and flow based on the requirements that are out there."
The year ahead
Double-digit growth over a yearlong period is not unprecedented for the Army. The service pulled out a 26,000 end strength bump to the active component in 2017, after the National Defense Authorization Act abruptly ended the drawdown of the previous half-decade.
But to make those numbers, the Army handed out millions in retention bonuses. At one point, just a year-long extension could net five figures, and a full re-enlistment garnered an extra $10,000 on top of a bonus.
Senior leaders have said that those extensions will likely not be available in the coming year, because while they help the Army make numbers in the short-term, they don't translate well into long-term retention.
A new bonus message is on its way out in October, Sergeant Major of the Army Dan Dailey told Army Times in a Sept. 27 interview.
"So if you ask me how we did recruiting? Phenomenal," he said of the 2018 numbers, based on technically reaching the highest recruiting numbers in a decade. "Bluntly, did we meet the end stated goal? No. But am I worried about that? Not at all. I already know how we're going to do. I already know my projections are very close to the number for in-service retention."
The Army is already at about 80 percent of its fiscal year 2019 retention mission, Dailey said.
And while the service's entire recruiting enterprise is under review, senior leaders say that they haven't bitten off more than they can chew.
"Our credibility is at stake with the American people and with Congress and with our own institution," Seamands said. "Everybody wants to be on a winning team. We believe we're on a winning team, and if we didn't think we could accomplish the higher level of recruiting, we wouldn't be doing it."
Meghann Myers is the Pentagon bureau chief at Military Times. She covers operations, policy, personnel, leadership and other issues affecting service members.
Share: